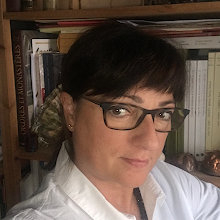 DE RUBEIS Flavia
Position

Full Professor
Roles

President of the Humanities Area Library (BAUM)
Representative of the teaching staff in the Academic Senate

Telephone

041 234 9839
E-mail
Fax

041 234 9860
Scientific sector (SSD)

PALEOGRAFIA [M-STO/09]
Website

www.unive.it/persone/flaviadr (personal record)

Office
Born in Rome in 1960, Flavia De Rubeis studied at the University of Rome "La Sapienza", where she graduated in Palaeography in 1987. After teaching on a contract basis since 1996 at the Universities of Rome (Roma Tre), Naples (Suor Orsola Benincasa), Padua, Siena (Arezzo campus) and Venice (Ca' Foscari), she was appointed associate professor in Paleography in 2003. In 2005 she joined the Ca' Foscari University of Venice where she teaches Latin Paleography and Medieval Epigraphy as associate professor and since 2017 as full professor.
Her research topics in recent years are:
- Early medieval book and documentary scripts;
- Epigraphic writings from late antiquity to the end of the Middle Ages;
- Book and epigraphic writing in the 8th-14th centuries: interactions between writing models;
- Written culture and society: problems of literacy, graphic production and patronage in the early and late Middle Ages.
She is the author of 82 essays and articles, including 3 monographs (epigraphic editions and document editions). She has participated as a speaker and by invitation in 55 national and international conferences and has organised 14 national and international conferences. She co-edits a scientific series and is a member of the scientific committees of 3 scientific journals (one class A journal; one international journal). She has organised as responsible the medieval epigraphic sections of the Museums Rome "Museo Nazionale Romano Crypta Balbi", Brescia "Civici Musei", Bettona PG "Pinacoteca Comunale".
She has been coordinator and scientific responsible of the section f, Inschriften Wittgenstein Projekt 2005-2009, III. Texte und Identitäten. Quellenstudien zur Identitätsbildung, Österreichischen Akademie der Wissenschaften, Vienna; member of PRIN 20012.
Academic appointments and positions:
Since 2020 Senator in the Academic Senate of Ca' Foscari University;
University coordinator for TFA in humanities and linguistics 2011-2012;
University Coordinator for TFA and PAS, humanistic, linguistic and pedagogical area, a.y. 2012-13;
University Coordinator for PAS 2013-2014, linguistic, humanistic, pedagogical and scientific area.
Delegate of the University with rector's decree for TFA, PAS, PF24CFU linguistic, humanistic, scientific and common areas 2014-2020;
Coordinator of the inter-university Master's Degree Course in History and Management of Archival and Bibliographic Heritage, Ca' Foscari University of Venice, Department of Humanities - University of Padua, Department of History, Geography and Anthropology, from 2008-09 to 2020;
Member of the Teaching Committee, Ca' Foscari University, Department of Humanities, Teaching Committee from 2011 to 2020;
Member of the Doctoral College in Historical, Geographical and Anthropological Studies, University of Padua - University of Verona - Ca' Foscari University, Venice, to date;
Deputy Director of the Department of Humanities from 2017 to 2020;
Head of Centro Documentazione e Didattica of the Department of Humanities from 2008 to 2020.
Last update: 06/09/2021
The information above have been uploaded on Ca' Foscari website direclty by the user this webpage refers to. The correctness and truthfulness of the published information are responsibilities of the relevant user.