NAUMOW Aleksander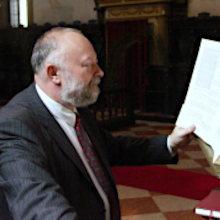 Nato a Orneta, in Polonia nella famiglia di un prete ortodosso (1949). Percorso d'istruzione svolto nel paese d'origine, studi universitari nel campo della filologia slava presso l'Università Jagellonica di Cracovia (1966-71). Presso il medesimo ateneo svolto anche attività scientifica e didattica (dal 1971), dal 1995 insegnava anche presso l'Università Adam Mickiewicz di Poznan. Esperienze professionali all'estero: Belgrado (1974-77) e Pisa (1980-84) come lettore; Genova (1984-85), Yale University (1988), University of California - Berkeley (1991, 2000), Ca' Foscari (1996) come visiting professor.
Dal 2003 professore ordinario presso l'Università Cà Foscari di Venezia (lingua, letteratura, cultura serba e croata, filologia slava, letteratura slavo-ecclesiastica, storia delle Chiese dell'Europa Orientale).
Autore di numerosi testi riguardanti l'ambito della letteratura e della cultura degli Slavi ortodossi nell'ampio periodo dal IX al XVIII sec.

Prof. Aleksander Naumow was born in Poland in the family of an Orthodox priest (1949). He studied Slavic Philology at the Jagellonian University in Cracow (1966-71); in 1971 he carried out both research and teaching activity there; in 1995 he also started teaching at the Adam Mickiewicz University in Poznan. Professional experiences abroad: in Belgrade (1974-77) and in Pisa (1980-84) as a mother-tongue teacher of Polish language; in Genoa (1984-85), at Yale University (1988), at the University of California (Berkeley, 1991, 2000), at Ca' Foscari University in Venice (1996) as a visiting professor.
Since 2003 he has been Full Professor at Ca' Foscari University in Venice (Serbian and Croatian language, literature and culture, Slavic filology, Church Slavonic literature, history of the Churches in Eastern Europe).
Author of numerous works concerning the literature and the culture of Orthodox Slavs over a broad period of time, from the 9th to the 18th century.
Le informazioni riportate sono state caricate sul sito dell'Università Ca' Foscari Venezia direttamente dall'utente a cui si riferisce la pagina. La correttezza e veridicità delle informazioni pubblicate sono di esclusiva responsabilità del singolo utente.