GIUSTI Giuliana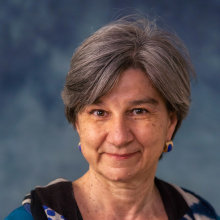 Laureata a Ca' Foscari in lingue e lettereature straniere nel 1985 con una tesi in linguistica tedesca dal titolo Zur Syntax der Infinitivkonstruktion mi zu im Deutschen ottenendo il massimo dei voti e la lode,
Vincitrice nel 1985 di una borsa di scambio tra l'Università di Venezia e l'Università di California, frequanta i corsi postgraduate dell'Università di California Berkeley nel 1985/6. Consegue il dottorato di ricerca a Padova nel settembre 1992 con una tesi dal titolo La sintassi dei sintagmi nominali quantificati. Uno studio comparativo. Durante il corso di dottorato frequenta i corsi postgraduate della University of Washington Seattle (gennaio 1989), Università di Ginevra (ottobre-dicembre 1989), MIT e Harvard (ottobre-novembre 1990). Negli a/a 1993/94 e 1995/96 ha fruito di una borsa di studio postdottorale dell'Università di Venezia.
Dall'ottobre 1992 all'ottobre 2000 è docente di ruolo nella scuola superiore per la classe di lingua e civiltà inglese. Dal novembre 2000 è docente a Ca' Foscari, dapprima come ricercatrice e dal 2005 come professoressa associata in Glottologia e Linguistica. E' presidente dei corsi di laurea in Lingue e scienze del Linguaggio e di laurea magistrale in Scienze del Linguaggio dal 2005 al 2009, e successivamente coordinatrice del corso di laurea in Lingue Civiltà e Scienze del Linguaggio e di laurea magistrale in Scienze del Linguaggio dal 2012 al 2014. E' stata rappresentante eletta nel CPO (Comitato per le pari opportunità) di ateneo http://www.unive.it/nqcontent.cfm?a_id=2573 nel 2007-12, e presidente del CPO (2009-12) e del Comitato Unico di Garanzia (2012-14), rappresentandolo anche nella Consulta delle cittadine del Comune di Venezia. E' stata delegata alla didattica e alla qualità del DSLCC.
E' parte del comitato scientifico della rivista internazionale Lingua , Elsevier, Amsterdam, http://www.elsevier.com/wps/find/journaldescription.cws_home/505590/description#description dal 2005 al 2009 e dal giugno 2018 ad oggi. E' componente di comitati di valutazione per Convegni internazionali come Chicago Linguistic Society, North East Linguistic Society, West Coast Linguistic Society, Convegno di grammatica generativa, GLOW, e per progetti di ricerca presentati presso il Research Council of Norway, la Tromso Research Foundation (Norvegia), la National Science Foundation (USA), la Fondazione Cassa di Risparmio Trento e Rovereto, e di recente come valutatrice per la vqr, per i PRIN e i FIRB.
Ha partecipato e partecipa a progetti di interesse nazionale (PRIN - MIUR) e a progetti cofinanziati da enti internazionali. E' stata coordinatrice locale del progetto europeo COVCELL http://www.covcell.org/ (Cohort Oriented Virtual Campus for Effective language learning (settembre 2005-settembre 2007) finanziato dalla UE nell'ambito del fondo Minerva per il miglioramento della didattica multimediale e lo sviluppo di moduli specifici per la didattica delle lingue straniere sulla piattaforma Moodle. Partecipa al FIRB La ricerca fondamentale sul linguaggio al servizio della lingua italiana: documentazione, acquisizione monolingue, bilingue e L2 e ideazione di prodotti multimediali diretto dalla prof. A. Belletti (U. Siena) http://www.ciscl.unisi.it/progetti/firb.htm e al PRIN Dimensione di variazione nella Lingua dei segni italiana, diretto dalla prof. C. Donati (Università La Sapienza) 2008-10. E' stata research fellow all'Università di Cambridge nel 2011 per il progetto Structural Protocolls for linguistic awareness enhancing inclusive language identity http://www.crassh.cam.ac.uk/events/1648/ e rechercheure invitée presso l'Università di Parigi VII Diderot nel 2012. Il 3 giugno 2015 è nominata honorary professor dell'Università di Bucarest.
La sua attività di ricerca si concentra principalmente sulla sintassi delle Espressioni Nominali sotto vari aspetti dell'analisi formale, tra cui principalmente i fenomeni di condivisione di tratti in comparazione con fenomeni paralleli nella frase. Si occupa anche di attrito e interferenza nella traduzione, di acquisizione della prima e della seconda lingua, dello sviluppo diacronico e dell'analisi sincronica di stadi precedenti di lingue naturali, e di sintassi comparata delle lingue germaniche, romanze e balcaniche. E' particolarmente interessata alla divulgazione delle conoscenze linguistiche al servizio dell'insegnamento della lingua madre e della lingua straniera per tutti, con particolare riguardo ai soggetti con disturbi dell'apprendimento collegati al linguaggio. Recentemente si occupa di promuovere politiche linguistiche per una maggiore visibilità delle donne nei ruoli dirigenziali, nelle interazioni amministrative e nei media.
Ultima modifica: 07/05/2019
Le informazioni riportate sono state caricate sul sito dell'Università Ca' Foscari Venezia direttamente dall'utente a cui si riferisce la pagina. La correttezza e veridicità delle informazioni pubblicate sono di esclusiva responsabilità del singolo utente.