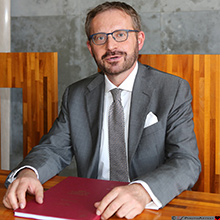 URBANI Alberto
Position

Full Professor
Roles

Department's Delegate for Job Placement

Telephone

041 234 7675
E-mail
Fax

041 234 9176
Scientific sector (SSD)

DIRITTO DELL'ECONOMIA [IUS/05]
Website

www.unive.it/persone/albeurba (personal record)

Office

Department of Economics
Website: https://www.unive.it/dep.economics
Where: San Giobbe

Office hours
Department of Economics
Room E215, 2nd floor.
As required by the current measures, office hours will be held remotely, on Wednesdays, starting from 10:00 am. Students must make contact with Professor Urbani via e-mail a few days before, making sure to specify their Skype account.

Notices
DIRITTO COMMERCIALE E DELL'ECONOMIA I - Cognomi A-La [ET0076] VENEZIA (167683): La disciplina della concorrenza.
Published on 30/08/2022
Per favorire lo studio della disciplina della concorrenza, che costituisce parte integrante del programma del corso pur non essendo trattata dal manuale consigliato per la preparazione dell'esame, è stato predisposto un breve testo, disponibile sulla piattaforma Moodle.
follow the feed