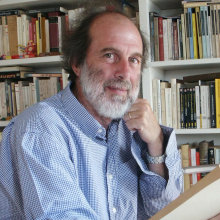 MASO Stefano
Position

Full Professor
Telephone

041 234 7217
E-mail
Fax

041 234 7296
Scientific sector (SSD)

STORIA DELLA FILOSOFIA ANTICA [M-FIL/07]
Website

www.unive.it/persone/maso (personal record)

Office
Leggi l'intervista - "Primi piani"
Stefano Maso, M.A. Degree in Classics (1977) and Philosophy (1986), Ca' Foscari-University (Venice).
High school professor from 1986 to 2004. Researcher (2001); Associate Professor (2015); since 2020, Full Professor (Ancient Philosophy) at Department of Philosophy and Cultural Heritage (Ca' Foscari-University – Venice).
Teaching activity
Undergraduate: History of Roman and Late Antiquity Philosophy
Graduate: Greek Origins of European Philosophical Thought; Hellenistic Philosophy
Stefano Maso works on the history of ancient philosophical schools, particularly Sophists and Presophists, Plato, Aristotle, Epicureanism and Stoicism.
His other interests include the notions of 'risk', 'responsibility', 'tragedy'. He is the author of Filosofia a Roma. Dalla riflessione sui principi all'arte della vita (Roma 2012); Cicerone: Il fato. Introduzione, edizione, traduzione e commento (Roma 2014); Grasp and Dissent: Cicero and Epicurean Philosophy (Brepols 2017); Dissoi Logoi, Edizione criticamente rivista, introduzione, traduzione, commento (Roma 2018); Cicero's Philosophy (Berlin 2022).
He coordinates the research group PhAVE (Ancient Philosophy in Venice).
He promoted the international collaboration agreement for research and teaching between the Universities of Ca 'Foscari (Venice), Bordeaux-Montainge and Genoa (2020). He is responsible for the double-degree (M.A. Philosophy) between the Ca 'Foscari University (Venice) and the Bordeaux-Montaigne University (Bordeaux, France).
He was visiting researcher (summer 2010 and spring 2017) at Georgia State University (Atlanta). He was visiting professor (Erasmus) at the Université Grenoble Alpes (Grenoble), the Philosophische Seminar of Tübingen, the Universidade de São Paulo, the GSU of Atlanta, the Université de Liège.
With Carlos Lévy he directs the "Lexis Ancient Philosophy" series at Edizioni Ca'Foscari (Hakkert-Amsterdam editions until 2019).
He is a member since the foundation (1988) of the editorial board of "Lexis. Poetica, retorica e comunicazione nella tradizione classica", http://www.lexisonline.eu. Since 2020 he is the director in charge. This journal, first published by Hakkert, is now published open access by Edizioni Ca'Foscari (https://edizionicafoscari.unive.it/it/edizioni4/riviste/lexis-journal/issuesList#!)
He is a member since 2017 of the board of the "Società Filosofica Italiana" (SFI), and president of the Venice section (since 2008).
He is treasurer of the Italian Society of the History of Ancient Philosophy (SISFA) since 2009.
He is a member of the advisory board of ESAP (European Society for Ancient Philosophy) since 2007.
He coordinated (2006-2017) the Erasmus exchanges of the Department with Europe and the international agreements with the U.S.A. (Atlanta, San Diego, City College NY) and with Brazil (São Paulo).
Last update: 22/08/2022
The information above have been uploaded on Ca' Foscari website direclty by the user this webpage refers to. The correctness and truthfulness of the published information are responsibilities of the relevant user.