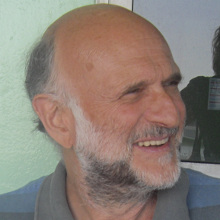 Guglielmo CINQUE
Position

Professor Emeritus
E-mail
Fax

041 234 5744
Scientific sector (SSD)

GLOTTOLOGIA E LINGUISTICA [L-LIN/01]
Website

www.unive.it/persone/cinque (personal record)

Office
Dati personali
Il Prof. Guglielmo Cinque è nato a La Spezia nel 1948. Ha frequentato le scuole a Venezia e l'Università a Padova, dove si è laureato in Lettere nel 1971. Ha poi ottenuto nel 1973 un M.A. in Linguistics presso l'Università della California a Berkeley.
Carriera accademica
E' stato Lettore di italiano all'Universita' di Edimburgo (a.a.1971/72); "Research assistant" presso il Department of Linguistics, University of California a Berkeley (settembre-dicembre 1973); borsista presso l'Università di Padova (1974). Dal 1975 insegna all'Università di Venezia, prima come professore incaricato e associato, e dal 1981 come professore ordinario. E' stato Direttore del Seminario di Linguistica e di Didattica delle Lingue (1986/87 - 1996/97), Direttore del Centro Linguistico Interfacoltà (1989/90-1994/95), Presidente del Corso di Laurea in Lingue e Letterature Straniere (1981/2 - 1986/87), Preside della Facoltà di Lingue e Letterature Straniere (1999/2000- 2001/02), Direttore del Dipartimento di Scienze del Linguaggio (2002/03-2007/08) e membro del Senato Accademico dal 1995/96 al 2007/08.

Insegnamento e attività di ricerca:
Oltre ai corsi per le lauree triennale e magistrale e per il dottorato in Scienze del Linguaggio dell'Università di Venezia, è stato Chargé de Cours presso l'Université de Paris VIII-Vincennes (primavera 1982); Gastprofessor, Institut für Sprachwissenschaft, Universität Wien (semestre invernale 1985/86); Professeur suppléant de linguistique all'Université de Genève (a.a. 1988/89); Visiting Professor alle Università di Harvard (febbraio-maggio1998) e della California a Los Angeles (febbraio-aprile 2003), Professeur all'Ecole Normale Supérieure di Parigi (autunno 2008), Francqui Chair all' Università di Brussel (2010/2011), Visiting Professor alla New York University (primavera 2014), Shaoul Fellow all'Università di Tel Aviv (2015/2016), e Distinguished Visiting Professor all'Università del Connecticut (primavera 2020).
I suoi interessi di ricerca sono: teoria linguistica, teoria della grammatica, sintassi, linguistica romanza, linguistica tipologica.
Ha partecipato dal 1997 al 2007 ad una ricerca co-finanziata dal Ministero dell'Universita' e della Ricerca Scientifica e Tecnologica su "La cartografia delle strutture sintattiche" (delle Università di Venezia, Milano, Siena e Firenze).
Appartenenza a comitati scientifici di riviste e società:
E' stato co-direttore della Rivista di Grammatica Generativa (http://lear.unive.it/jspui/handle/11707/593) (dal 1976 al 2016); è stato "Associate Editor" della rivista Linguistic Inquiry, M.I.T. Press,Cambridge,Mass. (dal 1978 al 2008) ("European Editor", con Luigi Rizzi, della stessa rivista dal 1982 al 1984) e "Associate Editor" delle riviste Natural Language and Linguistic Theory, Springer (dal 1987 al 1990), Journal of Linguistics, Cambridge University Press (dal 1994 al 2006), e Linguistic Typology, Mouton de Gruyter (dal 2008 al 2013). E' attualmente membro dell'"Editorial Board" delle riviste The Linguistic Review, Mouton de Gruyter (dal 1981), Studia Linguistica, Oxford, Blackwell (dal 1993), Studies in Chinese Linguistics (Institute of Chinese Studies, The Chinese University of Hong Kong) (dal 2011), Language and Linguistics (Academia Sinica, Taiwan) (dal 2011), di Quaderni di Linguistica e Studi Orientali (Firenze University Press) (dal 2015), e delle serie Studies in Natural Language and Linguistic Theory, Springer (dal 1987), Linguistik Aktuell, J.Benjamins (dal 1988), Linguistic Variation, Elsevier (dal 1997), Language and Linguistics monographs (Academia Sinica, Taiwan) (dal 2011), Language Faculty and Beyond, Benjamins (dal 2012), Oxford Surveys in Syntax and Morphology, Oxford University Press (dal 2006), Quaderni di Studi Orientali, Firenze University Press (dal 2015), VenPalabras Estudios de lexicología española, Edizioni Ca' Foscari (dal 2017). E' membro della Società di Linguistica Italiana (dal 1975); della International Society for Linguistics - GLOW (dal 1980), Honorary Professor dell'Università di Bucarest (dal 2006), membro onorario della Linguistic Society of America (dal 2010) e socio eletto dell' Academia Europaea (dal 2012).
Last update: 15/05/2023
The information above have been uploaded on Ca' Foscari website direclty by the user this webpage refers to. The correctness and truthfulness of the published information are responsibilities of the relevant user.