SLANZI Debora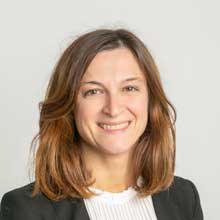 Position
Assistant Professor
Research Areas
Evolutionary Statistics and Data Mining
Focus Area
Probabilistic Graphical models, Bayesian Data Analysis, Statistical Modelling, Evolutionary Experimental Design, High Dimensional Analysis.
Short Bio
Debora Slanzi is Assistant Professor at the Department of Management of the Ca' Foscari University of Venice. Graduated in 2002 in Statistics at the University of Padova, in 2006 she has got the PhD in Statistics at the University of Padova. She was a visiting PhD student at the Department of Computer Science of the Aalborg University. She is a member of the Italian Statistical Society. Her main research interests regard Bayesian Statistics and Probability Theory as tools for the analysis of uncertainty in complex and multidimensional systems, multivariate statistical analysis and patterns of dependence by means of graphical models including ease of comprehension, of expert opinion's elicitation and of comparing probabilities. Recent research projects are devoted to design of experiments in genomics and molecular biology, machine learning and data mining especially in classification problems and feature selection in high dimensional systems.
Ultima modifica: 10/05/2018
Le informazioni riportate sono state caricate sul sito dell'Università Ca' Foscari Venezia direttamente dall'utente a cui si riferisce la pagina. La correttezza e veridicità delle informazioni pubblicate sono di esclusiva responsabilità del singolo utente.