CAMPOMORI Francesca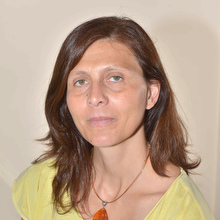 Francesca Campomori è professore associato presso il Dipartimento di Filosofia e Beni culturali dove insegna Politiche pubbliche sociali, Politiche di inclusione sociale e Introduction to Politics. Dal 2017 è presidente del corso di laurea in Scienze della Società e del Servizio Sociale e del corso di laurea magistrale in Lavoro, cittadinanza sociale, Interculturalità. E' laureata in Scienze Politiche presso l'Università di Bologna e nel 2004 ha conseguito il dottorato in Scienze Politiche presso l'Università di Firenze. Dal 2004 al 2010 è stata assegnista presso l'Università di Bologna. Nel 2008 è stata visiting fellow presso l'Università di Nottingham (da settembre a dicembre).

E' membro della redazione della rivista Mondi Migranti (edita da Franco Angeli), della rivista Politiche Sociali/Social Policies. Fa parte del board di ESPANET Italia (http://www.espanet-italia.net/) e del board of directors di IMISCOE (https://www.imiscoe.org/). Attualmente è coordinatore di un progetto di ricerca INTERREG Central Europe dal titolo SIforREF, Integrating Refugees in Society and Labour Market through Social Innovation. Negli anni passati ha partecipato come membro dell'unità di ricerca di Ca' Foscari al progetto europeo triennale CITISPYCE : Combating inequalities through innovative social practices of, and for, young people in cities across Europe, (VII programma quadro, 2013-2016). I suoi interessi di ricerca riguardano: le politiche di integrazione degli immigrati in Italia e in Europa; le politiche di asilo; l'innovazione sociale nelle politiche sociali; lo sviluppo dei sistemi di welfare.
Francesca Campomori is currently Associate Professor at the Department of Philosophy and Cultural Heritage (University of Venice Cà Foscari), where she teaches Social Policies and Introduction to Politics. She has a Phd in Political Science (University of Florence). From 2004 to 2010 she was research fellow at University of Bologna, Department of Political Science. In 2008 she has been visiting fellow at the University of Nottingham, School of Sociology and Social Policy.
She is a member of the editorial advisory board of the journals Mondi Migranti and Politiche Sociali/Social Policies. She is also in the board of ESPANET Italia and IMISCOE. Her main research interests are in the field of immigration policies, especially in a local perspective, social policies and social innovation. Currently, she is leading a three years INTERREG Central Europe Project called SIforREF Integrating Refugees in Society and Labour Market through Social Innovation.
Ultima modifica: 17/06/2019
Le informazioni riportate sono state caricate sul sito dell'Università Ca' Foscari Venezia direttamente dall'utente a cui si riferisce la pagina. La correttezza e veridicità delle informazioni pubblicate sono di esclusiva responsabilità del singolo utente.