GUARNERI Cristiano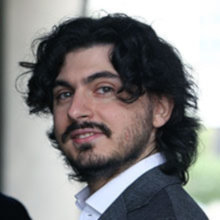 Cristiano Guarneri (1979) è storico dell'architettura e della città.
Dopo aver conseguito il dottorato di ricerca di eccellenza in Storia dell'architettura e della città, scienze delle arti e restauro presso la Scuola di Studi Avanzati in Venezia (2010), è stato assegnista di ricerca all'Università Iuav di Venezia e all'Università di Padova. Nel 2007 è stato ricercatore alla Fondazione Archivio del Moderno dell'Accademia di Architettura di Mendrisio (Università della Svizzera Italiana). Nel 2008 ha vinto una borsa annuale per ricercatore esordiente (Bourse pour chercheur débutant) del Fondo Nazionale Svizzero per la ricerca scientifica, grazie alla quale è stato "visiting researcher" al Museo Statale Ermitage di San Pietroburgo. Attualmente è Post-doc Fellow nel progetto ERC AdriArchCult, GA n. 865863.
Ha tenuto corsi e moduli didattici di Storia dell'architettura contemporanea in qualità di professore a contratto presso l'Università di Padova, l'Università di Brescia, l'Università Ca' Foscari di Venezia e l'École Nationale Superieure des Traveaux Publics a Yaoundé. In precedenza è stato assistente alla didattica e cultore della materia in corsi di Storia dell'architettura (dall'antichità fino al Settecento) presso l'Università di Brescia e l'Università di Padova.
Cristiano Guarneri is an architectural and urban historian. He received his PhD at the School for Advanced Studies in Venice (2010) with a dissertation on the Peter the Great's Kunstkamera in St Petersburg, under supervision of Howard Burns. His pre-doctoral research has been conducted at the Fondazione Archivio del Moderno of the Academy of Architecture in Mendrisio (University of Italian Switzerland), and in the State Hermitage Museum in St. Petersburg, supported by the Bourse pour Chercheur Débutant from the Swiss National Science Foundation (2008). Since 2010 he has held postdoctoral positions at the IUAV University in Venice and the University of Padua. He taught history of modern and contemporary architecture as adjunct professor at the universities of Padua, Brescia, Venice Ca' Foscari, and at the École Nationale Superieure des Traveaux Publics of Yaoundé, and as a teaching assistant in the courses of history of architecture at the universities of Brescia and Padua.
Ultima modifica: 20/11/2020
Le informazioni riportate sono state caricate sul sito dell'Università Ca' Foscari Venezia direttamente dall'utente a cui si riferisce la pagina. La correttezza e veridicità delle informazioni pubblicate sono di esclusiva responsabilità del singolo utente.