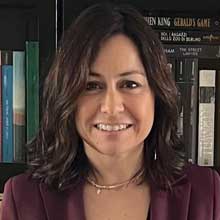 Alessandra Cecilia JACOMUZZI
Position

Researcher
Telephone

041 234 7252
Scientific sector (SSD)

PSICOLOGIA GENERALE [M-PSI/01]
Website

www.unive.it/persone/alessandra.jacomuzzi (personal record)

Office
Activities and research skills
General information
Scientific sector (SSD)

PSICOLOGIA GENERALE [M-PSI/01]
Geographic areas in which the research experience mainly applies

Internazionale: Europa
Known languages

Francese (scritto: avanzato parlato: avanzato)
Inglese (scritto: avanzato parlato: avanzato)

Participation in editorial boards of scientific journals/book series

Redazione della Rivista di Estetica, Rosenberg & Sellier editore.
Areas and research fields

Area: Filosofia e Scienze Sociali Linea: Educazione degli adulti
Area: Filosofia e Scienze Sociali Linea: Psicologia generale

Research skills
Informatica, analisi di sistemi di protesi per non vedenti.Statistica, Statview, Datadesk. Grafica: Macromedia Art Director, Adobe Illustrator, Photoshop, Deneba Canvas. Internet: Macromedia DreamWeaver, Frontpage. Software di impaginazione: Indesign CS3.
Conduzione di esperimenti in laboratorio ed elaborazione scientifica dei dati. Conduzione di focus group. Elaborazione di sondaggi.
Completed and pending researches
L'analogia come processo cognitivo

SSD:

M-PSI/01

Other members of the research group:
L'arte, la creatività, i processi cognitivi

SSD:

M-PSI/01

Other members of the research group:
L'entomofagia: percezione e comunicazione dei novel food

SSD:

M-PSI/01

Other members of the research group:

Laura Emma MILANI MARIN

L'influenza della pandemia sul lavoro degli insegnanti che seguono ragazzi con BES

SSD:

M-PSI/01

Other members of the research group:

Laura Emma MILANI MARIN

Funds
REUERHC 2018-20 Erasmus +

Funding body:

ERASMUS PLUS

Type:

Programmi DG - Employment, Social Affairs and Equal Opportunities

Role in the project:

LD

Starting date:

Year: 2019 Length in months: 24