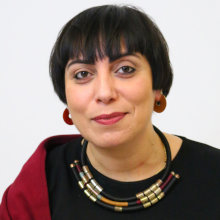 SICARI Ilaria
Position

Research Grant Holder
E-mail
Website

www.unive.it/persone/ilaria.sicari (personal record)

Office
Ilaria Sicari is a post-doctoral research fellow in Russian Studies at University Ca'Foscari of Venice with a project titled "The Transnational Socialization of Texts and the Formation of the European Cultural Identity in the Context of the Cold War: the Case of Italian tamizdat (1957-1991)".
She earned a bachelor's degree in Foreign Language and Literature (University of Bologna, 2008), a master's degree in Russian Studies (Ca' Foscari University of Venice, 2012) and a Ph.D. in Modern Languages, Cultures and Societies in the Slavonic field (Ca' Foscari University of Venice, 2017).
During her doctoral studies, thanks to the Overseas scholarship, she led her research at the HSE of Moscow (2015-16), collaborating with the research group "InterLit" (Internacional'naia literatura) under the supervision of E. Zemskova and E. Ostrovskaia. From 2017 to 2018 she was member of the research group "The Reception of Soviet Political Repressions in the French-Italian Cultural Universe (1917-1987)" directed by C. Pieralli (University of Florence) and L. Jurgenson (Paris-Sorbonne University). Since 2018 she collaborates with two research digital projects related to dissent and reception of unofficial Soviet literature in the West: "On the Two Sides of the Iron Curtain: Culture of Dissent and the Definition of a European Identity in the Late Twentieth Century between Italy, France and the USSR (1956-1991)" based at the University of Florence and coordinated by C. Pieralli and T. Spignoli; and "Contraband Russian Literature across Borders: An Online Archive of Documents (1956-1991)" directed by Yasha Klots (CUNY University). Since 2022 she collaborates with the digital platform "Voci libere in USSR-Free Voices in the USSR", a scientific project coordinated by C. Pieralli and M. Sabbatini (University of Pisa) and published by Firenze University Press.
She was adjunct professor of Russian Literature at University of Florence (2018-20), where she taught some courses –both at BA and MA level– on Socialist Realism, unofficial Soviet literature (samizdat and tamizdat), dissent, Soviet Human Rights Movement and abuse of psychiatry in the USSR.
She dealt with the reception of foreign literature in the Soviet Union publishing several articles in Italian and international scientific journals. Her research interests range from comparative literature to Translation Studies, Reception studies, Cultural and Intellectual History of the Soviet Russia. Currently she deals with the study of Soviet literary institutions; censorship; Soviet cultural policies; Soviet uncensored literature (nepodtsenzurnaia literatura); production, circulation and reception of samizdat and tamizdat beyond and across the Iron Curtain; Cultural Cold War; Soviet dissent and Human Rights movement.
She is member of the Association of Italian Slavists (AIS) and of the Association for Slavic and East European and Eurasian Studies (ASEES).
Last update: 07/06/2022
The information above have been uploaded on Ca' Foscari website direclty by the user this webpage refers to. The correctness and truthfulness of the published information are responsibilities of the relevant user.