Current exhibition: "Ca' Foscari between War and Peace"
In the 20th century, Europe was torn by two world wars whose consequences also affected Italy, Venice and its institutions. These showcases offer a journey through Ca' Foscari's participation in the two wars and the voices of personalities who contributed to the preservation and reconstruction of post-war culture in an attempt to lay the foundations for a peaceful future.
With respect to the commemoration of the fallen, please note that the Cortile della Niobe can be visited at Ca' Foscari. Since 2018, the University Library System has created a Database of fallen Ca' Foscari members . Further insights into Ca' Foscari history can be found in Phaidra, History of Ca' Foscari University of Venice.
Showcase 1
1-a, Antonio Fradeletto (1858-1930): Ca' Foscari professor and cultural promoter
Antonio Fradeletto was born in Venice in 1858. In 1876, he enrolled in the Faculty of Literature and Philosophy at the University of Padua. In those years, he began working with the daily newspaper Il Giornale di Padova, writing reviews, art critiques and literary articles. He graduated in 1880 and shortly afterwards obtained a chair in Italian literature at the Higher School of Economics and Commerce in Venice. Thus, during the 1880s, he became actively involved in both teaching and culture. Indeed, Fradeletto became the main architect of Venetian cultural life in the last years of the 19th century. Thanks to his friendship with education councillor Giovanni Bordiga, he came up with the idea of a national art exhibition. This became reality in 1893, when the proposal was accepted by the City Council. The Exposition (the name Biennale was not given until later) was held on 25 April 1895 in the presence of Umberto I and Margherita di Savoia. One of his most famous speeches is La volontà come forza sociale (The Will as a Social Force) (1a), which he delivered at the inauguration of the 1904-1905 school year of the Royal School of Commerce in Venice. There, he defines 'will' as 'the coordination of acts so logically rigorous that they all converge towards a common end [...]'.
During the war years, he was involved, together with fellow citizen P. Molmenti, in the protection of the city's artistic heritage and continued his activity as a lecturer, delivering numerous speeches in support of the war. One of these was La gioventù italiana e la guerra (Italian Youth and the War) (1b), which he wrote on the occasion of the inauguration of the 1916-1917 school year and which he dedicated to the youth, 'who, since the dawn of the national revolution, have contributed with their intellect and heart, with their arms and blood, to removing the servile clothes of old Italy, to creating a new, free and strong Italy [...]'.
He died in Rome on 5 March 1930.
FRADELETTO, Antonio in "Dizionario Biografico"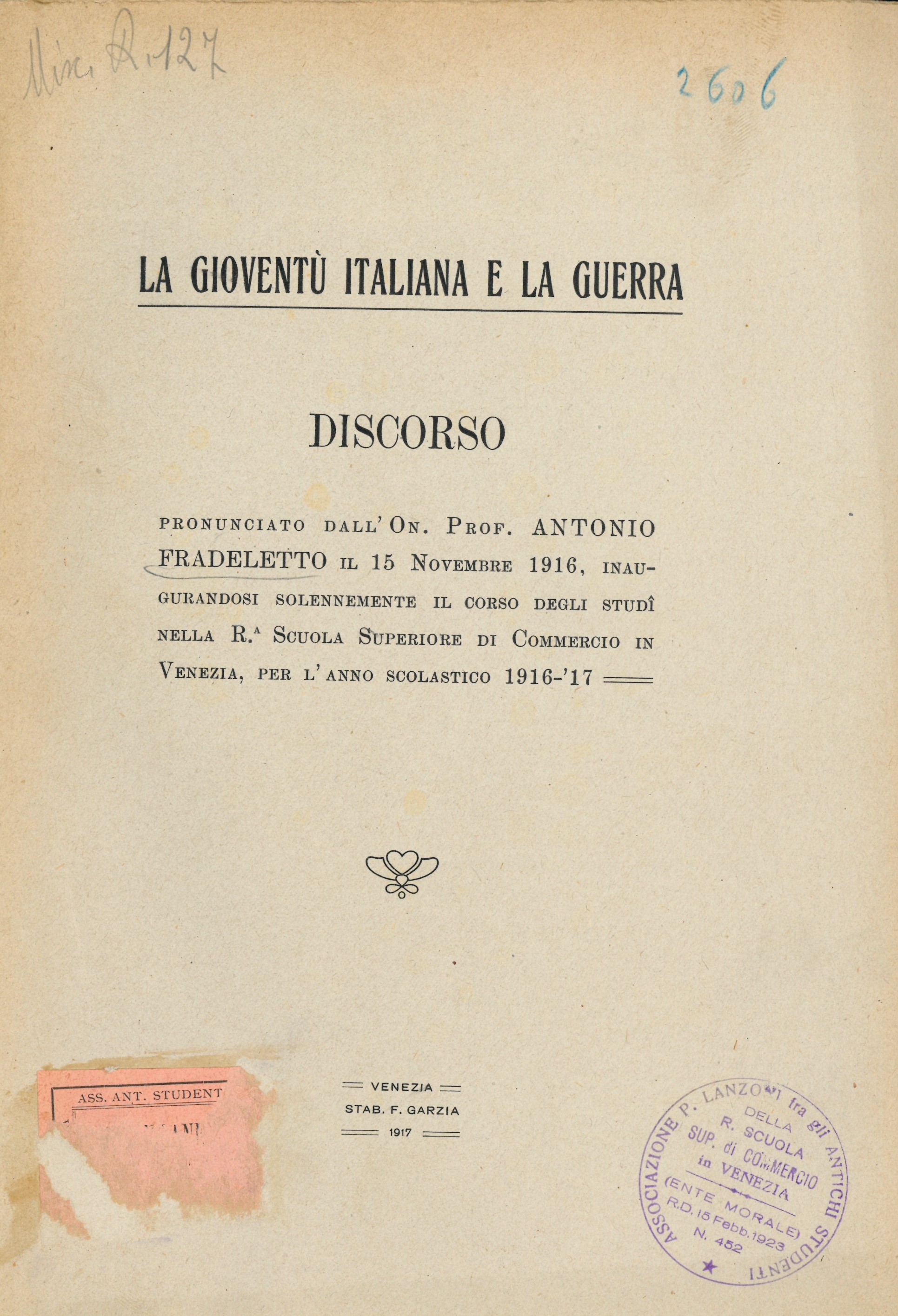 1 -b, A. Fradeletto, La gioventù italiana e la guerra, 1917 (FS, AntStud, Misc Q 127)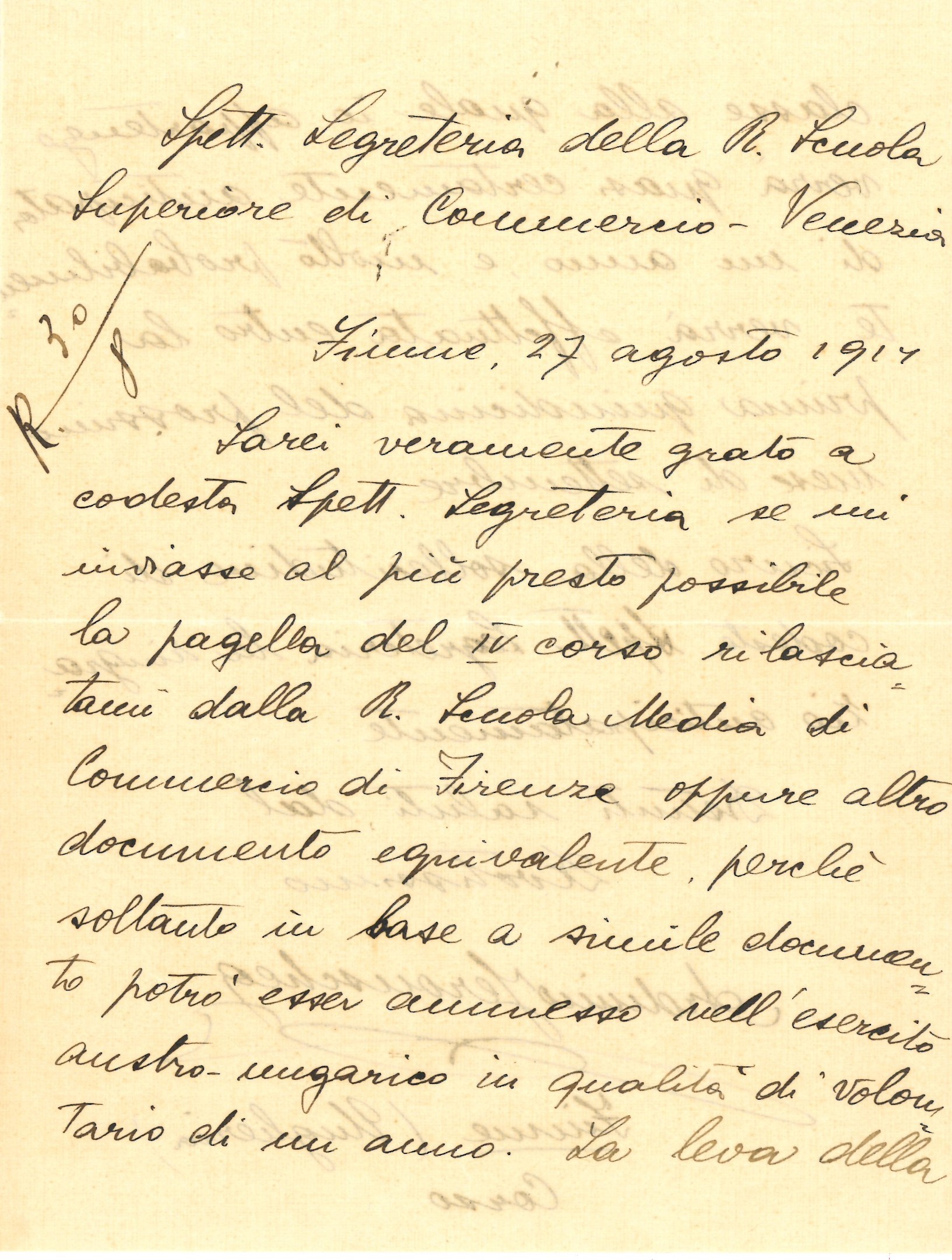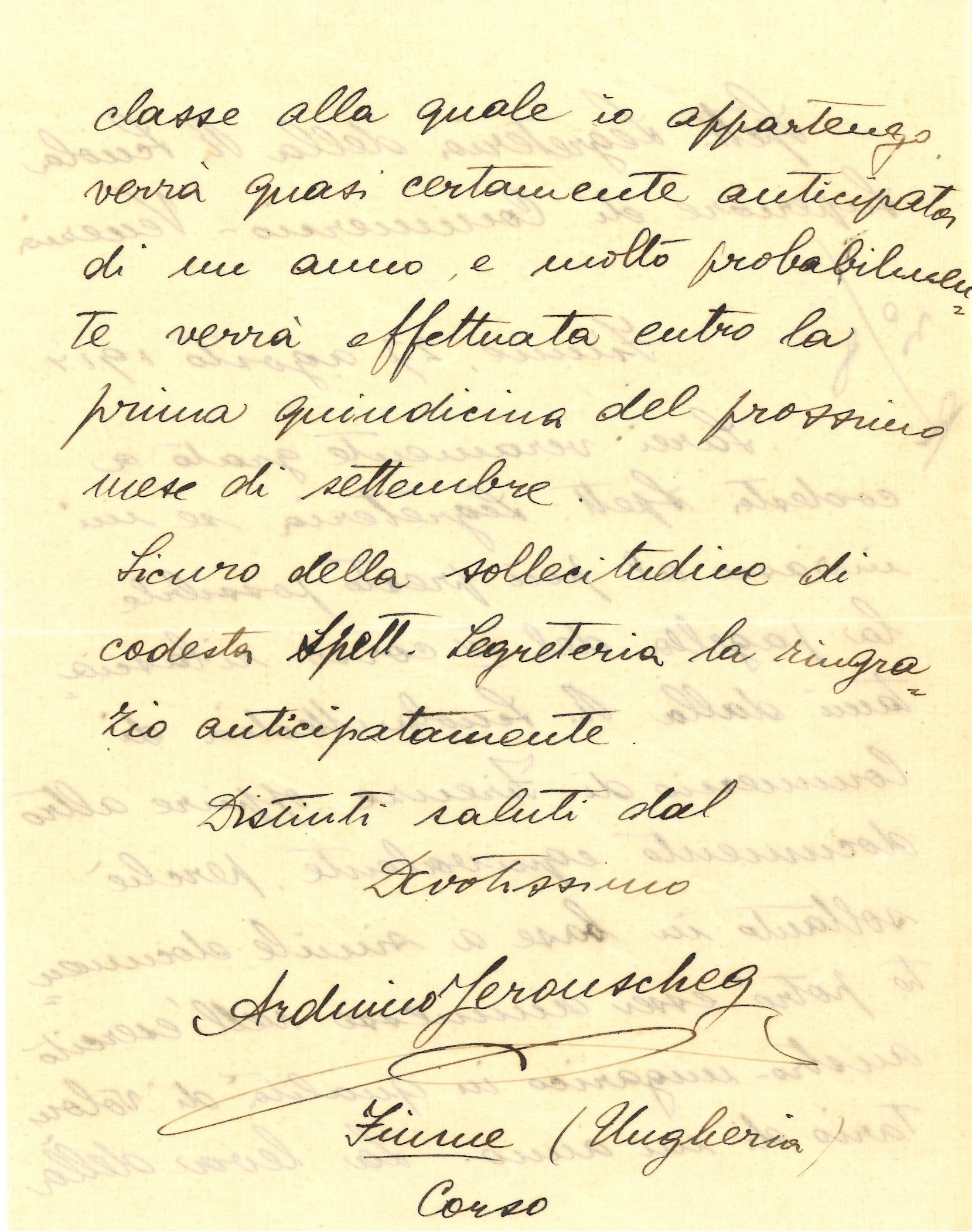 2 - a, Arduino Jerouscheg (1894-1916): Fallen Ca' Foscari student
Arduino was born in Fiume on 5 February 1894. In 1910, he enrolled in the Royal Higher School of Commerce of Florence, which he attended for about three years. He then enrolled in the Royal Higher School of Commerce in Venice. In 1914, when war broke out, and Arduino wrote to the Venice School to obtain documents he needed to be admitted to the Austro-Hungarian army as a one-year volunteer (2a, letter of 27 August 1914). Arduino's fear of not being able to sit the last exam of the first year emerges clearly in a letter he sent to Prof. Pietro Rigobon "Let us hope the war ends soon; I would be very sorry if I could not sit the Statistics exam in October. Ah, who knows where I'll be in October! Let us hope for the best" (2b, letter of 3 September 1914). Despite the war that was tearing Europe apart, Arduino took care to inform the secretary of the Royal School of Commerce in Venice of his desire to continue his studies, enrolling in the 2nd course of the Commerce Department: "When enrolment opens, please be so kind as to enrol me in the 2nd course of the Commerce Department. I will not be able to send the money for the fee because money cannot be sent abroad; on my return, hopefully soon, I will settle everything" (2c, letter of 22 October 1914). Four days after this letter was written, he had to report to Pécs, Hungary, to be incorporated into the 19th Infantry Regiment of the Royal Hungarian Army being deployed to the Russian front, which was to suffer losses amounting to 70 per cent of the fighting force in November of the same year.
Arduino died in 1916 in Galicia. When the memorial plaque for the fallen Ca' Foscari soldiers was erected, he was excluded, as stated on the Roll of Honour, because he 'was neither Italian nor had fallen for the Italian cause'. Ideally, he lies in Pécs, where a plaque commemorating the Fiuman fallen for Austria-Hungary still stands. In 2018, Ca' Foscari University of Venice arranged for his name to be engraved on the gravestone.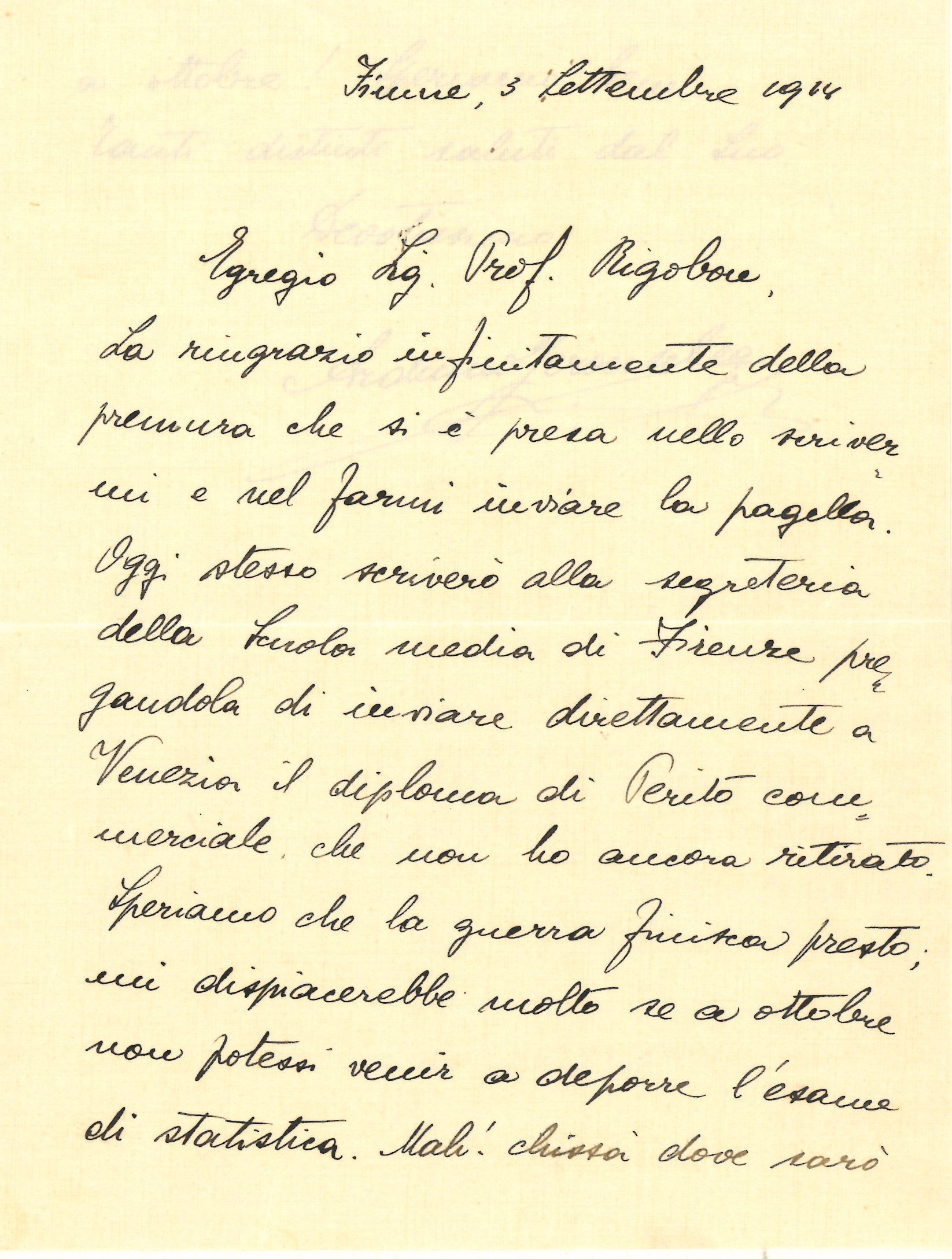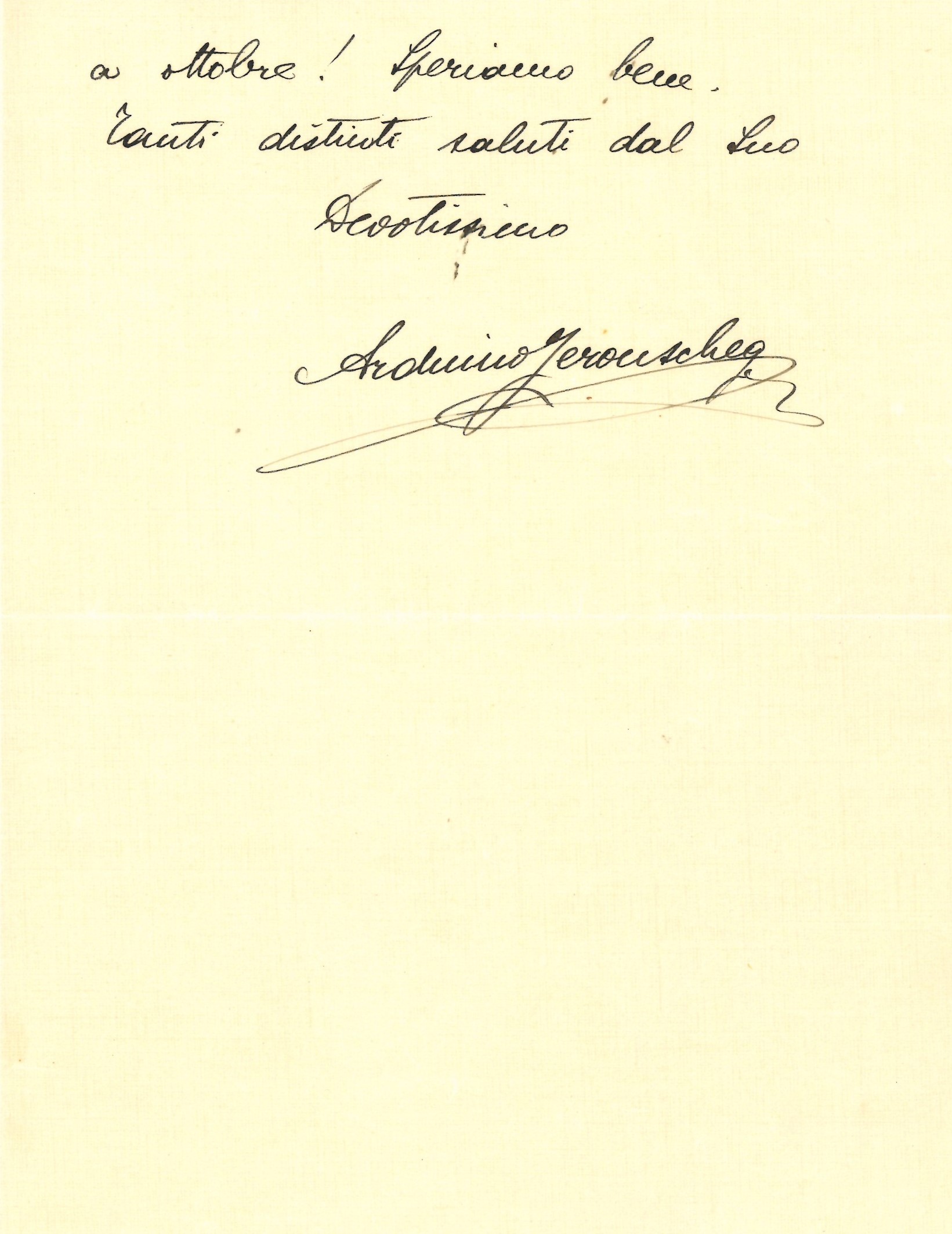 2 - b, 3 September 1914. Letter from A. Jerouscheg to Prof. Rigobon. (ASCF. Student Series,File 1804)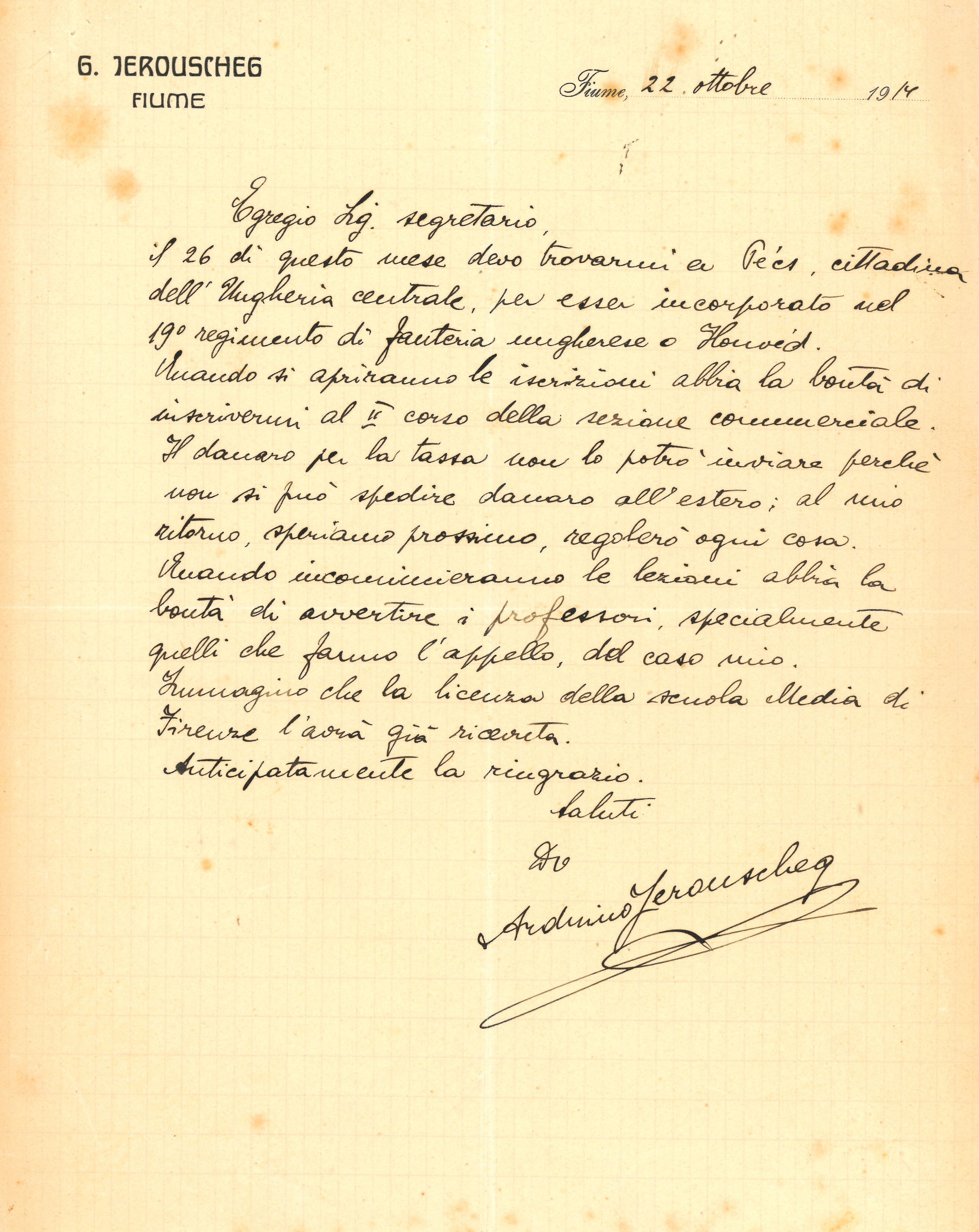 2 - c, 22 October 1914, Letter from A. Jerouscheg to the Secretary of the Royal Higher Institute of Commerce in Venice. (ASCF. Student Series, File 1804)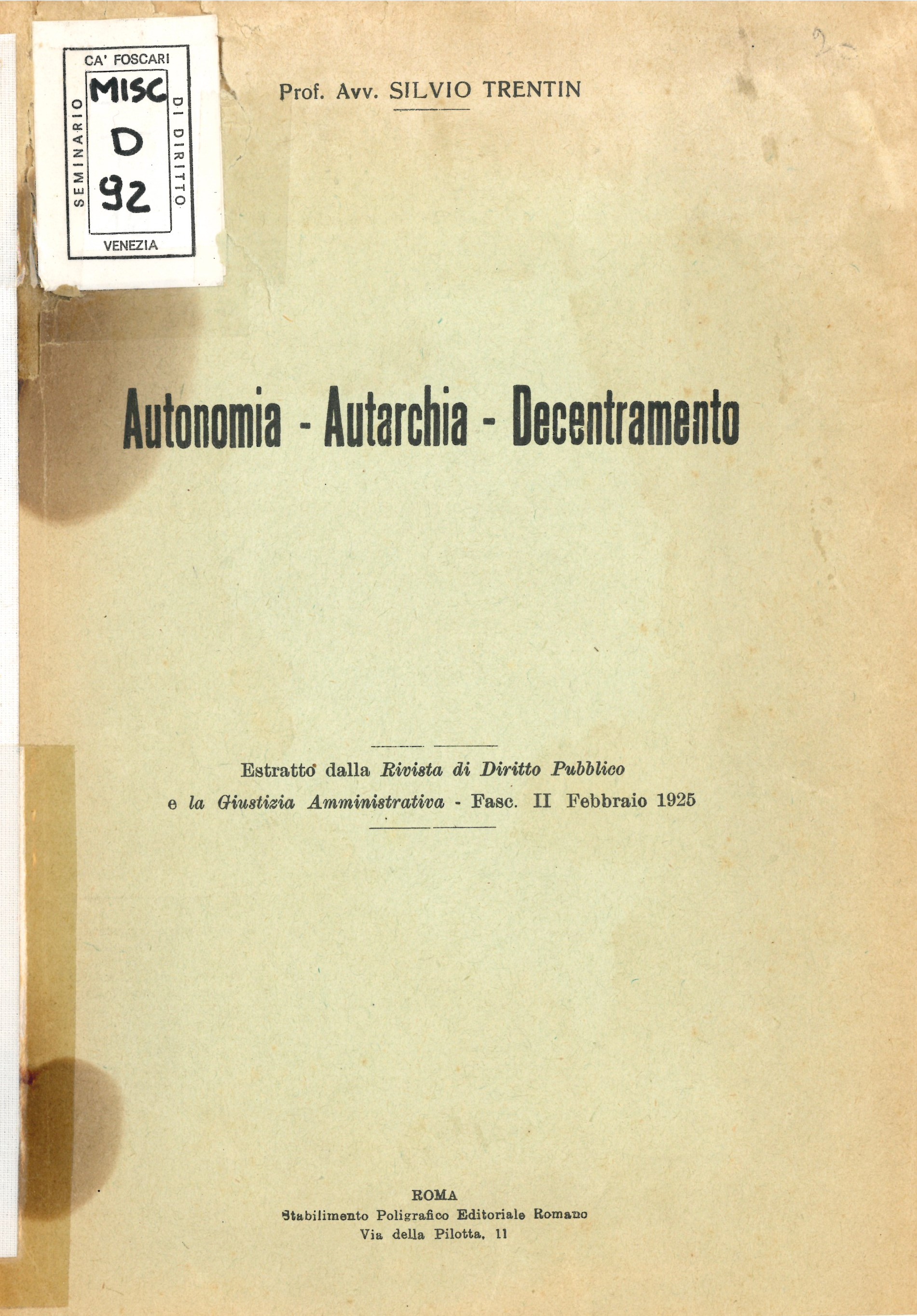 3 –a, Silvio Trentin (1885-1944): jurist, lecturer and partisan
Trentin was born in San Donà di Piave (Venice) in 1885. He graduated in law in 1908 from the University of Pisa.
He then contributed to post-war reconstruction by working for the Federal Credit Institute for the Resurgence of the Venetian regions, which was opened by Luigi Luzzatti in March 1919. In the same year, he was involved in the campaign for land reclamation, the efficient and better use and management of hydroelectric resources, the reform of public works, and the adoption of a law against home labour. The following year, he contributed to the establishment of the Body for the Reconstruction and Agrarian Rebirth of the Provinces of Venice and Treviso. In 1923, he took up the post of professor of public law at the Royal Institute of Economic and Commercial Sciences at Ca' Foscari University of Venice. He developed an interest in the subject of local autonomy, though he did not adhere to any form of regionalism or federalism. He based his inaugural speech at Ca' Foscari in November 1924 on this reflection: Autonomia, autarchia e decentramento (Autonomy, Autarchy and Decentralisation). (3a) There, he expresses confidence in the possibility of modernising the state from within by enhancing the role of municipalities (conceived as autarchic bodies). In the 1920s, he became aware of the impossibility of agreeing with the fascists and signed the Manifesto of Anti-Fascist Intellectuals, which was published by Benedetto Croce in April 1925. In 1926, he renounced his academic titles and positions by resigning from Ca' Foscari, also following the enactment of Italian Law No. 2300 of 24 December 1925, which provided for the possibility of dismissing from service civil servants who did not show loyalty to the government.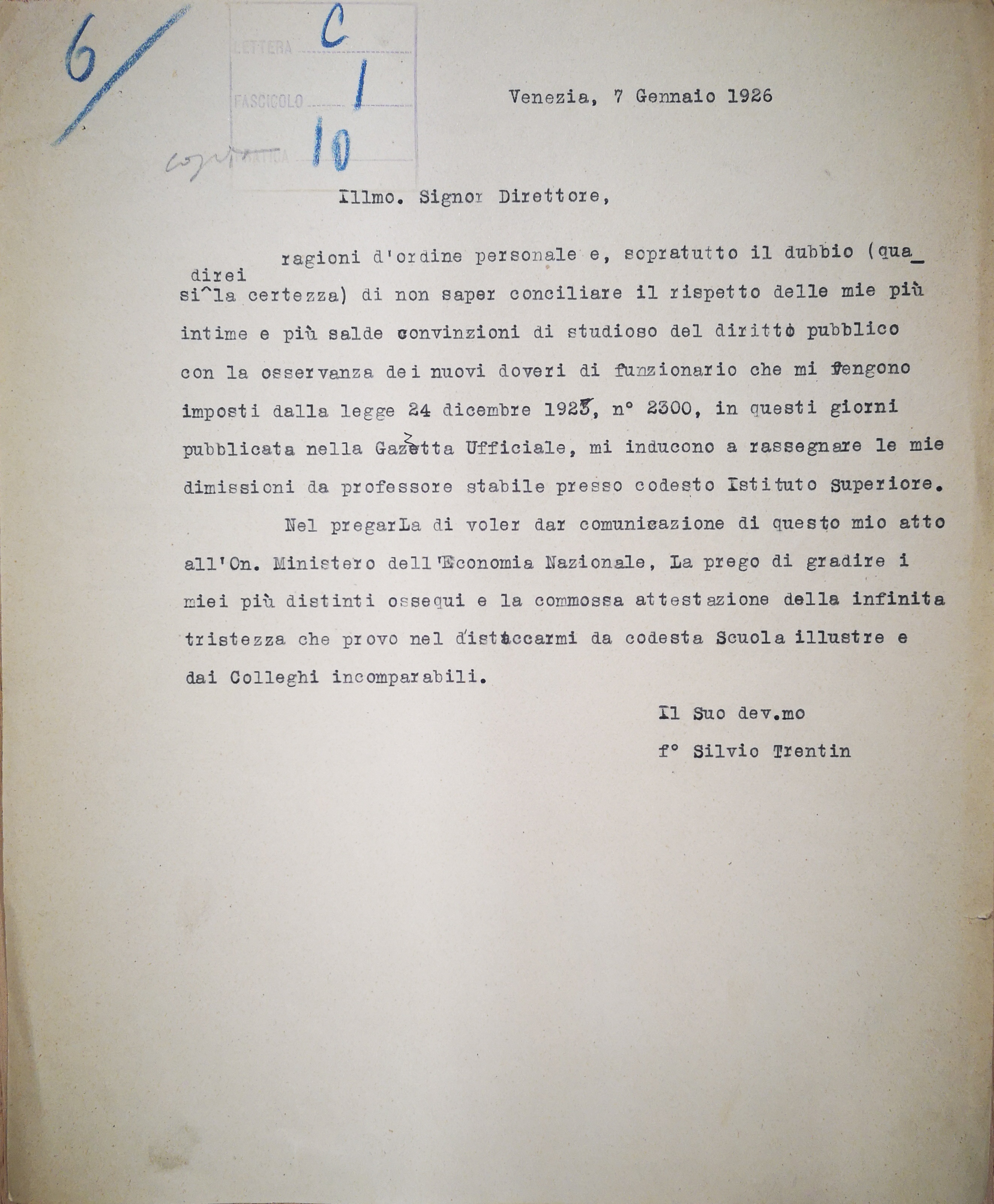 3 - b, 7 January 1926, letter of resignation of S. Trentin (ASCF, Rectorate, Lecturers, Trentin file)
His letter of 7 January 1926 (3b) to the director of the School reads: "reasons of a personal nature and, above all, my fear (almost to the point of certainty) of not being able to reconcile respect for my innermost and firmest convictions as a scholar of public law with observance of the new duties of an official imposed on me by Law No. 2300 of 24 December 1925, recently published in the Official Journal, have led me to resign as a full professor at this Higher Institute". In the same year, he left Italy and moved to the south of France, where he joined the Republican Party.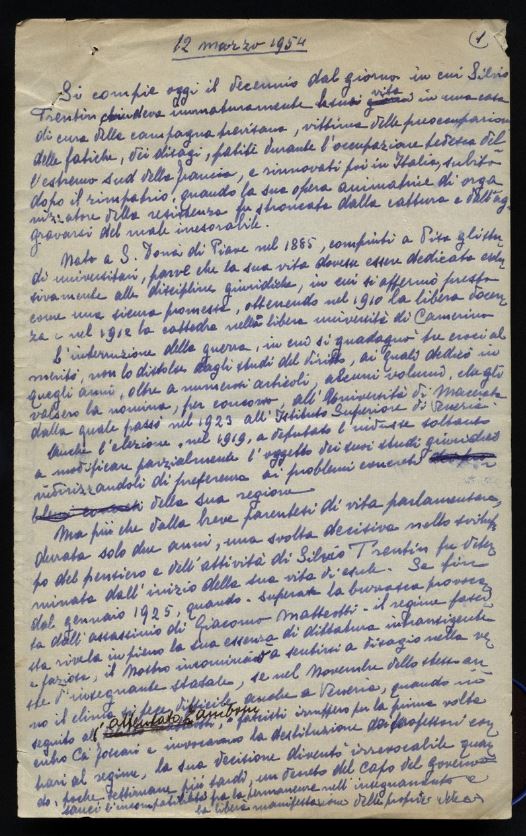 3 - c,12 March 1954, Luzzatto (BEC, Luzzatto Archive, envelope I B File 24 c)
A year later, he took part in the formation of the Anti-Fascist Action Movement and approached Carlo Rosselli's Giustizia e libertà group. During the Second World War, between 1940 and 1941, he made contact with the French Resistance. He returned to Italy in September 1943, where he actively worked for the political and military organisation of the Veneto Resistance. On 12 November of the same year, he was arrested by the fascist police and later released for health reasons. He died on 12 March 1944.
Ca' Foscari University's Library of Economics (BEC) preserves the handwritten speech (3c) that Gino Luzzatto wrote on the occasion of his commemoration in 1954 for National Radio.
TRENTIN, Silvio in "Dizionario Biografico"
4 - December 1939: Inauguration of the Officer Cadet Course at Ca' Foscari
The two photos capture the opening ceremony of the Officer Cadet Course held in December 1939 in the courtyard of Ca' Foscari. The first (4a) depicts an officer giving a speech on a platform. Behind him is a group of uniformed officers. In the second (4b), there is a group of officers standing at attention.
The report on the activities of the Fascist University Groups contained in the yearbook for the 1936 academic year reads "Just over a year ago, when the campaign for the conquest of the empire began, [...] the typically Italian and fascist phenomenon of voluntarism manifested itself. At that time, Venetian students competed in numbers and enthusiasm with those of other universities in asking for the honour of serving the cause in arms [...]'. The same volume celebrates an alumnus (recalled) and two Ca' Foscari students who fell in battle during the African campaign (Bertoldi Giovanni, Bellini Mario and Manetti Eugenio).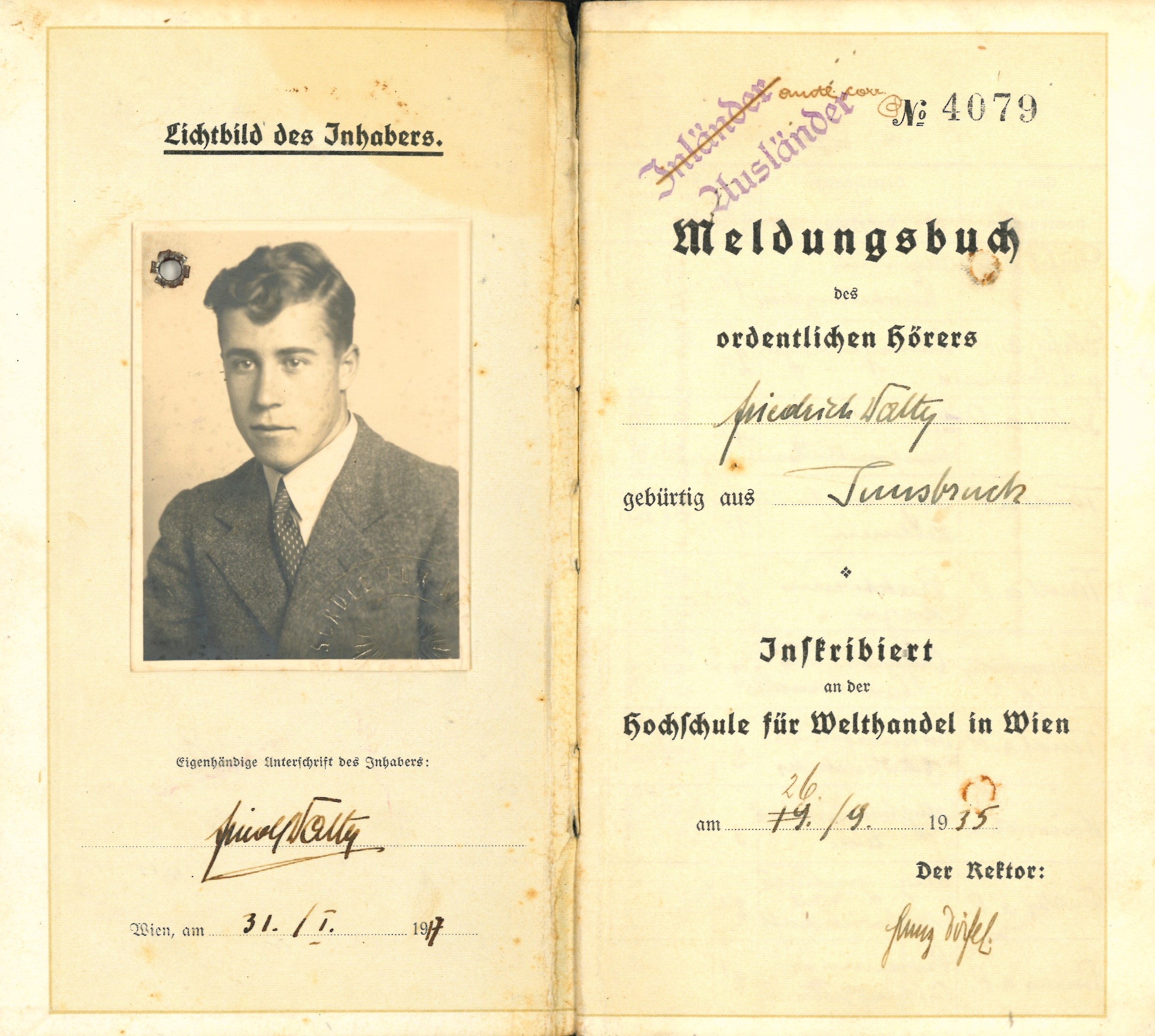 5 -a, Federico Walter (1917-1942): fallen Ca' Foscari student
Federico was born in Innsbruck on 30 January 1917. He lived in Brunico and was an Italian citizen with full civil and political rights. He studied at the Hochschule für Welthandel (University of Vienna), where he obtained his Diplom Kaufman degree. He graduated from the Higher Institute of Economics and Commerce of Venice on 7 November 1939 and then enrolled in the Magisterium course in Economics and Law at the same institute. In 1940, Bolzano's Fascist University Group declared Federico Walter's enrolment invalid due to his having opted for foreign citizenship (5b). He died on the Russian front near the Volchov river area on 28 July 1942 (5c).
Ca' Foscari Archives contain some transcripts from when he was a student at the University of Vienna (5a).
5 -b, Letter from the GUF (ASCF. Student Series, File 10869)
5 -c, Communication by Franz Walter to the university of the death of his son Federico (ASCF. Student Series, File 10869)
Showcase 2
6 - a, Italo Baratto (1917-1944): fallen Ca' Foscari student
Italo was born in Pederobba (Treviso) in 1917. He enrolled in a degree course in Foreign Languages and Literature at the Royal Higher Institute of Economics and Commerce of Venice in October 1939. When called up to arms on 10 November 1939, he served with the 'Albis Ardua' Lancieri di Novara Regiment in Verona. A second lieutenant aviator in the 116th Squadron, he was wounded in the stomach during flight and died of post-operative complications (peritonitis) in the military hospital at Airport 85.
The University keeps a certificate of Italo Baratto's identity, in which the young man can be seen in civilian clothes, as well as a photo in military clothing (6a). The postcard in which the Baratto family informs the University of Italo's death is also present (6b), to which they enclosed a copy of a letter from Captain Regnolli, Italo's commanding officer, informing the family of the circumstances of the young man's death and the arrangements made for the body (6c).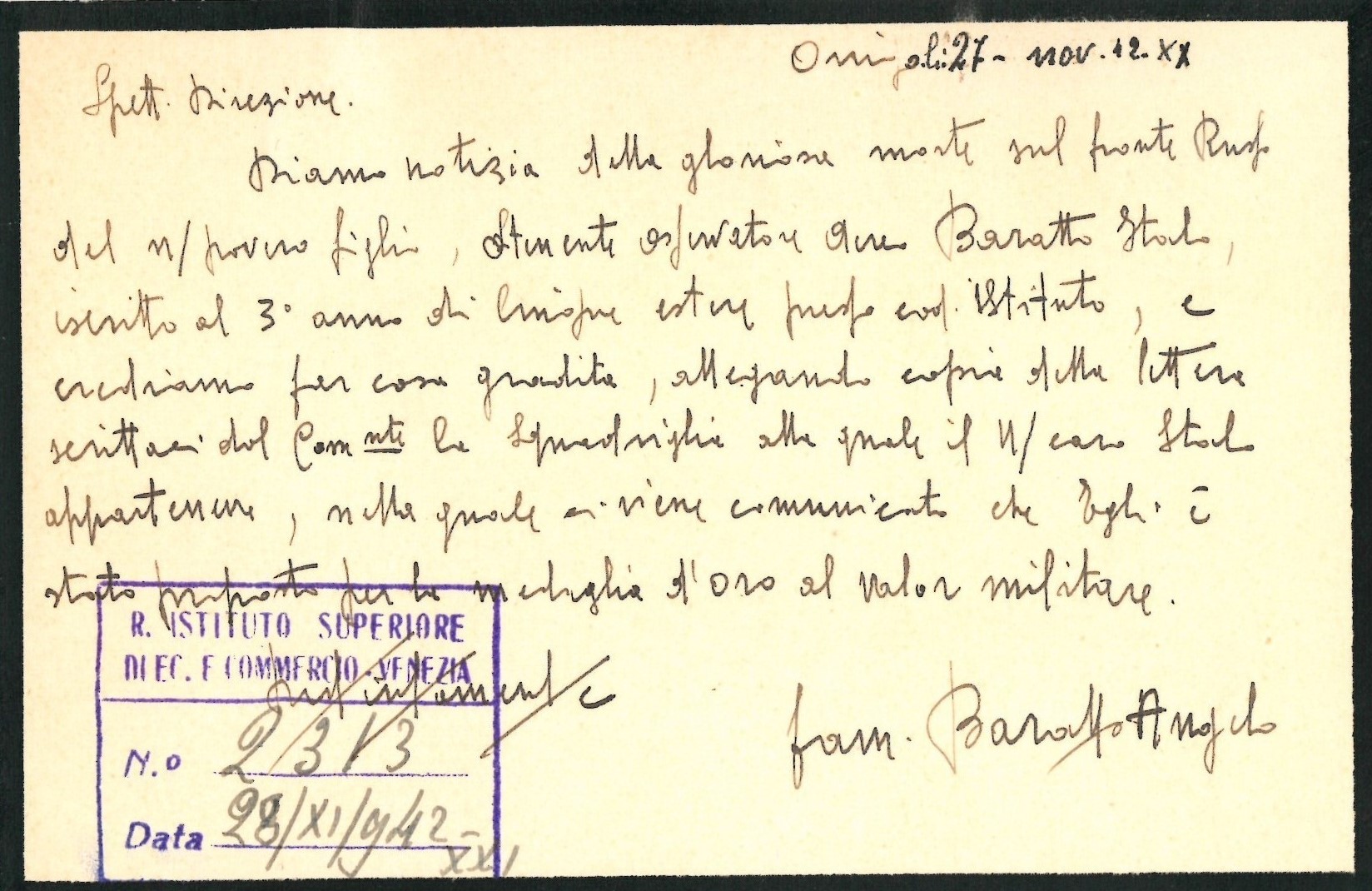 6 - b, Communication from the family to the university of the death of their son Italo. (ASCF. Student Series, File 11035)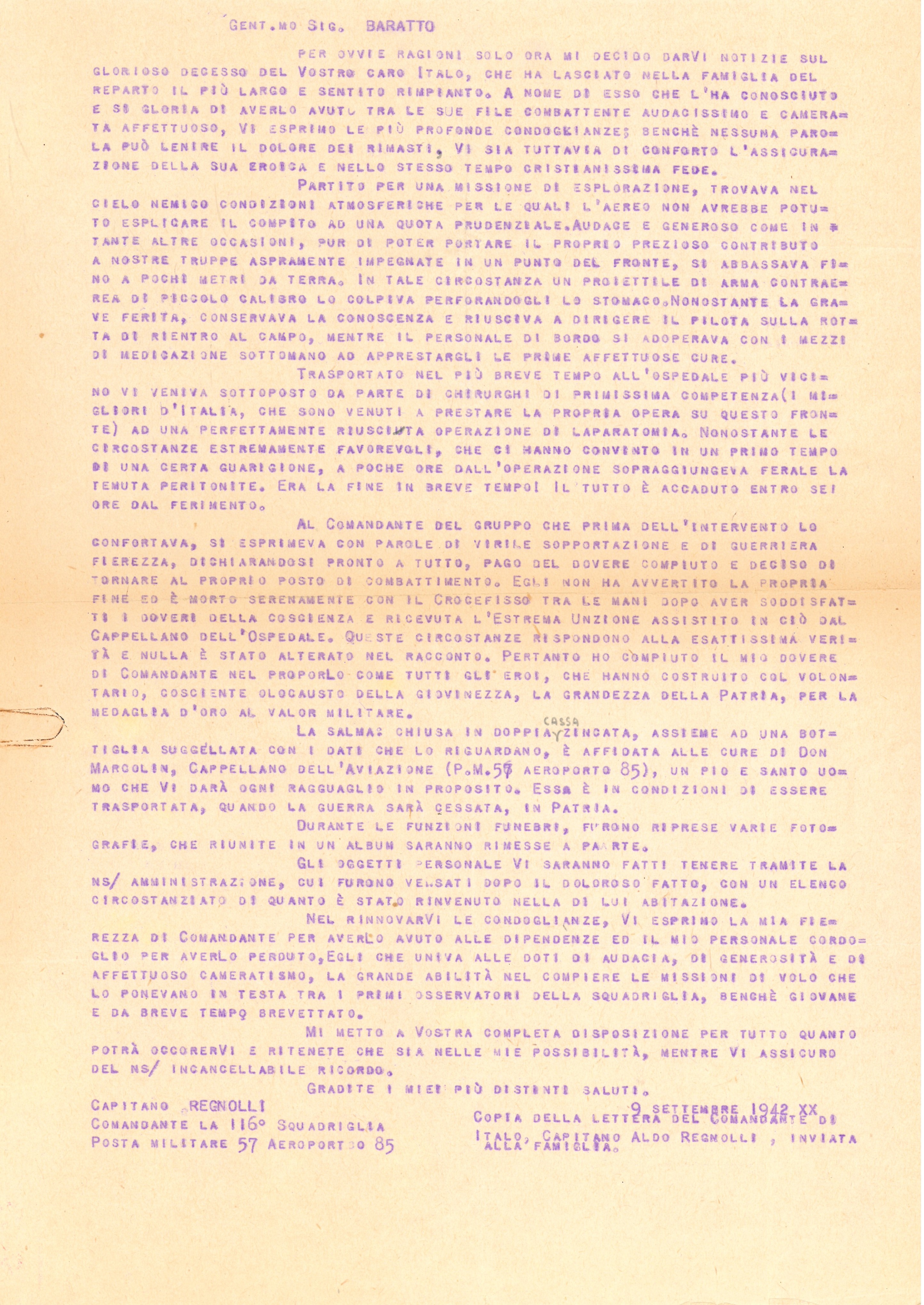 6 - c, Letter from Commander Aldo Regnoli on the death of Italo Baratto. (ASCF. Student Series,File 11035)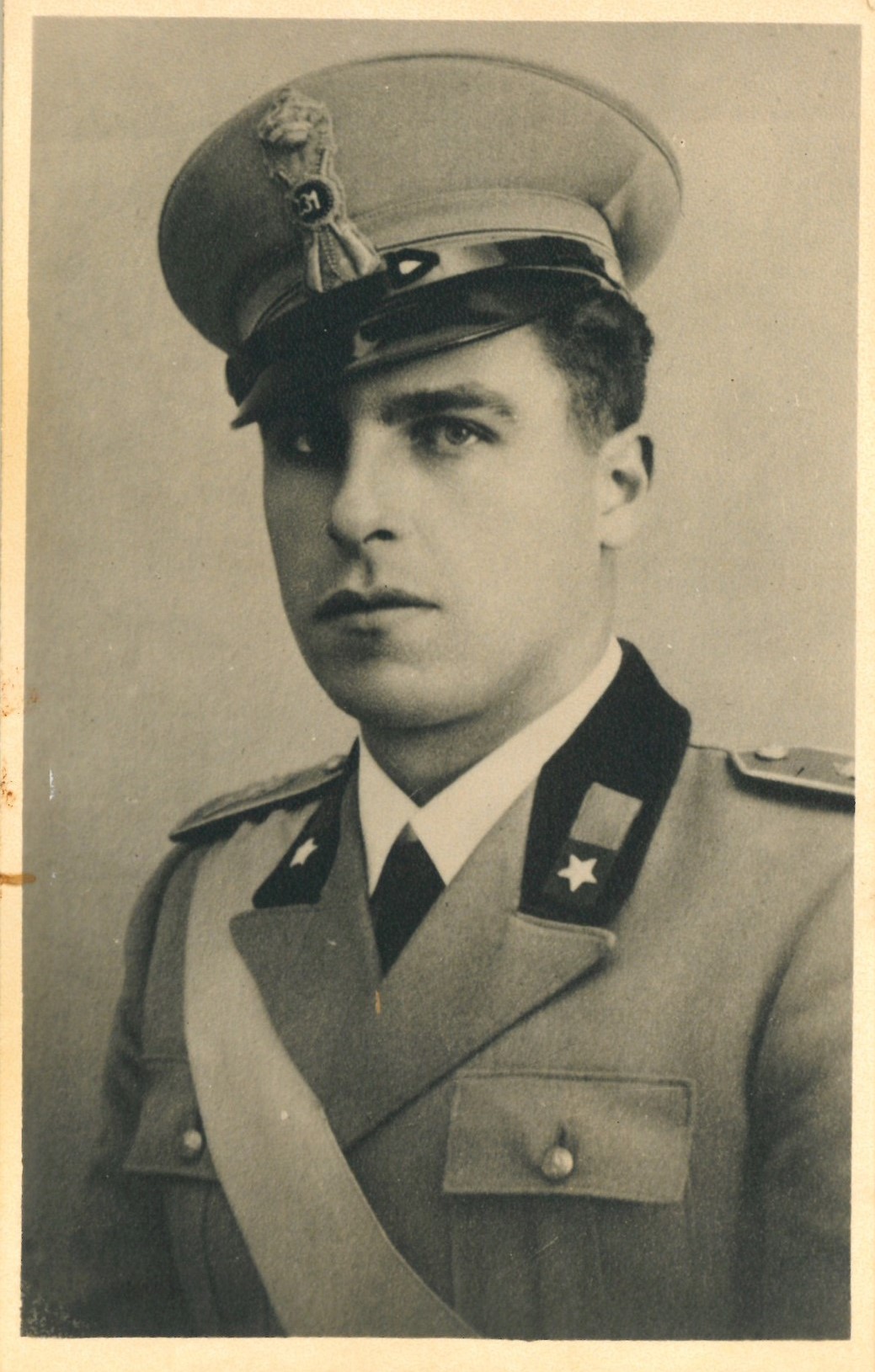 7 - a, Carlo Cavaler: fallen Ca'Foscari student
Carlo was born in Vienna in 1914 to a Tyrolean father and a Bohemian mother. In 1936, he enrolled in a degree course in Foreign Languages and Literature at the Higher Institute of Economics and Commerce of Venice. A liaison officer between Italian and German commands, Cavaler died in Kalamata (Greece) on 17 July 1942. On 5 November 1942, he was awarded an honorary degree in Foreign Languages and Literature.
The University was informed of Carlo's death in a letter from his paternal aunt Petronilla (7b). The University replied with a letter of condolence on behalf of the Rector, professors and students, informing them of the conferral of the honorary degree (7c).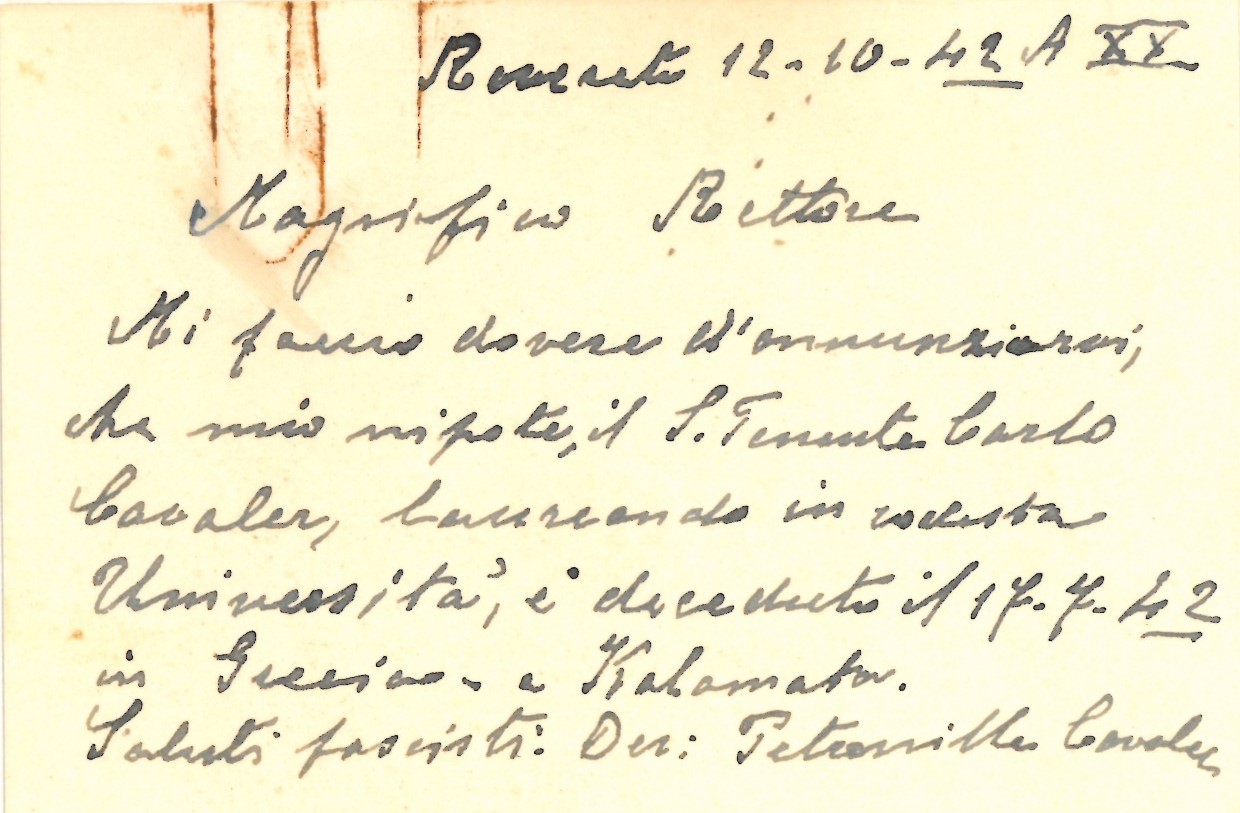 7 - b, 12 October 1942. Postcard from Petronilla Cavaler on the death of her nephew Carlo. (ASCF. Student Series, File 8659)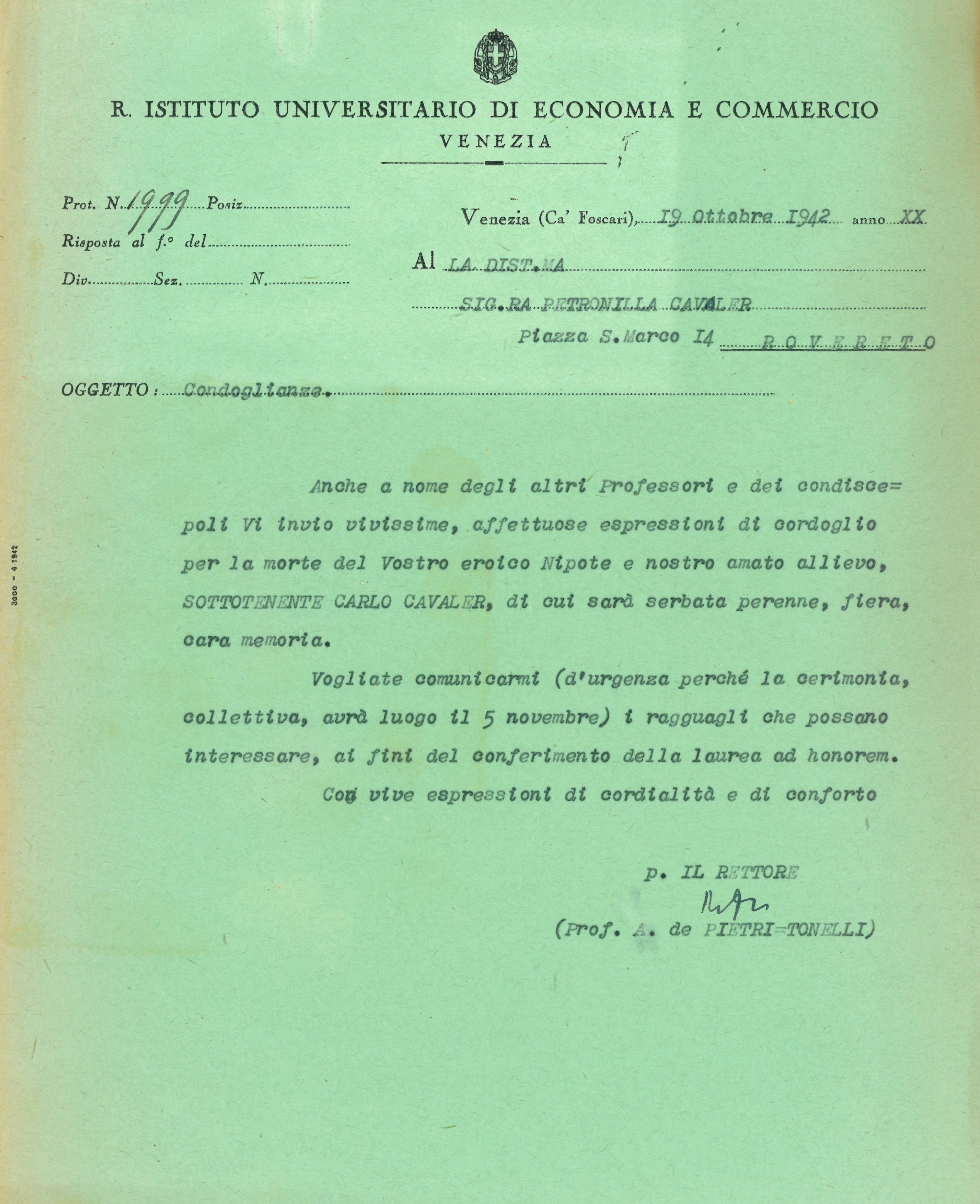 7 - c, 19 October 1942. Letter of condolence from Rector Tonelli. (ASCF. Student Series, File 8659)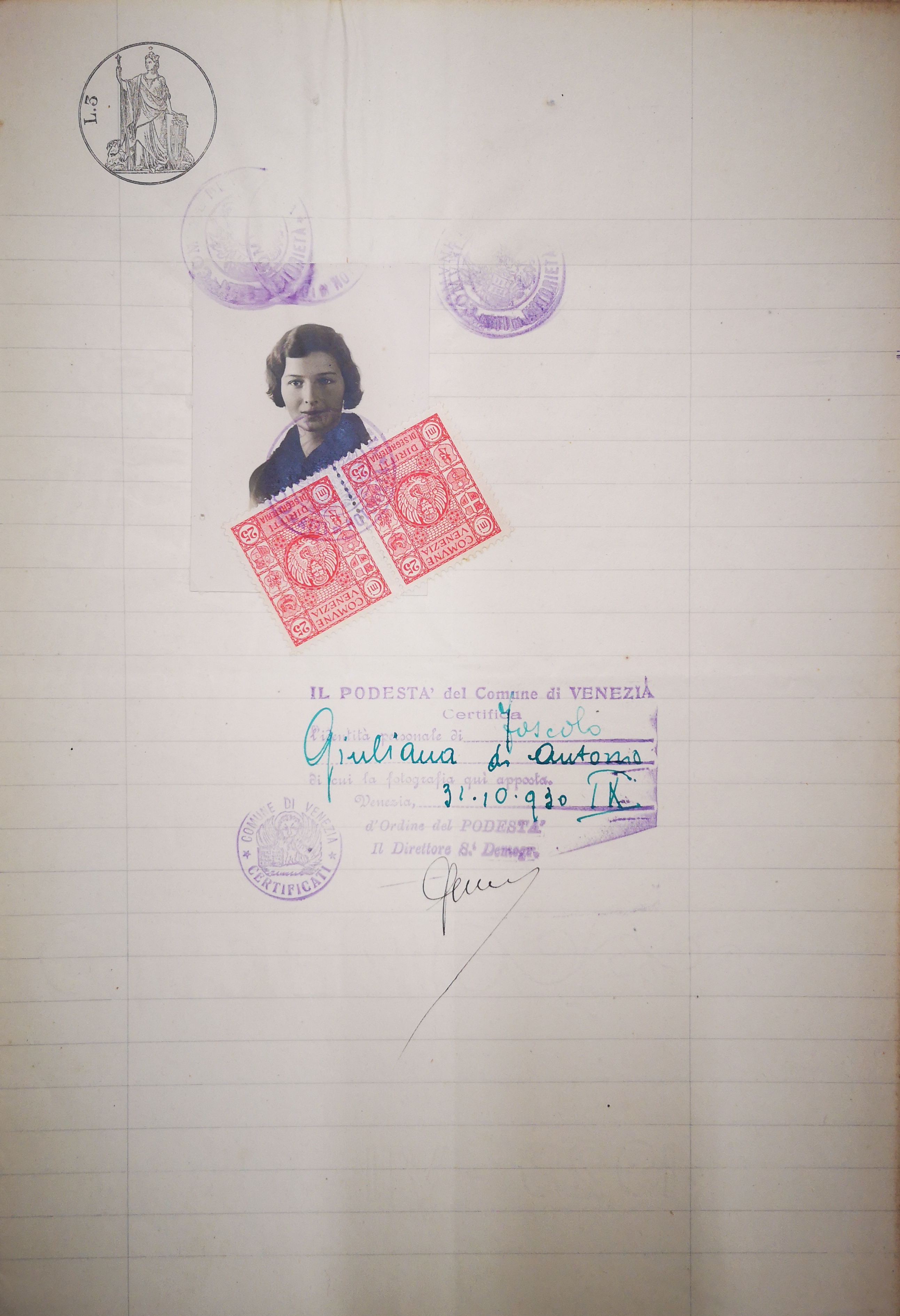 8 - a, Giuliana Foscolo: Ca'Foscari alumnus and partisan
Between 1930 and 1935, Giuliana Foscolo (born 1913) attended Ca' Foscari – Faculty of Arts and Teaching – Foreign Languages and Literatures –, graduating in November 1935 with a degree in English Language and Literature by presenting a written dissertation entitled 'Mary Webb'. She changed her surname to Sonino after getting married. As a partisan, she was known as 'Pierina'; together with her brothers Giuseppe and Daulo, she was a leading figure in the Veneto region's resistance: indeed, during the German occupation, after being left alone by her Jewish husband – who had taken refuge in Switzerland –, Giuliana and her two children moved from Venice to the 16th-century Piloni-Foscolo villa at Castel d'Ardo, in the Belluno area. This villa was chosen as a transit residence by the SS, but it was also the site of various British and American transit missions as well as an important bulwark for the entire Belluno resistance. This and other stories are collected in many essays (8b, e.g., Le missioni militari alleate e la resistenza nel Veneto, edited by Chiara Saonara, Venice, 1990 – available at BAUM).
8 - b, The Allied military missions and the Resistance in the Veneto: Pietro Ferraro's network (BAUM, 940.534553 FERRP)
9 - a, Ursula Hirschmann: Ca' Foscari alumnus and supporter of European federalism
Ursula Hirschmann was born in Berlin on 2 September 1913 into a Jewish family. She attended three universities. In 1932, she enrolled in the Faculty of Humanities at the University of Berlin, which she dropped out of after two semesters due to the increasingly severe enforcement of anti-Semitic laws in Germany, forcing her to move to France, where she attended the Faculty of Humanities at the University of Paris for a year in 1934/35. These early years of study are evidenced by her Berlin university transcript (Studienbuch) and her Paris student card (9a, carte d'étudiant). Her university career at Ca' Foscari began in 1936, as a student enrolled in the 3rd year of the Language Department (student number 8189); she graduated on 30 October 1939 in German language and literature with top marks, with a thesis entitled 'Das Erlebnis und die Dichtung bei Annette von Droste Huelshoff'. In 1935, Ursula Hirschmann married Italian antifascist and politician Eugenio Colorni in Trieste, whom she followed when he was sent into exile in Ventotene in January 1939; since Ursula was not subject to restrictive measures, she was able to return to Venice several times to complete her exams and graduate. In 1941, she actively participated in the dissemination in Rome and Milan's opposition circles of the Ventotene Manifesto ('For a free and united Europe'), which was drafted, among others, by her husband and Altiero Spinelli (9b). After her husband's death at the hands of the fascists in 1944, Ursula married Altiero Spinelli and committed herself to the formation of the European Federalist Movement, also founding the association 'Femmes pour l'Europe' in Brussels in 1975.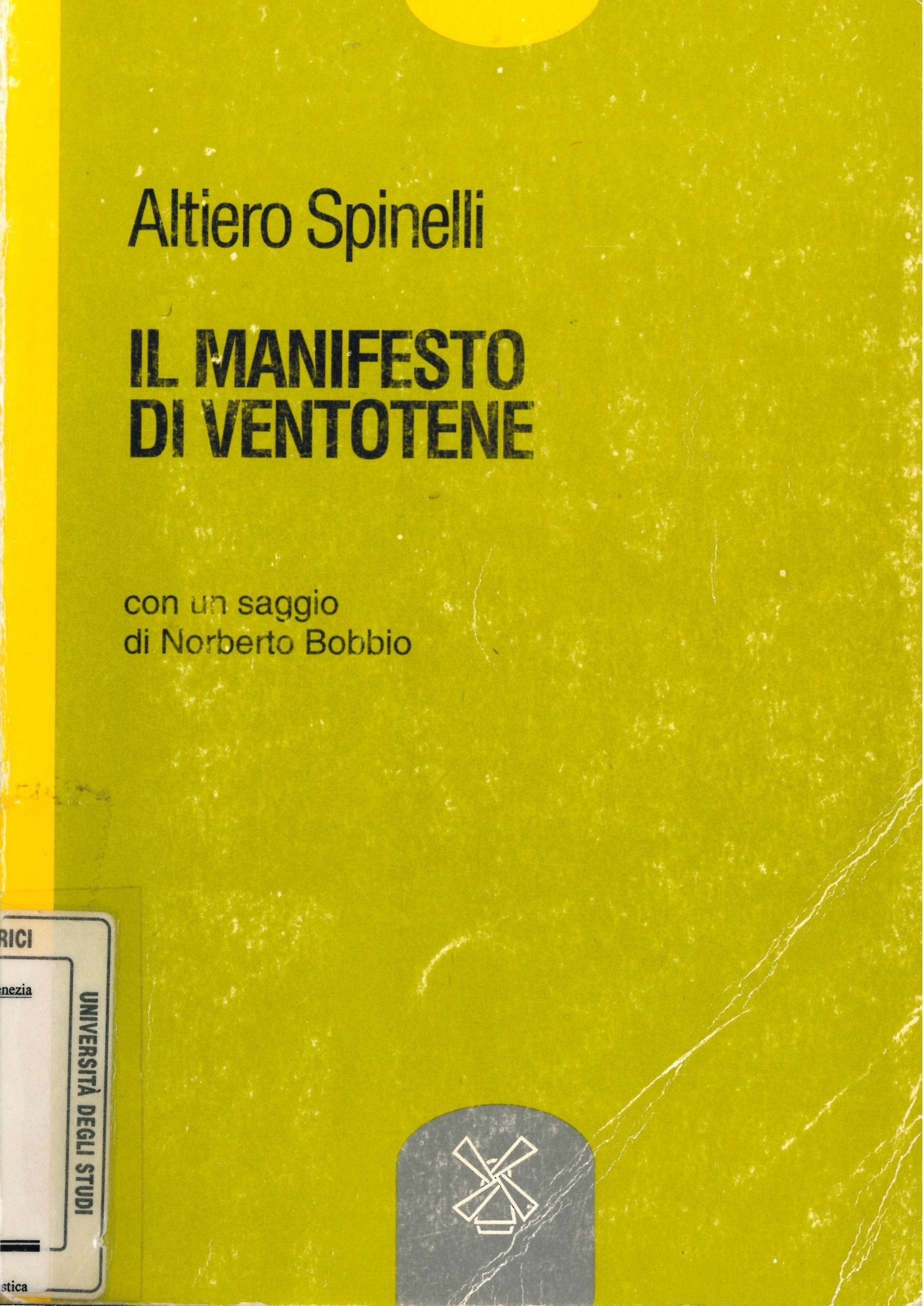 9 - b, A. Spinelli, Ventotene Manifesto, 1991(BAUM, 320.54 SPINA)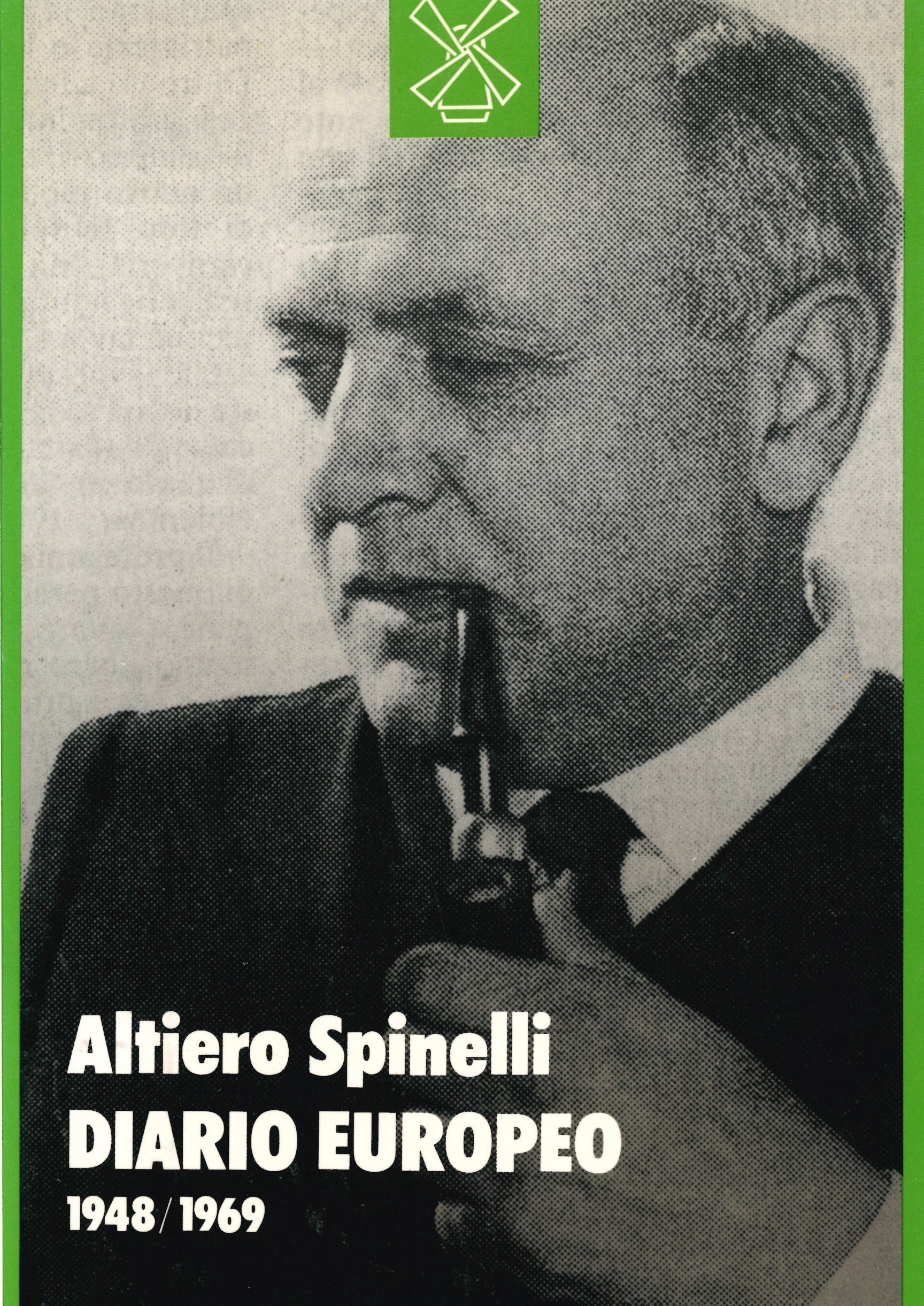 9 - c, A. Spinelli, European Diary, 1989 (BAUM, BAUM 940.55 SPINA)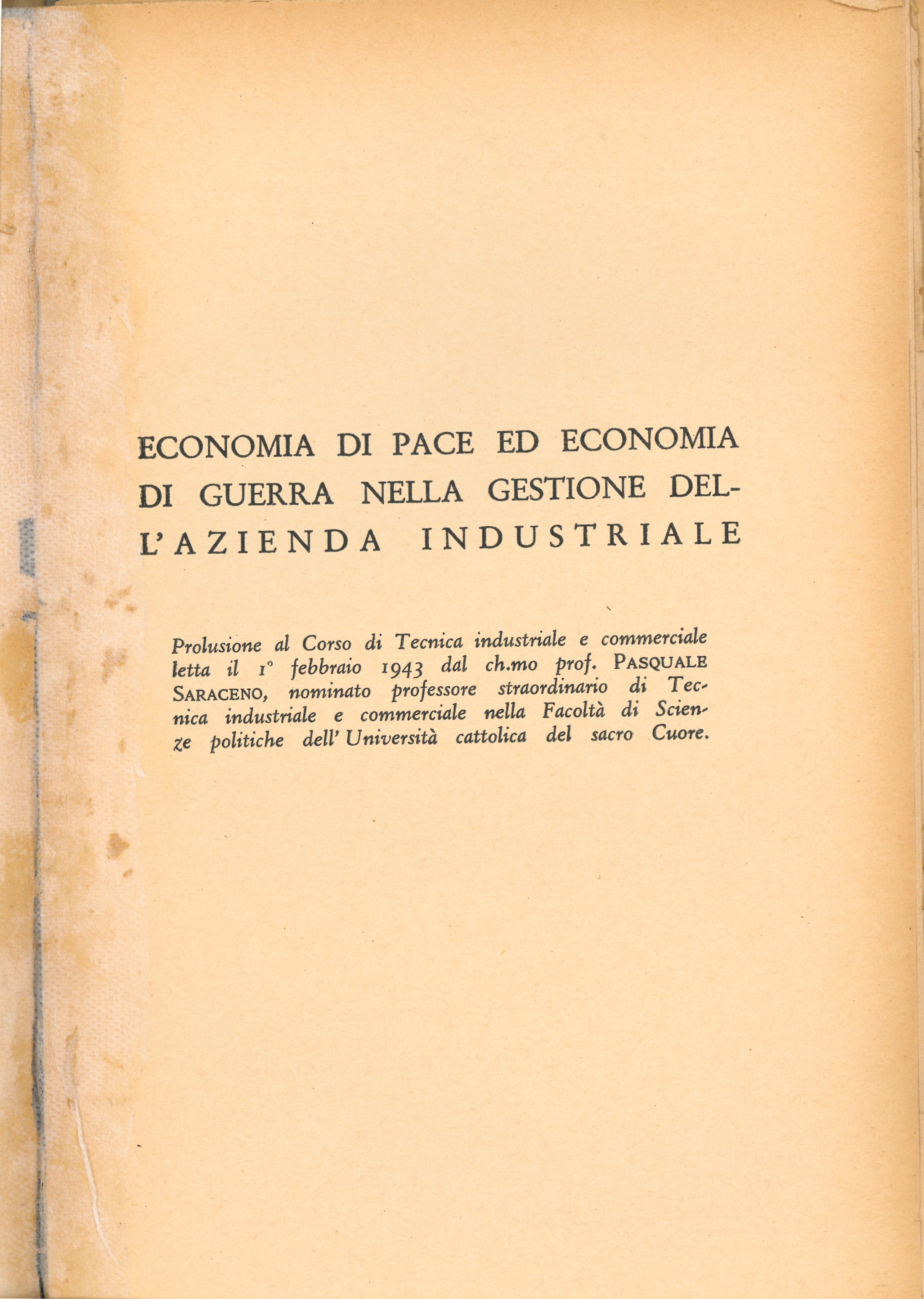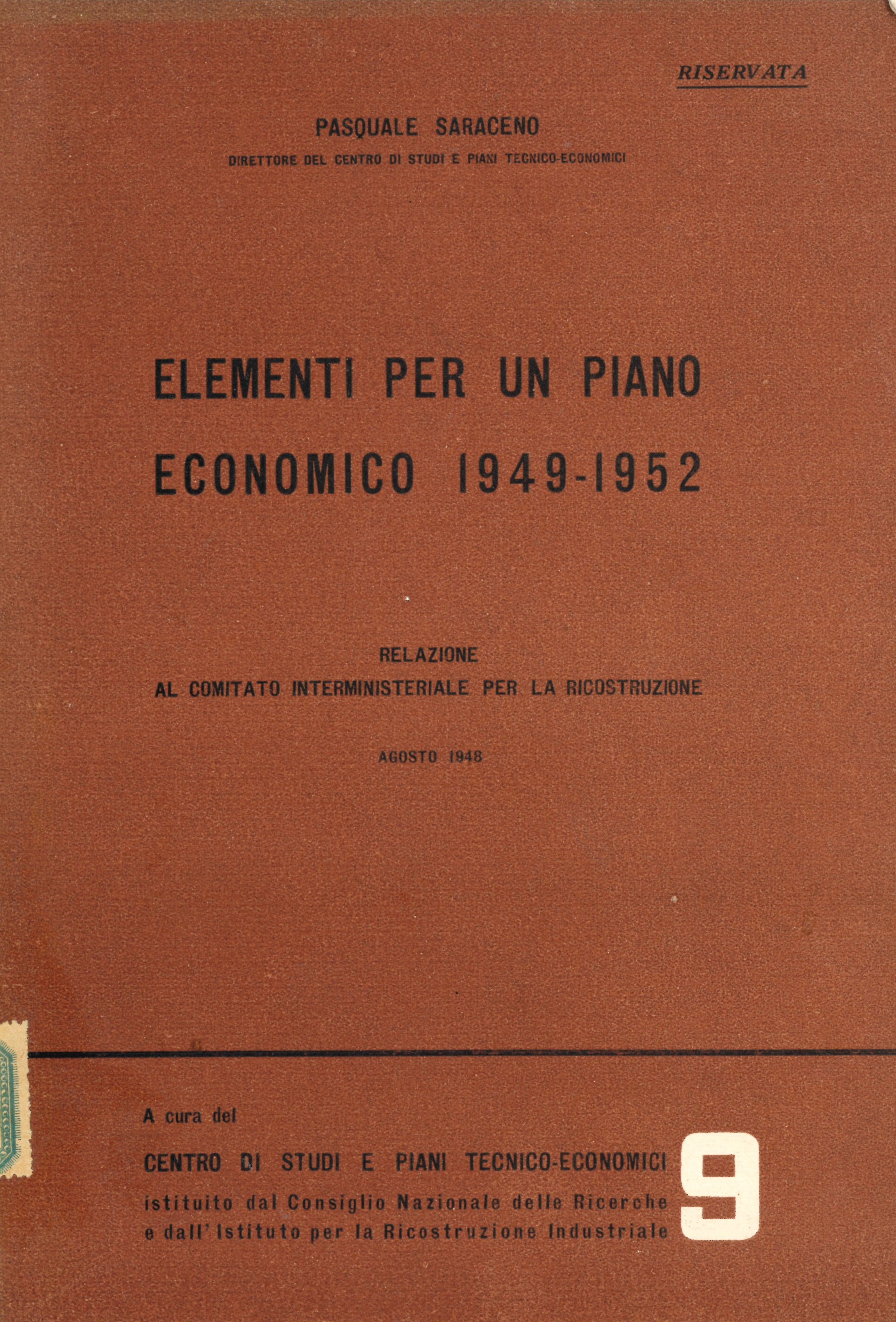 10 - Pasquale Saraceno (1903-1991): Ca' Foscari professor and respected 'reconstruction' economist
Pasquale Saraceno was born in the province of Sondrio in 1903. In 1929, he graduated in economics and business at the 'Luigi Bocconi' University in Milan. During his career, he held various lecturing positions at the University of the Sacred Heart in Milan and at Ca' Foscari University of Venice. In 1946, he founded the Association for the Development of Industry in Southern Italy (Svimez), becoming one of the most vocal supporters of the establishment of Cassa del Mezzogiorno. The lecturer's file kept at the Archive of Ca' Foscari University of Venice contains a copy of Professor Saraceno's curriculum vitae, which includes references to his participation in the construction of Europe. In 1946, he was part of the Italian delegation to the Peace Conference in Paris and participated in the start-up phase of European economic organisations (United Nations Commission for Europe and OECE in Paris in the immediate post-war period, European Coal and Steel Community 1953-1954, Economic Commission for Europe in Brussels 1957-1958, Advisor to the European Investment Bank 1958-1963). He took part in the drafting of Perspectives of European Economic Reconstruction (1949). In 1959, he moved to Venice as a full professor at Ca' Foscari University. There, he developed an interest in urban planning and innovative services. At the end of the 1970s, thanks to his insight into the industrial decline of Italy and the emergence of a Northern question, he coined the definition of trialism in Europe.
He died in Rome on 13 May 1991.
His publications preserved in the Historical Fund of Ca' Foscari include: Economia di pace ed economia di guerra nella gestione dell'azienda industriale (Peace Economy and War Economy in the Management of an Industrial Company) (10a), published in the 1942-1943/ 1943-1944 Yearbook of the University of the Sacred Heart of Milan and Elementi per un piano economico (Elements for an Economic Plan) 1949-1952 (10b).
SARACENO, Pasquale in "Dizionario Biografico"
Past exhibitions