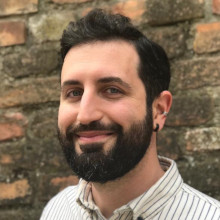 Andrea FACCHIN
Position

Researcher
Telephone

041 234 8862
E-mail
Scientific sector (SSD)

LINGUA E LETTERATURA ARABA [L-OR/12]
Website

www.unive.it/persone/andrea.facchin (personal record)

Office
Office hours
On Tuesdays (1-3 pm) in the teacher's office (San Sebastiano, 1st Floor) or online on appointment. Please, contact the teacher via e-mail.

Notices
Apartheid in Palestina, 2 ottobre
Published on 26/09/2023
Segnalo agli studenti arabisti una nuova iniziativa del CEM, un ciclo di 8 seminari dedicato alla Palestina, Palestine matters: prospettive multidisciplinari, che avrà inizio lunedì 2 ottobre e si concluderà martedì 12 dicembre.
Il primo seminario vedrà la partecipazione di Gabriel Traetta con un intervento dal titolo Apartheid in Palestina: origini e prospettive della questione palestinese. Il seminario si terrà lunedì 2 ottobre presso la Sala Marino Berengo, 14:00-15:30. Sarà possibile assistere anche online (in allegato, trovate la locandina).
follow the feed