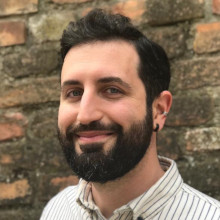 FACCHIN Andrea
Position

Researcher
Telephone

041 234 8862
E-mail
Scientific sector (SSD)

LINGUA E LETTERATURA ARABA [L-OR/12]
Website

www.unive.it/persone/andrea.facchin (personal record)

Office
Office hours
Il ricevimento è sospeso durante la sessione d'esami e i mesi estivi eccetto per tesisti e stagisti.

Notices
Corso per docenti di arabo
Published on 15/06/2022
TAFL Teaching Arabic as a Foreign Language

From Sunday 8 till Tuesday 17 January 2023, NVIC organizes a new edition of the TAFL course. This intensive, interactive course is developed for (future) teachers of Arabic. It addresses both the practical aspects of teaching Arabic as a foreign language as well as the underlying linguistic and cognitive processes.
To view the course's information on our website, please click here.

Course description

The course will start with theories of second-language acquisition and a theoretical background on methods of teaching foreign languages, before moving to the practical aspects of teaching the four language skills (reading, writing, listening, and speaking). In addition, it will focus on a number of important questions confronting the teacher of Arabic as a foreign language, such as teaching grammar, designing a syllabus, and writing lesson plans.

Objectives

- To help the participants enhance their teaching skills based on recent research on foreign language teaching.
- To familiarize participants with different approaches and methods for teaching foreign languages in general and Arabic in particular.
- To provide participants with knowledge of key concepts and recent discussions regarding the process of teaching Arabic to non-native speakers.
- To familiarize the participants with strategy-based learning.
- To discuss strategies for feedback and evaluation of the various skills in an Arabic as a Foreign Language class.
- To help participants to note the challenges teachers of Arabic face today.

Target group

The course is aimed at teachers of Arabic (or future teachers of Arabic) with varying levels of experience (teaching experience not required), who are interested in developing and enhancing their teaching skills in the framework of the latest trends in foreign language teaching. A BA in Arabic Studies (or similar) is required.

Instructors

Adel Abdelmoneim and Heba El-Ramly teach Egyptian Colloquial and Modern Standard Arabic to Bachelor and Master Students at the Netherlands-Flemish Institute. They rely not only on their classroom experience, but are formally trained in TAFL as well.

Practical information

The course is held from 8 till 17 January 2023. The deadline for registration is 15 November 2022.

The course equals 5 ECTS credits. Please consult your own institution if you want to validate these.

The course fee is EUR 600 for participants affiliated to institutions supporting the NVIC and EUR 650 for non-affiliated participants.

An 'early bird' discount of EUR 50 is offered to participants applying and paying their fees before 1 October 2022.

To ensure optimal class interaction we will allow a maximum of 10 people to enter this course.

Application

Please send in the application form, a motivation letter and your CV to info@nvic.leidenuniv.nl before 7 December 2022. Upon doing so, you will receive additional practical information regarding your stay in Cairo, as well as payment details.
Opportunità di stage + tesi
Published on 14/06/2022
Care studentesse, cari studenti,
nell'ambito della collaborazione di Ca' Foscari con l'Associazione del Libro Parlato "Lions", vi segnalo che è possibile candidarsi entro il prossimo 29/07/2022 per uno stage che valorizza il vostro lavoro di tesi. Si riportano di seguito alcune informazioni utili in maniera succinta.
Un saluto cordiale
Andrea Facchin
Descrizione del progetto e delle attività di stage
Realizzazione di un podcast tematico sulla letteratura araba, coordinato dai docenti di arabo del Dipartimento di Studi sull'Asia e sull'Africa Mediterranea e dal Centro di Studi sul Medio Oriente Contemporaneo (CEM). Una volta realizzato, il podcast sarà reso disponibile sul sito dell'Associazione del Libro Parlato "Lions": https://libroparlatolions.it/
Cos'è l'Associazione del Libro Parlato "Lions"
L'Associazione è nata nel 1975 a Verbania per iniziativa del Lions Club con lo scopo di diffondere la lettura e la cultura tra le persone disabili tramite il prestito di audiolibri letti e registrati da volontari donatori di voce.
Come si svolge lo stage
Lo stage è rivolto agli studenti di lingua araba della triennale e si svolge totalmente da remoto. Questo è inoltre collegato alla scrittura della tesi poiché una parte di essa sarà utilizzata per il completamento dello stage. Nello specifico la parte della tesi, indicata dal/la relatore/relatrice, andrà a costituire il testo del podcast.
Come si sceglie il tema del podcast
Il tema del podcast è vincolato ed è proposto dai docenti arabisti. I temi disponibili sono i seguenti:
"al-Ǧāḥiẓ, un genio della letteratura araba", relatrice Antonella Ghersetti
"Abū Nuwās, amore, vino... e altro", relatrice Antonella Ghersetti
"La letteratura d'emigrazione", relatore Simone Sibilio
"La letteratura araba contemporanea", relatore Simone Sibilio
"La letteratura tunisina del Novecento: tra realismo sociale e sperimentalismo", relatore Andrea Facchin
Come candidarsi
Lo studente interessato può inviare la propria candidatura direttamente all'Associazione del Libro Parlato "Lions" all'indirizzo email segreteria_verbania@libroparlato.it mettendo in copia il docente referente del progetto Andrea Facchin (andrea.facchin@unive.it).
Selezione dei candidati
La selezione avviene mediante invio di un curriculum vitae aggiornato e un provino audio. Il progetto offre 5 posti di stage; eventuali profili selezionati verranno inseriti all'interno del progetto consecutivamente.
follow the feed