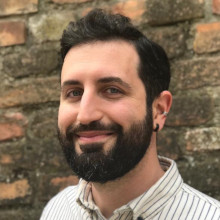 Andrea FACCHIN
Position

Researcher
Telephone

041 234 8862
E-mail
Scientific sector (SSD)

LINGUA E LETTERATURA ARABA [L-OR/12]
Website

www.unive.it/persone/andrea.facchin (personal record)

Office
Office hours
In the teacher's office or online on appointment. Please, contact the teacher via e-mail.

Notices
Presentazione Ahlan World
Published on 12/05/2023
Gli studenti arabisti che fossero interessati a seguire corsi di lingua araba di vario tipo all'estero o online possono prendere visione delle slides della presentazione tenuta dal dott. Abd al-Aziz allegate a questo messaggio.
Stage studenti LICAAM, LEISAAM e terzo anno LICSAAM
Published on 10/05/2023
È possibile svolgere attività di stage presso la Co.Ge.S. don Milani (Mestre) (convenzionata con Ca' Foscari). La Co.Ge.S. don Milani ospita minori stranieri non accompagnati, e ne gestisce il progetto educativo complessivo di integrazione nel territorio italiano. Gli aspetti che costituiscono il progetto sono: l'identità culturale e gli obiettivi della migrazione, approfondimenti psicologici, il percorso scolastico, le competenze relazionali, le competenze lavorative. Attualmente sono ospiti in tutto 8 minori arabofoni. L'attività di stage consiste nell'alfabetizzazione in lingua italiana di tre giovani egiziani in percorso migratorio, attualmente ospiti della comunità. Sono richieste particolari cura e sensibilità per gli aspetti motivazionali e relazionali. L'attività si svolge presso la Portineria di quartiere in via Piave 65 a Mestre.
Per accedere allo stage è necessario accedere all'area riservata ADiSS - Settore Tirocini Italia, cercare tra le convenzioni attivate "Co.Ge.S. don Milani" e compilare il progetto formativo
Docente referente: Antonella Ghersetti antghers@unive.it
follow the feed