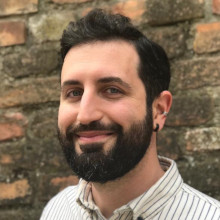 Andrea FACCHIN
Position

Researcher
Telephone

041 234 8862
E-mail
Scientific sector (SSD)

LINGUA E LETTERATURA ARABA [L-OR/12]
Website

www.unive.it/persone/andrea.facchin (personal record)

Office
Leggi l'intervista - "Primi piani"
Andrea Facchin is Senior researcher of Arabic language and literature at Ca' Foscari University of Venice, Italy. He holds his PhD from the same university, where he is coordinator of DAR Laboratory, the University operating arm working on Teaching Arabic as a Foreign Language, and CALI, the intermediate Arabic language certification developed for Italian learners of Arabic in cooperation with the American Councils. He spent research periods abroad in Finland, the Netherlands, and Tunisia, where he has been Visiting Professor at Sfax University. He is the author of several articles on the Arabic language, its teaching and learning, and the monograph entitled Teaching Arabic as a Foreign Language. Origins, Developments and Current Directions published by Amsterdam University Press (2019), and winner of Ca' Foscari Research Award 2019. Among his research interests are the history of Arabic language teaching, testing, language policies enacted in the Arab world during the modern and contemporary era, non-verbal communication and cross-cultural understanding. In the recent period he has translated from Arabic into Italian Le palme muoiono in piedi by the Tunisian author Ibrahim Darghuthi.
Last update: 24/02/2023
The information above have been uploaded on Ca' Foscari website direclty by the user this webpage refers to. The correctness and truthfulness of the published information are responsibilities of the relevant user.