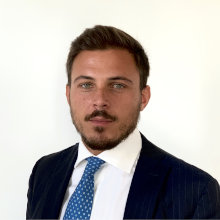 Office hours
Orario di ricevimento 2° periodo a.a. 2021/22
Sede di Treviso - Campus di Treviso - Scuola Interdipartimentale in Economia, Lingue e Imprenditorialità per gli Scambi Internazionali
Palazzo San Paolo, Studio E
Il docente riceve il martedì dalle 14:30 alle 16:00.

---
Venezia - San Giobbe - Dipartimento di Management - studio collaboratori terzo piano ala C1
Durante il I semestre dell'a.a. 2020/2021 il ricevimento si terrà in modalità telematica, si veda la scheda Avvisi del docente dove sono presenti tutte le indicazioni
Venice – San Giobbe – Department of Management – C1 building – third floor – room "collaboratori"
During the first semester of the academic year 2020/2021, office hours are offered online; for more details, see the "Avvisi docente" section of this page.
Notices
ECONOMIA AZIENDALE - 2 - Cognomi Lb-Z [ET0017-2] TREVISO (187536): Convocazione secondo appello
Published on 25/01/2022
L'esame di Economia Aziendale - 2, appello del 27.01.2022, si terrà alle regole qui descritte:
Primo Turno: Aula F, h. 11.00: studenti regolarmente iscritti con cognome alfabeticamente compreso tra LILAJ e POZZOBON;
Secondo Turno: Aula F, h. 12.45: studenti regolarmente iscritti con cognome alfabeticamente compreso tra QUAGLIO a ZONTA.
Gli studenti - autorizzati secondo giusta procedura di Ateneo - a sostenere la prova d'esame on-line riceveranno istruzioni via e-mail entro le ore 18.00 di martedì 25.01.2022. Qualora uno studente autorizzato non dovesse ricevere alcuna comunicazione entro tale scadenza è pregato di contattare via e-mail il docente.
Tutti gli studenti sono pregati di:
Presentarsi in aula con un anticipo di 10 minuti (primo turno ore 10.50 e secondo turno 12.35), per consentire le procedure di appello e organizzazione d'aula nel rispetto dei protocolli di sicurezza;
Presentarsi con un documento d'identità in corso di validità;
Portare con sé tutto il materiale necessario per poter svolgere l'esame (penne, calcolatrici, ecc.);
Rispettare i regolamenti dell'Ateneo attualmente in vigore per il contenimento della pandemia.
Esiti appello del 17/01/2022 del corso PRINCIPI DI ECONOMIA AZIENDALE - [CT0557] (176264)
Published on 17/01/2022
Di seguito gli esiti del primo appello.
Gli esiti tengono già conto dei risultati ottenuti nei PW.
Gli studenti che intendono RIFIUTARE il voto sono tenuti a scrivere una e-mail al docente entro venerdì 21.01.2022. Gli studenti che intendono ACCETTARE il voto non devono scrivere al docente e troveranno il voto registrato nel libretto elettronico entro la fine della sessione invernale.
Si ricorda che i punteggi ottenuti nel PW rimangono validi per tutti gli appelli del 2022.

| | |
| --- | --- |
| Matricola | Esito |
| 883511 | 25 |
| 883873 | 23 |
| 884495 | 28 |
| 884874 | 30 |
| 885130 | 27 |
| 885797 | 28 |
| 886364 | 26 |
| 886636 | 29 |
| 976232 | 25 |
follow the feed