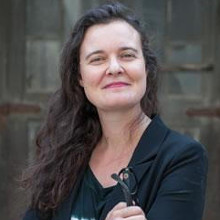 TAROCCO Francesca
Position

Full Professor
Roles

Director of "THE NEW INSTITUTE Centre for Environmental Humanities (NICHE)"

Telephone

041 234 8872
E-mail
Scientific sector (SSD)

ARCHEOLOGIA, STORIA DELL'ARTE E FILOSOFIE DELL'ASIA ORIENTALE [L-OR/20]
Website

www.unive.it/persone/francesca.tarocco (personal record)

Office
Office

THE NEW INSTITUTE Centre for Environmental Humanities (NICHE) (Centre Director)

Leggi l'intervista - "Primi piani"
Francesca Tarocco received her MA and PhD at SOAS, University of London. Her interdisciplinary research and teaching is situated at the intersection of Buddhist and Asian Studies and is informed by scholarly traditions in history, religious studies, and Sinology. She has done extensive research in China, Japan, Hong Kong, Taiwan and Singapore with grants from the Leverhulme Trust, the Sutasoma Foundation, the Spalding Trust, NYU Global, the Terra Foundation and the Asian/Pacific/American Institute at New York University. Before joining Ca' Foscari, she was an Associate Professor of Buddhist Cultures at New York University, Shanghai. She also taught at The University of Manchester and SOAS, and was a visiting professor at New York University and the Chinese University of Hong Kong. She is currently a Visiting Associate Professor of Buddhist Cultures and a fellow of the Center for Global Asia at New York University, Shanghai.
Tarocco has published on media, visual culture, technology, ecology, sacred space, and the genealogy of the term religion in East Asia. She is the author of The Cultural Practices of Modern Chinese Buddhism: Attuning the Dharma (Routledge, 2011) and, with Xun Zhou, of Karaoke: the Global Phenomenon (Chicago University Press, 2008). With Cosima Bruno, she co-edited, Made in China (Mondadori, 2008). She recently guest-edited the special issue "Buddhists and the Making of Modern Chinese Societies", for the Journal of Global Buddhism (2017) and (with Patrich Heinrick and Daniele Brombal) "Urban Poetics and Politics in Asia", a special issue of The International Quarterly For Asian Studies (2019-20). She has published numerous articles and book chapters in journals including Religion, Philosophy and Social Criticism, The Bulletin of the School of Oriental and African Studies, and others. She is the associate editor of the Oxford Research Encyclopedia of Buddhism and serves on a number of other editorial boards. She has lectured widely and, in 2019, she gave one of the invited lecture in the Robert H. N. Ho Family Foundation Lecture Series in Chinese Buddhism at SOAS.
She is currently working on a book project on Buddhism and Technology in Modern China and (with Anna Greenspan) on a collaborative research project entitled "The Cultivated City in Asia".
Last update: 05/10/2022
The information above have been uploaded on Ca' Foscari website direclty by the user this webpage refers to. The correctness and truthfulness of the published information are responsibilities of the relevant user.