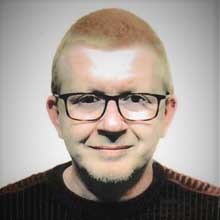 DE BONIS Giuseppe
Position

Researcher
E-mail
Scientific sector (SSD)

LINGUA E TRADUZIONE - LINGUA INGLESE [L-LIN/12]
Website

www.unive.it/persone/giuseppe.debonis (personal record)

Office hours
Office hours are held at Palazzo Cosulich every Wednesday 11:00 am to 1:00 pm upon booking a time slot (15 minutes each) via e-mail (giuseppe.debonis@unive.it).
Office hours can also be held online (same day and time). Students always have to book a time slot via e-mail.
The Zoom room is the following:
https://unive.zoom.us/j/87248663150?pwd=elJhc0JURmlaWWJ1UkgvMHk0cVZwdz09
ID riunione: 872 4866 3150
Passcode: J1Raw4
In eithe case, students will receive their time slot by e-mail.

Notices
follow the feed