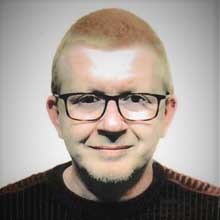 Giuseppe DE BONIS
Position

Researcher
E-mail
Scientific sector (SSD)

LINGUA E TRADUZIONE - LINGUA INGLESE [L-LIN/12]
Website

www.unive.it/persone/giuseppe.debonis (personal record)

Office
Office hours
Office hours will be held at Palazzo Cosulich (room 216) every Thursday 11:30 to 13:30 upon booking a time slot (15 minutes each) via e-mail (giuseppe.debonis@unive.it).
Office hours can also be held online (same day and time). Students always have to book a time slot via e-mail.
In either case, students will receive their time slot by e-mail.

Notices
TESI DI LAUREA
Published on 04/05/2023
First published May 2023
Gli studenti che intendono farsi seguire per la tesi di laurea sono pregati di rivolgersi al docente con almeno 4 (laurea triennale) o 6 (laurea magistrale) mesi di anticipo rispetto alla data di scadenza per l'upload della tesi. Verranno accettate solo tesi seguite in modo graduale dal docente (lavoro e invio regolari da parte dello studente) e completate almeno per tre quarti a un mese dalla data per l'upload.
Non verranno accettate richieste di tesi di laurea triennale/magistrale fatte per e-mail. Gli studenti interessati sono pregati di concordare un ricevimento in presenza.
Per la laurea triennale, le proposte di argomento di tesi possono riguardare:
la traduzione ENG-ITA di un testo (solo per gli studenti che hanno frequentato i miei corsi di Lingua inglese 3);
l'analisi di una traduzione esistente (di un testo scritto, di un prodotto audiovisivo);
la riflessione su un aspetto di traduzione audiovisiva (teorico e/o pratico):
l'analisi contrastiva/comparativa ENG-ITA (pragmatica, testuale, culturale);
altro da concordare.
follow the feed