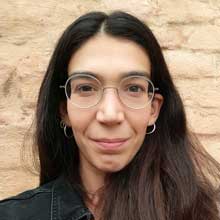 Angela ANDREELLA
Position

Researcher
Telephone

041 234 9141
E-mail
Scientific sector (SSD)

STATISTICA SOCIALE [SECS-S/05]
Website

www.unive.it/persone/angela.andreella (personal record)

Office
Office hours
Office hours a.y. 2022/23 - 3/4 class period - Department of Economics
Office hours are remote/in-person (office C2.107) on Tuesdays from 12 pm to 4 pm CET via Zoom. Reservation via e-mail is required.
Thesis supervision
Supervised bachelor's and master's theses on statistics and data modeling topics. The thesis approaches may focus on methodological aspects of statistics and/or applications. In particular, my research focuses on modeling complex and high-dimensional data, nonparametric statistical tests, multiple inference methods, dimensionality reduction methods, and statistical shape analysis with applications in social, psychological, medical, and economic fields. The student may, of course, propose other thesis topics in statistics and modeling.

follow the feed