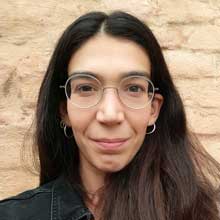 ANDREELLA Angela
Position

Researcher
E-mail
Scientific sector (SSD)

STATISTICA SOCIALE [SECS-S/05]
Website

www.unive.it/persone/angela.andreella (personal record)

Office
Office hours
Orario di ricevimento a.a. 2021/22 - 4° periodo di lezione - Dipartimento di Economia
La docente riceve da remoto/in presenza (studio C2.107) il mercoledì, dalle 12:00 alle 14:00, previo contatto via mail per fissare un appuntamento online/in presenza.
Office hours are remotely/in-person (office C2.107) on Wednesday from 12 pm to 4 pm CET via Zoom. Reservation via e-mail is required.
Supervisione di tesi / Thesis supervision
Supervisione di tesi di laurea e di master su argomenti relativi alla statistica e alla modellazione dei dati. L'approccio della tesi può concentrarsi su aspetti metodologici della statistica e/o applicazioni. In particolare, mi occupo della modellazione di dati complessi e ad alta dimensionalità, dello studio di test statistici non parametrici, di metodi di inferenza multipla, di metodi di riduzione della dimensionalità, di analisi statistica delle forme con applicazioni in campo sociale, psicologico, medico ed economico. Lo studente può, ovviamente, proporre altri argomenti di tesi in statistica e modellazione.
Supervised bachelor's and master's theses on statistics and data modeling topics. The thesis approach may focus on methodological aspects of statistics and/or applications. In particular, my research focuses on modeling complex and high-dimensional data, nonparametric statistical tests, multiple inference methods, dimensionality reduction methods, and statistical shape analysis with applications in social, psychological, medical, and economic fields. The student may, of course, propose other thesis topics in statistics and modeling.

follow the feed