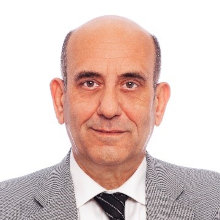 Claudio DI GREGORIO
Position

Adjunct Professor
E-mail
Website

www.unive.it/persone/claudio.digregorio (personal record)

Claudio Di Gregorio was born in Rome on March 4, 1960.
Graduated in Political Science, (Management of international activities) at the "Luiss - Guido Carli" in Rome, on November 26, 1982.
Graduated in Law at the University of Rome "La Sapienza" on 7 May 1997.
He obtained the LL.M. in "Corporate Tax Law", on November 25, 2008, at the "Luigi Bocconi" University -Milan.
He obtained the title of "CEPOL trainer" (European trainer for the Police Forces), on 22 September 2006, following the attendance of the relative course, organized by the College Européen de la Police - CEPOL (nowadays "European Union Agency for Law Enforcement Training and Education"), held at the Instituto Superior de Policia Judiciaria e de Ciěncias Criminais in Loures - Lisbon.
He has been a statutory auditor since 1995 (Ministerial Decree of Justice 12 April 1995, registration number: 19928, Court of Udine).
Teaching: he has taught at the "Cattolica del S. Cuore" University of Milan, "La Sapienza" in Rome, at the Universities of Macerata and Trento, at the Polytechnic University of Marche, at the Superior School of Economics and Finance and at the Economic-Financial Police School of the Guardia di Finanza.
From 2014 to 2017, on behalf of the Italian Ministry of Foreign Affairs and International Cooperation he organized and led various courses addressed to magistrates, officials, analysts and investigators coming from the membercountries of CIAT (Centro Interamericano de Administraciones Tributarias) and CARICOM (Caribbean Countries) on the main issues of Financial, Tax and Money Laundering matters.
From 2016 to 2020 he performed the duty of "National Research & Science Corrispondent " at the European Union Law Enforcement Agency for Education and Training - CEPOL (Budapest) and "National Training Coordinator" at the European Union Agency FRONTEX (Warsaw).
From 2014 to date member of the Instructors Team of the OECD International Academy for Tax and Financial Crime Investigation (Paris, Rome, Tokyo, Nairobi, Buenos Aires), Academy of which he was appointed "Course Leader", further to an international public competition, on April 2021.
In the same year 2021 he was appointed "Expert" of the European Judicial Training Network (Bruxelles), (International Organization which represents the main platform for sharing expertise between european magistrates).


From the Academic Year 2020/21 to date he has been Adjunct Professor of "Nonprofit Organizations Law" at the University of Padua - Law School - DPCD in Treviso.
Since the Academic Year 2021/22 he is also Adjunct Professor of International Tax Law at the University of Ca' Foscari - Treviso Campus, Department of Economics - GDE.
Speaker in several Conferences and Seminars in Italy and abroad on the most current legal, economic and financial issues, organized by Universities, Research Institutes, Tax Administrations, European Agencies and International Organizations.
Among others, they are lastly worth mentioning the participation, as Speaker, to the "lnternational Conference facilitating the exchange of good practices between the authorities in EU in managing complex cases with frauds in EU funds, use of modern tools of investigation", organized jointly by OLAF (European Union Anti-Fraud Office) and by National Anti - Corruption Directorate of Romania, held in Bucarest(RO), from 17 to19 November 2021 and, still as Speaker to the "Middle East and North Africa Intermediate Course for Managing Financial Investigation" held by the OECD Academy in Rome - Lido di Ostia (IT) from 3 to 14 October 2022.
Last update: 17/12/2022
The information above have been uploaded on Ca' Foscari website direclty by the user this webpage refers to. The correctness and truthfulness of the published information are responsibilities of the relevant user.