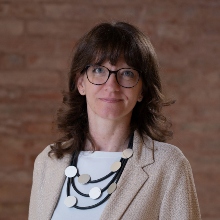 Office hours
Venezia - Dipartimento di Economia San Giobbe - studio n. 119 plesso C2
Treviso - Scuola in Economia Lingue e Imprenditorialità per gli Scambi Internazionali
Ricevimento:
vedi avvisi
Supervisione tesi/Thesis supervision
Supervisione di tesi triennali e magistrali su: finanza sostenibile, green finance, behavioral finance, gestione del rischio, gestione di portafogli finanziari; strategie di investimento e modelli di decisione intertemporale, modelli di ottimizzazione in condizioni di incertezza, prodotti e mercati finanziari, matematica finanziaria. Per tutte le tesi è necessaria una discussione preliminare.
Undergraduate and master's theses supervision on topics of sustainable finance, green finance, behavioral finance, risk measurement, and management models, portfolio selection models, investment strategies, intertemporal decision models, optimal decision models under uncertainty, financial products, and markets, financial mathematics. More generally, mathematical/quantitative aspects of economic and financial issues.
A preliminary discussion is required for all theses.

Notices
Ricevimento - Office hours
Published on 03/05/2022
Link Zoom Office hour: Entra nell'incontro in Zoom https://unive.zoom.us/j/8928372560 ID riunione: 892 837 2560
Il ricevimento studenti si intende generalmente online via Zoom. Sono comunque disponibile a fissare ricevimenti in presenza sia nella sede di Venezia che in quella di Treviso, su appuntamento da concordare via e-mail.
Ricevimento studenti
Giovedì 5/5 -- 14.00
Giovedì 12/5 -- 14.00
Giovedì 19/05 -- 14.00
Giovedì 26/05 -- 14.30
Giovedì 09/06 -- 10.30
Venerdì 17/06 -- 15.00
Office hours
In consideration of the persistence of the restrictions, office hours is in general online via Zoom. I'm however available to schedule in the presence appointments in Treviso and Venice offices to be agreed upon by e-mail.
Thursday 5/5 -- 14.00
Thursday 12/5 -- 14.00
Thursday 19/5 -- 14.00
follow the feed