FAVERO Giovanni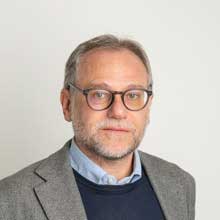 Venezia - San Giobbe - Dipartimento di Management - studio n. 123 primo piano ala C1
I ricevimenti del I° periodo sono sospesi.
In caso di necessità, contattare il docente per e-mail.
Gli studenti (sia di laurea triennale che magistrale ed equivalenti)
intenzionati a chiedere la tesi al docente sono pregati di prendere visione
preventivamente della procedura per la richiesta di tesi di laurea da questi adottata:
http://venus.unive.it/matdid.php?utente=gfavero&base=TESI+DI+LAUREA%2FProcedura+tesi.pdf&cmd=file
N.B. Si prega di verificare eventuali variazioni nell'apposita scheda "AVVISI".
Venice – San Giobbe – Department of Management – C1 building – first floor – room 123.
The office hours are suspended during the first term.
For urgent matters, please contact the professor by e-mail.
Please check if there are possible changes by clicking on "Avvisi".