MORETTI Anna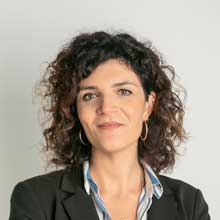 Anna Moretti è Professoressa Associata presso il Dipartimento di Management, dell'Università Ca' Foscari Venezia. Nel 2007 collabora con il centro di ricerca in Economia del Turismo al Parc Científic Tecnològic de Turisme i Oci de la Costa Daurada (PCTTO), all'Univertitat Rovira i Virgili di Tarragona (Spagna), per il 7mo Programma Quadro. Nello stesso anno ottiene la laurea magistrale in Economia dei Sistemi Turistici (summa cum laude), e nel 2012 il titolo di Dottore di Ricerca in Economia Aziendale (all'Università Ca' Foscari Venezia). Nel 2010 è Research Fellow alla Cass Business School, City University of London.
I suoi interessi di ricerca includono numerosi ambiti, tra i quali: la governance dei network, i processi di innovazione interorganizzativi, le organizzazioni come sistemi politici, i social movements. Ha sviluppato la sua tesi di dottorato nel campo della network governance, interessandosi in particolare del fallimento dei network. Le sue pubblicazioni sono disponibili a questo link.
Dal 2016 è coordinatrice dell'Osservatorio Nazionale sulla Filiera Automotive e nel 2018 fonda l'Osservatorio Nazionale sulle reti d'impresa. Dal 2020 è direttrice del centro di ricerca su Network Organization, Innovation, and Strategy.
La sua attività di ricerca è svolta in collaborazione con il Centre for Automotive and Mobility Innovation (CAMI – Dipartimento di Management, Università Ca' Foscari Venezia) di cui è responsabile delle relazioni esterne dal 2014. Dal 2009 collabora con il M.A.C.Lab - Management of Arts and Culture research centre (Dipartimento di Management, Università Ca' Foscari Venezia) nell'ambito delle sue ricerche sulla governance delle destinazioni turistiche e culturali.
Dal 2013 insegna nei corsi di management per gli studenti delle lauree triennali all'Università Ca' Foscari di Venezia. Nel 2014 insegna Economia e Gestione dell'Innovazione e Destination Management nei corsi di laurea magistrale dell'Università Ca' Foscari Venezia.
Dal 2009 insegna management e strategia all'interno dei moduli di marketing e management dei master in gestione del turismo (CISET) e delle attività culturali (MaBAC). Dal 2020 partecipa con lezioni sull'open innovation nel modulo di innovazione del Master MIMA - Mobility Innovation and Management.
Dal 2019 è membro del collegio docenti del PhD program in Management dell'Università Ca' Foscari e svolge ruolo di supervisor per i dottorandi di questo stesso corso.
Dal 2020 è membro della commissione paritetica docenti studenti del Dipartimento di Management, del Senato Accademico, della Commissione Senatoriale per i rapporti istituzionali con i Paesi extra-europei.
Ultima modifica: 09/02/2021
Le informazioni riportate sono state caricate sul sito dell'Università Ca' Foscari Venezia direttamente dall'utente a cui si riferisce la pagina. La correttezza e veridicità delle informazioni pubblicate sono di esclusiva responsabilità del singolo utente.