MANTOVANI Guido Massimiliano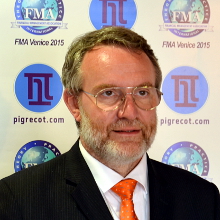 POLITICHE FINANZIARIE AZIENDALI - [EM0010] VENEZIA (180950): Lezione 23/09 sospensione e recupero
Published on 20/09/2020
La lezione prevista il giorno 23 è sospesa. Sarà recuperata nella specifica settimana.
Siete tutti invitati a verificare il nuovo calendario attraverso il portale Moodle del corso.
FINANCIAL POLICIES & INVESTMENT STRATEGIES - 1 - [EM4040-1] (170963): Classes of Sept. 23rd cancelled and recovered in October
Published on 20/09/2020
Classes of September 23rd are cancelled to be recovered during the specific recovery period.
You are kindly required to double check your updated scheduled through the Moodle portal

follow the feed