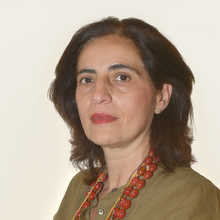 Caterina CARPINATO
Position

Full Professor
Roles

Vice-Rector for the Third Mission

Telephone

041 234 6326
E-mail
Fax

041 234 6370
Scientific sector (SSD)

LINGUA E LETTERATURA NEOGRECA [L-LIN/20]
Website

www.unive.it/persone/carpinat (personal record)

Office
SHORT CV CATERINA CARPINATO
1. biography: Caterina Carpinato is Full Professor (Modern Greek Language and Literature); she is a graduate in classical literature at the University of Catania (1987), has a PhD in Greek and Latin Philology (Master's level), has been Associate Professor at Ca' Foscari University of Venice since 2002 and Researcher since 1998. She spent periods of training in Greece, with IKY scholarships in Germany, the United Kingdom and the United States (Washington D.C.). She has carried out research and teaching activities in other national and international locations.
2. research interests: 1. fortune; translation and ideological function of the recovery of ancient elements in the modern Greek language and culture 2. history of neo-Greek lexicography and Venetian publishing in vernacular Greek 3. Greek literature at the origins of the vernacular 4. relations between Italian culture and neo-Greek culture 5. scientific research applied to Greek theory and glottodidactics; history of Greek studies (from ancient to modern) 6. literary translation, theatrical and cinematographic translation, and the history, theory and practice of translation. She deals with the promotion of Greek studies in the diachronic sense and organizes initiatives for the study of the Modern Greek Language in classical Lyceum schools, helping to activate TFA (Tirocinio Formativo Attivo; Active Placement Training for Teachers) for the qualification to teach Modern Greek.
3. publications, conferences, scientific committees: She is the author of numerous scientific publications and literary translations; she has been invited to international and national conferences with lectures published in the proceedings; she has organised initiatives (conferences, meetings, exhibitions, concerts) to promote knowledge of modern Greece in Italy. She has acted as a commissioner in selection panels for professors in Greek universities and at the University of Berlin. She has been the MIUR (Ministry of Education, University and Research) representative in graduation commissions at Scuole Superiori per Traduttori ed Interpreti (High Schools for Translators and Interpreters). She is a member of scientific committees of international journals and series.
4. funding: She works with international research groups and has received funding for various projects (cataloguing of translations from Italian into Greek for the Centro della Lingua Greca; Prin 2005; Erasmus+ 2015-2018). She coordinates Erasmus exchanges with international universities; she conceived and promoted 5 editions of the Premio internazionale di studio alla memoria di N. M. Panagiotakis (International Study Award in memory of N. M. Panagiotakis). She has received funding for research and teaching from the Ministry of Education and Religious Affairs of Greece and the Ministry of Education and Culture of Cyprus.
5. institutional roles: She is Deputy Rector for the Third Mission (she was in charge of the Third Mission for the Department of Humanities at Ca' Foscari University of Venice (of which she was Deputy Director 2003-2006) and represents the Department of Humanities in the Scientific Council of the Centro Linguistico di Ateneo (University Language Centre). She has been appointed as an evaluator (GEV) by the Hellenic Quality Assurance and has served as President of the Commission (Department of Translators and Interpreters, Corfu; Department of Theatre Studies: Athens, Nafplio, Patras). She has assumed the role of Secretary for Consulta Universitaria Bizantino Neogreco and for Associazione Nazionale di Studi Neogreci. Since 2017 she has been vice-president of Ateneo Veneto. Since 2018 she has conducted scientific activities within Tempo Forte, at the Italian Embassy in Greece, to promote cultural initiatives and educational activities of bilateral exchange between Italy and Greece.
6. additional notes (prizes and other). In 2011 she obtained the Label Europeo delle Lingue in recognition of the quality of the project Il greco nel Veneto fra presente e futuro. In 2018 she received the Label Europeo delle Lingue for the project Archaeoschool for the future, considered as one of the best projects in the field of innovation for language learning for period 2015-17.
Last update: 07/01/2023
The information above have been uploaded on Ca' Foscari website direclty by the user this webpage refers to. The correctness and truthfulness of the published information are responsibilities of the relevant user.