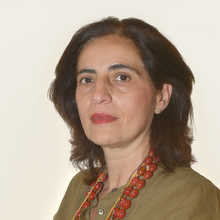 Caterina CARPINATO
Position

Full Professor
Roles

Vice-Rector for the Third Mission

Telephone

041 234 6326
E-mail
Fax

041 234 6370
Scientific sector (SSD)

LINGUA E LETTERATURA NEOGRECA [L-LIN/20]
Website

www.unive.it/persone/carpinat (personal record)

Office
Activities and research skills
General information
Scientific sector (SSD)

LINGUA E LETTERATURA NEOGRECA [L-LIN/20]
Settore Scientifico Disciplinare (SSD) affine

CIVILTÀ BIZANTINA [L-FIL-LET/07]
Geographic areas in which the research experience mainly applies

Internazionale: Balcani,Europa
Known languages

greco (scritto: avanzato parlato: avanzato)
inglese (scritto: intermedio parlato: intermedio)
francese (scritto: base parlato: base)

Participation in editorial boards of scientific journals/book series

Collana di letteratura neogreca, Bulzoni editore, Roma,
Comitato scientifico dei Quaderni di Medioevo Romanzo e Orientale
RIVISTA DI LETTERATURA COMPARATA ITALIANA, BIZANTINA E NEOELLENICA
Participation as referees of national and international research projects

Sono stata referees progetti di ricerca nazionale e internazionali
Sono stata in una commissione internazionale per un posto di ruolo di seconda fascia (Università di Berlino) e in più commissioni di concorso in Grecia.
Sono referee anonima di riviste nazionali e internazionali.
Sono stata membro di commissione di valutazione per l'Hellenic Quality Assurance and Acreditation Agency.
Areas and research fields

Area: Archeologia ed arti Linea: Archeologia e storia delle arti antiche
Area: Filologia e Lingua Linea: Lingua e letteratura neogreca
Area: Filologia e Lingua Linea: Storia e filologia bizantina
Area: Letteratura Linea: Poesia
Area: Letteratura
Area: Lingue e letterature dell'Africa settentrionale e del Vicino oriente Linea: ebraica
Area: Lingue e letterature dell'Asia Minore e del Caucaso Linea: turca
Area: Lingue e letterature europee Linea: neogreca
Area: Lingue e letterature europee
Area: Storia e Antropologia Linea: Storia delle civiltà antiche

Research skills
Traduzione letteraria dal neogreco

Description:

Literary translation

Keywords:

Humanities
Analisi testuali

Description:

Textual analysis

Keywords:

Humanities
ricerche storico-letterarie

Description:

research in historical and literary field

Keywords:

Humanities
didattica della lingua greca

Keywords:

Humanities
Completed and pending researches
Didattica del neogreco e questioni lessicografiche

SSD:

L-LIN/20
Epica greca alle origini del volgare

SSD:

L-LIN/20
Lessicografia neogreca

SSD:

L-LIN/20
Letteratura greca alle origini del volgare

SSD:

L-LIN/20
Traduzione letteraria dal greco

SSD:

L-LIN/20
Funds
ArchaeoSchool for the Future: A Sustainability Approach

Funding body:

European Commission

Type:

Erasmus+

Role in the project:

PT

Sito di progetto:

http://archaeoschool.eu/

Starting date:

Year: 2015 Length in months: 44

Other members of the research group:
Archaeoschool for the future

Funding body:

UE

Type:

Erasmus+

Role in the project:

PT

Starting date:

Year: 2015 Length in months: 36
Docente a costo zero per l'Ateneo con un mandato specifico per la didattica del neogreco agli studenti universitari

Funding body:

Ministero dell'Educazione e degli Affari Religiosi di Grecia

Type:

Altri finanziamenti per prestazioni di didattica/formazione

Role in the project:

LD

Starting date:

Year: 2010 Length in months:
Il greco nelle scuole del Veneto fra antico e futuro

Funding body:

Fondazione Cassamarca

Type:

Altri finanziamenti per progetti di ricerca

Role in the project:

NS

Starting date:

Year: 2010 Length in months:
Premio di studio alla memoria di N. M. Panagiotakis

Funding body:

Ministero della Cultura di Grecia, Ministero della Cultura di Cipro

Type:

Altri finanziamenti per progetti di ricerca

Role in the project:

LD

Starting date:

Year: 2009 Length in months:
Promozione della lingua e cultura neogreca

Funding body:

Ministero della Cultura e dell'Istruzione Repubblica di Cipro

Type:

Altri finanziamenti di ricerca

Role in the project:

LD

Starting date:

Year: 2011 Length in months:
Tempo e spazio nei romanzi di Alessandro nelle tradizioni ebraica, neogreca e turca

Funding body:

Finanziamento di Ateneo per i progetti PRIN 2009 non finanziati ma valutati positivamente

Type:

Altri finanziamenti di ricerca

Role in the project:

PT