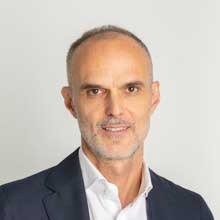 Office hours
Venice – San Giobbe – Department of Management – C1 building – ground floor – room n.40
See notices (avvisi) for schedule of student hours. Interested students, both in presence and online, are invited to book a slot by emailing buzzavo@unive.it.
Students interested in discussing a potential Master's thesis request are kindly required to check out this link: https://www.unive.it/pag/15461/ and also consider that eligible students must have attended at least one course with the teacher, with a grade equal or above 26/30. Also they should present beforehand via email an extended abstract outlining the research question plus some selected bibliography.

Notices
Ricevimento - office hours
Published on 28/04/2022
I prossimi ricevimenti verranno svolti in presenza (studio docente) anche con la possibilità di prenotare uno slot online, nelle seguenti date / next office hours will take place in presence (teacher's office), with the possibility to book an online slot, on the following dates and times:
- Mercoledì 4 Maggio dalle ore 10.15 alle ore 12.15
- Mercoledì 11 Maggio dalle ore 10.30 alle ore 12.30
- Venerdì 20 Maggio dalle ore 12.00 alle ore 14.00
- Mercoledì 25 Maggio dalle ore 10.30 alle ore 12.30
Si invitano gli studenti a contattare via email il docente non oltre il giorno precedente per comunicare l'intenzione a partecipare al ricevimento, sia in presenza sia online, e il docente fornirà le indicazioni per il prossimo slot libero. Gli studenti interessati a potenziali tesi sono pregati di leggere le indicazioni generali in merito nel sito nello spazio "ricevimento" delle comunicazioni pagina docente.
Students are invited to email teacher not later than day before to book a slot, both in presence and online. Teacher will provide all details. Students interested in potential theses should read general guidelines provided in the "office hours" space under "comunicazioni" in the teacher's webpage.
follow the feed