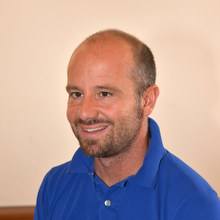 Lorenzo CALVELLI
Position

Associate Professor
Roles

Coordinator of the Research Institute for Digital and Cultural Heritage

Telephone

041 234 6344
E-mail
Fax

041 234 6370
Scientific sector (SSD)

STORIA ROMANA [L-ANT/03]
Website

www.unive.it/persone/lorenzoc (personal record)
http://www.unive.it/laboratorio-epigrafia-latina
Office
Office hours
Second Semester a.y. 2022/2023. Prof. Calvelli will meet students in his office at the Department of Humanities, Room A106, Palazzo Malcanton Marcorà, First floor. Students are kindly invited to book a meeting via email. For short questions or clarifications students can also talk to the teacher directly at the end of classes.

Notices
Stage epigrafico ad Altino e dintorni: edizione 2023
Published on 23/05/2023
Care studentesse e cari studenti,
Vi comunico che lo stage epigrafico ad Altino e dintorni si svolgerà quest'anno dal 26 al 30 giugno p.v.
In linea di principio, il programma ricalcherà quello dell'edizione del 2022, della quale trovate in allegato la locandina.
Vi segnalo una buona notizia: abbiamo ottenuto un cofinanziamento dell'Association Internationale d'Epigraphie Grecque et Latine (AIEGL), che servirà a coprire in parte le spese di mobilità dei partecipanti.
Lo stage è aperto a 15 studenti/studentesse. Chi di voi è interessato a partecipare allo stage è invitato a compilare il seguente modulo entro il 31 maggio p.v.:
https://docs.google.com/forms/d/e/1FAIpQLScF6z6oKwg2_XMGN_-cDAeZfDn6TOpXakNE-ka7OVFYKKJdbg/viewform
La partecipazione attiva allo stage, comprensiva della compilazione di una scheda digitale EDR (Epigraphic Database Roma), comporterà verosimilmente l'acquisizione di 2 CFU nell'ambito delle attività sostitutive di stage e tirocinio, per i quali si richiederà il riconoscimento ai collegi didattici di competenza.
Cordiali saluti,
Lorenzo Calvelli
follow the feed