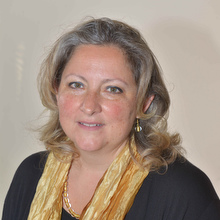 ROHR Francesca
Position

Full Professor
Roles

Delegated to Guidance and Tutoring

Telephone

041 234 6347
E-mail
Fax

041 234 6370
Scientific sector (SSD)

STORIA ROMANA [L-ANT/03]
Website

www.unive.it/persone/rohr (personal record)

Office
Francesca Rohr graduated in Classical Literature from Ca' Foscari University of Venice (1992) and obtained a PhD from the University of Rome La Sapienza (1997). Research Fellow in 1999-2001. University researcher at Ca' Foscari University of Venice (2002-2015); Associate Professor (2015-2020); Full Professor (since 2020).

She teaches at Ca' Foscari University of Venice in the courses of Roman History; Roman Historiography; History of Women in the Roman World.

Her research interests relate to the following topics:
• The construction of memory in ancient historiography and its political use.
• The political history of the late republican and proto-imperial age, with particular reference to new career paths, new protagonists and the adoption of innovative forms of political communication, as well as the role of women.

She is active in Public History through the organisation of seminars and conferences.

She is the coordinator, with Italian and international colleagues, of the research group "GIEFFRA" (Groupe International d'Études sur les Femmes et la Famille dans la Rome antique) and the research group "Fra repubblica e principato".

She is a member of the Scientific Committee of Journals and Series: the Journals Erga-Logoi and Romanitas; the Collana Cultura per la Storia antica - Studium; the Collana Libera Res Publica - University of Zaragoza.

She has been a member of the Teaching Committee of the Inter-university PhD in Ancient Civilizations (Venice, Udine, Trieste) since 2003 and has supervised theses as a tutor.
She has been, on numerous occasions, a member of the PhD Admissions Commission and of Graduation Commissions at Italian and international universities.

She has participated as a team member in numerous funded research projects (COFIN, CNR, PRIN, since 1995) and international projects (Passage de la République au Principat, Université Grenoble Alpes: 2001-2004; UMR 8585: 2006-2009).
She was PI of the international research project "Matrone in politica e politica delle matrone. Spazi e modalità dell'azione femminile nella tarda repubblica romana" (2012-2014). She was local coordinator of the POT Labor project of the Ministry of Education, University and Research (Lead Partner: University of Salerno) (2019).

She has participated as a speaker and has organised national and international conferences, for which she edited the publication of the Proceedings (in particular the conferences of the École française de Rome (2020) and, every three years, the research group "Fra repubblica e principato").
She has published numerous scientific works, including (alone or in collaboration) 7 monographs.

She has held the following positions:
- Member of the Teaching Committee of Literature (2003-2016)
- Member of the Research Committee, Department of Humanities (2003-2006; 2008- 2010)
- Department delegate for guidance (2010-2013)
- University delegate for the development of university training courses for secondary school students (2013-2015)
- Vice-Director of the Centro di Documentazione e ricerca sulla Scuola e la Didattica delle Discipline umanistiche (CeDoDi) of the Department of Humanities (2015-2017)
- Rector's delegate for guidance (from 2015 to present)

She was a member of the Board of the Associazione Italiana di Cultura Classica-Venice Delegation (2012-2017). She is a member of the following associations: Terra Italia; Associazione Internazionale di Epigrafia Greca e Latina; Consulta Universitaria per la Storia Greca e Romana; Ateneo Veneto.
She won the 2014 award Premio alla didattica of Ca' Foscari University of Venice.
Last update: 24/06/2021
The information above have been uploaded on Ca' Foscari website direclty by the user this webpage refers to. The correctness and truthfulness of the published information are responsibilities of the relevant user.