LA SALANDRA Anthony Alfeo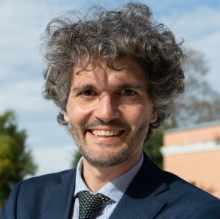 Publications
A1. PERIODICAL RESEARCH REPORTS
RISPOSTE TURISMO for Adriatic Sea Forum
"Adriatic Sea Tourism Report (2013, 2014 and 2015 edition)
RISPOSTE TURISMO for Osservatorio Nazionale del Turismo
"Speciale Crociere (2012, 2013, 2014 and 2015)
RISPOSTE TURISMO for Italian Cruise Day
"Italian Cruise Watch (2011, 2012, 2013 and 2014; 2015 edition work in progress)
RISPOSTE TURISMO for MedCruise
"MedCruise Statistic Report" (four yearly editions)
Di Cesare, F., La Salandra, [Rapporto sul Turismo Italiano, various edition, last 2012/2013, Mercury eds.]
"Il turismo crocieristico in Italia"


A2. BOOKS, PUBLICATIONS AND PAPERS
A.A. La Salandra [in 'le Pagine di Risposte Turismo', uno.2015]
Shopping Tourism
F. di Cesare, A. A. La Salandra, in AlmaTourism - Journal of Tourism, Culture and Territorial Development, S.I., N. 3, 2015. "Film-induced, steps for a real exploitation in Europe"
F. di Cesare, A. A. La Salandra, in A Venezia dal Mare, Marsilio eds., 2012
"Il contributo del turista crocierista all'economia della città di Venezia"
N.Camatti, A. A. La Salandra, G. Santoro [presented at XXX AISRE Annual Conference, ed. 2011]
"Fiscalità locale e governance del turismo".
F. di Cesare, A. A. La Salandra, in La Rivista del Turismo n4/2010. Touring Club Italiano, Milano
"Film Tourism: dietro le quinte"
F. di Cesare, A. A. La Salandra, in Geotema journal vol. 40, Patron eds.m, 2010
"I porti italiani nel presente e futuro dell'industria crocieristica"
F. di Cesare, A. A. La Salandra [for ITAM Conference, ed. 2010, ref. Prof. Sue Beeton, Associate Professor in Tourism School of Management, La Trobe University, and Phd Glen Croy, Tourism Research Unit, Monash University Berwick]
"Films and audiovisual potentiality in tourism destination promotion: points of view and choices of european destination managers".
A.A. La Salandra [in 'le Pagine di Risposte Turismo', quattro.2009]
Affrontare i costi del turismo: alcune soluzioni in rassegna.
Edited by di Cesare, F., and Rech, G., Carocci eds, Roma
"Le produzioni cinematografiche, il turismo e i territori"