DE VIDO Sara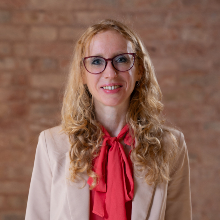 RICEVIMENTO STUDENTI - OFFICE HOURS SEPTEMBER
Published on 31/08/2020
Owing to the health emergency, office hours in presence are suspended until further notice.
Those who need me can:
- write to me an email any time if they need a signature, or very quick answers to questions on agreements, thesis etc.
- skype (sarettadv) EVERY FRIDAY FROM 12.30 TO 1.30 P.M. Always check announcements for possible changes.
On 4. September it will be from 1.45 to 2.45 PM
Office hours on 18. September are suspended.
For urgent matters, write an email to the professor.
INSTRUCTIONS: send to me a chat message during office hours and then I will reply either through a call or a message. You will "queue" - virtually speaking - as during office hours. I will reply to the chat when it is your turn.
The professor is not going to accept to supervise final thesis via e-mail.
NO AVAILABILITY FOR AUTUMN SESSION 2020 AND SPRING SESSION 2021 (MASTERS' THESIS).
Il ricevimento in presenza è sospeso fino a data da definirsi.
Gli studenti che hanno bisogno di me possono:
- scrivere una email per questioni rapide (firme tirocini, learning agreements, valutazione di table of contents ...) o correzione tesi..
- skype sarettadv OGNI VENERDI' DALLE 12.30 ALLE 13.30 (CONTROLLARE SEMPRE GLI AVVISI PER EVENTUALI CAMBIAMENTI).
ISTRUZIONI: inviare un messaggio in chat durante l'orario di ricevimento e attendere il proprio turno.
Sospensione ricevimento il 18 settembre.
Per questioni urgenti contattare la docente via email.
N.B. NON si accettano tesi via email per nessuna ragione. Ci si presenta a ricevimento.
NON SI ACCETTANO PIU' TESI PER AUTUNNO 2020 E PER MARZO 2021 (TESI MAGISTRALE).

follow the feed