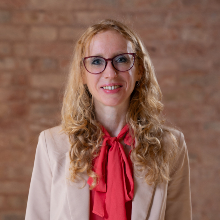 DE VIDO Sara
Position

Associate Professor
Roles

Delegated to the Holocaust Memorial/Remembrance Day

Telephone

041 234 7653 / 041 234 6686
E-mail
Fax

041 234 9176
Scientific sector (SSD)

DIRITTO INTERNAZIONALE [IUS/13]
Website

www.unive.it/persone/sara.devido (personal record)

Office

Department of Economics
Website: https://www.unive.it/dep.economics
Where: San Giobbe

Office
Office hours
Face-to-face office hours will be available in Prof. De Vido's office, ONLY upon reservation, on Wednesday from 10 to 11, starting from Wed. 24. November. Reservations: write to sara.dalmonico@unive.it AND ancaalexandra.david@unive.it. Eight people will be admitted on Wednesday, owing to the need to respect social distancing. The other students, or those that prefer to contact me remotely, can book an appointment for the office hours which will be held on Wed. from 6 to 7 p.m., starting from Wednesday 17. November.
Students of international law (PISE) can also write to the tutor Sara Dal Monico to receive further information on the programme.

Notices
Ricevimento studenti/office hours
Published on 12/01/2022
Nel mese di gennaio e fino a inizio corsi, il ricevimento si svolge online su skype previo appuntamento da richiedere a sara.dalmonico@unive.it e ancaalexandra.david@unive.it nei seguenti giorni:
Giovedì 13 gennaio alle 17
Giovedì 20 gennaio alle 17.30
Giovedì 27 gennaio alle 17.30
In January, and until the beginning of the second semester, office hours will be held online on skype. To book write to sara.dalmonico@unive.it and ancaalexandra.david@unive.it
Thursday 13 Jan 5 p.m.
Thursday 20 Jan 5.30 pm
Thursday 27 Jan 5.30 p.m.
follow the feed