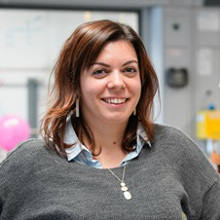 Office hours
Contattare direttamente il docente.

Notices
COLLOIDS AND INTERFACES - [CM1313] (186380): Lecture schedule change for September, 26th 2022
Published on 25/09/2022
Due to the teaching and learning activities suspension for Monday, September 26th 2022, the lecture scheduled for September, 26th 2022 from 12:15 PM to 1:45 PM, will take place on October, 10th from 12:15 to 1:45 PM in Lecture Room Delta 0B.
Please do not hesitate to contact me for any further queries.
Regards,
Giulia Fiorani
Per rispettare la giornata di sospensione dell'attività didattica del 26 settembre 2022, la lezione prevista per il giorno 26 settembre 2022 12:15-13:45, è stata spostata al 10 ottobre 2022 12:15-13:45 in Aula Delta 0B.
Rimango a disposizione per ulteriori chiarimenti.
Cordiali saluti,
Giulia Fiorani
follow the feed