Companies and professionals
The Ca' Foscari Competency Centre provides services to companies and professionals:
Career Lab: development of emotional and social skills for professional success
Development, analysis and assessment of individual competencies
Customized support to Human Resource Departments for the design and implementation of competency-based human resource management processes.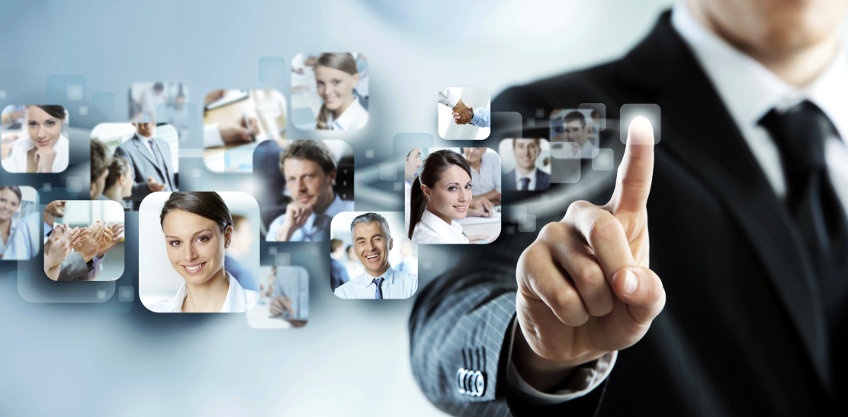 Career Lab: emotional and social skills for professional success
Career Lab is a series of interactive seminars organized by the Ca' Foscari Competency Centre, aimed to lead the participants in a process of developing the emotional and social skills needed to achieve their professional goals and enhance their competitiveness in the labor market.
It is dedicated to those who already entered the labor market or those who are seeking employment and want to requalify their skills.

Objectives
Emotional and social skills are individual characteristics that lead to or cause effective or superior performance. Behavioral competencies are not related to a specific job, but they can be activated in any professional position which requires them. They can be goal and action management abilities, relational abilities or cognitive abilities. Some examples of behavioral competencies are: achievement orientation, initiative, adaptability, empathy, leadership, conflict management, influence, teamwork, self-awareness, self-control, positive outlook, pattern recognition, systems thinking, oral communication, etc.
Career Lab will enable participants to:
understand the importance of soft skills for professional effectiveness;
acquire individual awareness on the level of soft skills needed to achieve their professional goals;
create a learning plan aimed at strengthening their soft skills.
How to participate
To enroll and get information about the next edition of Career Lab, please check the specific web page on Ca' Foscari Challenge School website.
Contents
Career Lab consists of 4 interactive classroom seminars of 3 hours each, followed by one individual coaching session, and activities to be carried out online between one meeting and another. The entire workshop is organized throughout 6 weeks.
1) Emotional and social skills: the new measure of excellence
Duration: 3 hours
Soft skills and their impact on work performance
Learning behavioral competencies: the Intentional Change Process
Motivating towards sustainable change: the definition of the Ideal Self
2) Discovering your Ideal Self: defining your Personal Vision for your future
Duration: 3 hours
Discussion and interpretation of the definition of the Ideal Self
Peer-coaching
Defining the Personal Vision
Towards the definition of the Real Self: 360° assessment of the behavioral competencies
3) Discovering your Real Self: measuring your behavioral competencies
Duration: 3 hours
From the Personal Vision to the competencies needed to achieve it
Feedback about the Real Self
Interpreting the feedback about the Real Self in relation with the Personal Vision: identifying the strengths and weaknesses
4) Discovering your Learning Agenda: developing your behavioral competencies
Duration: 3 hours
My learning style
Techniques for behavioral competencies learning
Defining a personal learning plan
In addition to classroom meetings, participants will be given the opportunity to have private access to the activities and the materials of the Competency Platform, which can be used to integrate the different stages of the learning process through a series of articles and questionnaires. The output of these activities will result in an individual feedback report for each participant, which will help him/her to gain awareness on the composition of his/her competency-portfolio and to better target his/her development efforts on the identified areas of improvement.
Earn Open Badge with CFCC
What is an Open Badge?
Open Badge (OBI - Open Badges Infrastructure) is an open technical standard, developed by Mozilla Foundation, and adopted by more than fourteen thousand organizations around the world in order to identify, recognize, gather and narrate the competencies of people.
Each Open Badge is associated with an image which embeds metadata about the skill that the badge represents, the recipient to whom the badge has been issued, how the skill has been assessed, the institutions that assessed it (in this specific case Ca' Foscari University of Venice for the open badge earnt by the participants of the learning activities offered by the Ca' Foscary Competency Centre).
In Italy, Open Badges that comply with the standard defined by Mozilla are issued by BERST.
How can they be displayed?
Open Badges can be included in the digital curriculum vitae to recognize your competencies and can be shared across the web, for instance through Linkedin, in order to display your own competency portfolio.
How can they be earnt?
Attending the Career Lab you earn the Open Badge "Soft Skills: Personal Development"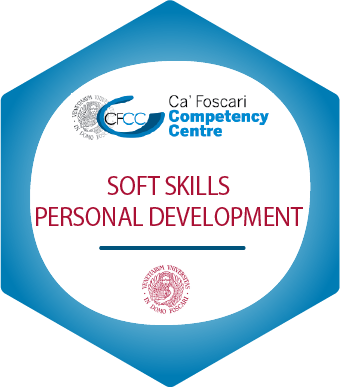 Analysis and development of behavioral competencies
The Ca' Foscari Competency Centre develops educational programs based on the most advanced learning techniques and assessment processes on behavioral competencies.
The educational programs are aimed at:
Supporting participants in gaining awareness about their level of possession of behavioral competencies;
Guiding participants in a process of change focused on the development of their competency portfolio, according to their professional expectations and on the context in which they want to work.
Recipients
The Ca' Foscari Competency Centre educational programs are addressed to:
Professionals:

Who want to enrich their behavioral competencies in order to achieve their career goals;
Who look for a new occupation and want to propose themselves on the job market with a higher awareness on what their professional objectives and possessed competencies are;
Who are guiding companies, also as entrepreneurs, and are interested in starting a personal development process on the behavioral skills needed to innovate successfully their firm.

Companies:

Which want to help their collaborators to acquire a higher awareness on the relevance of emotional, social and cognitive competencies, to achieve superior performance, and assess their level of possession of behavioral competencies as a necessary step to start a process of development;
Which need to train their collaborators on specific behavioral competencies in order to improve their performance.
Learning activities
Modules aimed at developing and putting into practice specific behavioral competencies:
Being a resonant leader
Social skills for managing relationships effectively
Managing yourself: self-control, flexibility, achievement orientation
Willpower
Stress management
Social awareness: from empathy to organizational awareness
Innovating through behavioral competencies
Team working
Public speaking
Persuasion
Learning methodology
The learning modules are personalized according to the participant (professionals or companies) and help them to acquire methods and instruments based on the Intentional Change Process (Boyatzis, 2006). Differently from traditional learning activities on behavioral competencies, this methodological approach proved to be effective in making participants achieve a long-lasting and sustainable change of their competency portfolio.
Learning activities are delivered in the form of seminars through interactive in-class meetings, combined with on-line activities available on an innovative digital platform, which provides great flexibility and ease of use of the learning contents.
The learning modules are based on experiential learning techniques, such as coaching sessions, simulations, team discussions, which allow the participant to be an active protagonist in the various phases of the learning process. The analysis of the competency portfolio involves the possibility of receiving a personalized description/picture of the personal competency profile, through the administration of a self-assessment and "360° assessment" of competencies, using assessment tools validated at an international level.
HRM support
Ca' Foscari Competency Centre (CFCC) offers its services as a partner in the design and implementation of internal processes of HRM with a competency-based approach, which enables the continuous supervision of the behavioral skills considered relevant for the achievement of the company's strategic objectives in the medium/long-term.
Ca' Foscari Competency Centre offers companies the most advanced diagnostic and operational techniques for each of the HRM processes (recruiting, selection, training and development, career management, performance management), in order to: identify coherence and incoherence among the HRM politics/processes currently implemented in the firm and its strategic objectives; formulate indications aimed at reviewing / improving human resource management practices according to a competency-based approach, through the adoption of specific solutions for each analyzed process.
Recruiting
Defining distinctive behavioral competencies (competency or leadership model) associated with a superior performance for the tasks subjected to analysis;
Analysis of the company's job description for each role and the strategic goals;
Updating the job description with reference to the distinctive skills to make the recruitment process more effective, in line with the organizational and strategic development of the company.
Selection
Design and implementation of advanced selection tools for assessing candidates on specific skills (such as stress management, empathy, teamwork, leadership, conflict management).
Training and development
Defining a behavioral competencies model personalized to the context;
Mapping of the distinctive soft skills expected from the key professional roles;
Mapping of the distinctive soft skills possessed by personnel;
Comparing the current competences possessed by the personnel with the expected outcomes through gap analysis;
Designing a system of training interventions aimed at aligning the range of expertise possessed by the personnel with the skills expected by the organization.
Performance management
Identification of behavioral competencies needed for the effective coverage of organizational roles, with particular reference to key roles;
Alignment of the organizational behaviors of individuals with what the company requires to be consistent with the strategic goals, through the implementation of a performance evaluation system;
Training of evaluators and employees by using new evaluation systems;
Design of career management processes based on the evaluation system.