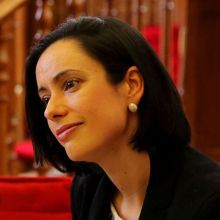 Cristina Blanco Sío-López
Dr. Cristina Blanco Sío-López is EU Horizon 2020 Marie Skłodowska-Curie Senior Global Fellow and Principal Investigator (PI) of the research project 'Navigating Schengen: Historical Challenges and Potentialities of the EU's Free Movement of Persons, 1985-2015' (NAVSCHEN) —European Commission Grant Agreement (GA) No: 841201— at the European Studies Center (ESC) – EU Jean Monnet European Centre of Excellence (JMEUCE) of the University of Pittsburgh from 2019 to 2021. She will then join the Ca' Foscari University of Venice.
She previously was Assistant Professor in European Culture and Politics at the University of Groningen and 'Santander' Senior Fellow in Iberian and European Studies at the European Studies Centre (ESC) – St. Antony's College of the University of Oxford, where she remains a Senior Member.
She received the 2018-2019 Council for European Studies (CES) – IMSISS Senior Visiting Fellowship Award at the University of Glasgow to work on Human Mobility Rights and European Integration. In 2019 she was 'Oxford Centre for Economic and Social History' Invited Lecturer on 'The Solidarity Principle and the EU's Free Movement of Persons' at St. Hilda's College, University of Oxford and Law, Justice and Society' Invited Lecturer at Wolfson College, Oxford.
She is a Full Member of the Global Young Academy (GYA), after the five years Award of the German National Academy of Sciences 'Leopoldina'. She is also co-Director of the 'Global Passport for Scholars' (GPS) Initiative at the GYA and Member of the Marie Curie Alumni Association (MCAA), which she has been invited to represent at the World Science Forum (WSF) 2019.
Dr. Blanco Sío-López is also Leading Associate Researcher R4 at the Institute of Contemporary History (IHC) — New University of Lisbon and was a Senior Lecturer on 'Qualitative Approaches to Human Mobility and European Integration' for the EU Science Hub Evidence-informed policymaking – European Commission – Joint Research Centre (JRC) at the International Institute for Applied Systems Analysis (IIASA) in Laxenburg, Austria. In 2017 she was 'Jean Monnet EUCE – ULS' Research Scholar in Residence at the ESC - University of Pittsburgh and Invited Expert at Shanghai University - 上海大学. She previously worked as Principal Investigator (PI), Lecturer and Leading Researcher in European Studies at the Centre Virtuel de la Connaissance sur l'Europe – University of Luxembourg for six years. She also worked at the Robert Schuman for Advanced Studies (RSCAS) in Florence for three years, at the DG Enlargement of the European Commission and at the European Parliament in Brussels and at the US Congress in Washington, D. C.
Dr. Blanco Sío-López was also Invited Expert in European Studies at the London School of Economics and Political Science - LSE (2013 and 2016); the Yale Law School (2016); All Souls College, University of Oxford (2016 and 2019) and at the Faculty of Law and the Sydney Sussex and Darwin Colleges (POLIS) of the University of Cambridge (2014, 2016 and 2017). She was Section Chair for the European International Studies Association (EISA), Salzburg Global Seminar Lecturer and EUI Global Governance Program Network Member.
She obtained her PhD in History and Civilization (European Integration History) at the European University Institute of Florence (EUI), for which she received the FAEY 'Best PhD Thesis European Research and Mobility Award' 2008.
She coordinated and participated in numerous international research projects, conferences and peer-reviewed publications in Europe, Asia, and the Americas. Her research and publications focus on European Integration History —with an accent on enlargement policy temporalities and the Schengen area fundamental rights— Global Governance, Comparative Regional Integration and Digital Humanities.
---