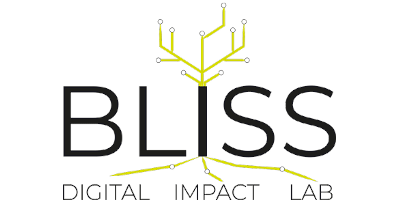 I'm Gaia […] And the ground. And those trees. And that rabbit over there in the grass. And the man you can see through the trees. The whole planet and everything on it is Gaia. We're all individuals - we're all separate organisms - but we all share an overall consciousness. The inanimate planet does so least of all, the various forms of life to a varying degree, and human beings most of all - but we all share (Bliss).
Isaac Asimov, Foundation's Edge, 1982
About
BLISS - Digital Impact Lab develops academic and applied research exploring the manifold impact of the digital transformation on citizens, consumers, firms, organizations, cities and society as a whole.
BLISS' research focuses on opportunities and risks inherent to digital transformation for both data-intensive organizations as well as organizations that have not undertaken a full transition to the digital economy yet. In this regard we are not only interested in the strategic, organizational and business dimension of the digital transformation, but also we intend to understand its ethical implications, its effects on organizations' social responsibility, and on environmental sustainability: what the European Foundation for Management Development (EFMD) calls ERS.
BLISS is a platform hosting an open research community. Its core members act as facilitators to build research networks, favoring knowledge sharing and creation of common projects, within the Lab and beyond it, linking to other disciplines, universities, firms, organizations, and institutions, in Italy and abroad.
In this short video, Francesco Rullani - director of BLISS - explains how to generate an inclusive digital change (audio in Italian only).
News and events
30/04/2021 - Jobs and business in the time of algorithms
(Lavoro e impresa al tempo degli algoritmi)
On April 30th 2021 BLISS - Digital Impact Lab and Impresa e Lavoro 4.0 have organised an online seminar to explore the challenges of algorithmic management from an interdisciplinary perspective - see below for the programme.
Technology is changing the way businesses manage their workers and staff. Companies' decisions are increasingly made with the help of non-human agents that are useful to improve productivity, optimizing processes and resources, through the use of data and metrics. Thanks to the progress made in recent years in the field of artificial intelligence, processes such as staff recruitment, the assignment of tasks and shifts, training and performance management could be taken by a non-human decision-maker, in whole or in part. This scenario is already a reality.The seminar stimulated a dialogue where participants tried to understand at first how these (in)fallible tools work and then how and why they are used by companies for a better staff management, what impact they are having on the dynamics of power between companies and which rules discipline them.
---
19/03/2021 - Digital turn? Digital innovation in Italy after a year of pandemic
On 19 March at 11.30 Bliss has organised its first webinar to present some of its research projects and discuss the opportunity of digital transformation in the post Covid-19 Italy.
The webinar will be held in Italian.
---
Partners