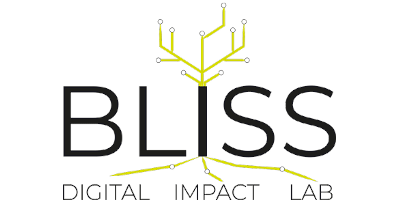 I'm Gaia […] And the ground. And those trees. And that rabbit over there in the grass. And the man you can see through the trees. The whole planet and everything on it is Gaia. We're all individuals - we're all separate organisms - but we all share an overall consciousness. The inanimate planet does so least of all, the various forms of life to a varying degree, and human beings most of all - but we all share (Bliss).
Isaac Asimov, Foundation's Edge, 1982
About
BLISS - Digital Impact Lab develops academic and applied research exploring the manifold impact of the digital transformation on citizens, consumers, firms, organizations, cities and society as a whole.
BLISS' research focuses on opportunities and risks inherent to digital transformation for both data-intensive organizations as well as organizations that have not undertaken a full transition to the digital economy yet. In this regard we are not only interested in the strategic, organizational and business dimension of the digital transformation, but also we intend to understand its ethical implications, its effects on organizations' social responsibility, and on environmental sustainability: what the European Foundation for Management Development (EFMD) calls ERS.
BLISS is a platform hosting an open research community. Its core members act as facilitators to build research networks, favoring knowledge sharing and creation of common projects, within the Lab and beyond it, linking to other disciplines, universities, firms, organizations, and institutions, in Italy and abroad.
In this short video, Francesco Rullani - director of BLISS - explains how to generate an inclusive digital change (audio in Italian only).
---
News and Events
Research article co authored by Bliss member wins the prize for Wired best paper
The Third Conference on "Competitive Renaissance through Digital Transformation", organized by the University of Pavia, with IBM and the Italian Management Society ended a week ago. Bliss brought an excerpt from its research presenting two studies: one the relationship between the adoption of Industry 4.0 technologies and workers' specialization (coauthored by Francesco Rullani, Monica Plechero, Giancarlo Corò and Mario Volpe), and one on the long-term relationship between the adoption of e-commerce and the pandemic (by Francesco Rullani with Paolo Giordani). Both studies were well received, entering the nominations of the best paper award and the first one won the prize assigned by Wired, thus having the opportunity to be discussed in one of the most popular and authoritative technology and innovation magazines.
Abstract of the winning paper
Industry 4.0 Challenges in a Manufacturing Region: the Growth of Synthetic and Analytical Knowledge Specialists
Rullani Francesco – Ca' Foscari University: Bliss – Digital Impact Lab;
Plechero Monica – Ca' Foscari University,
Corò Giancarlo – Ca' Foscari University,
Volpe Mario – Ca' Foscari University
Firms' entry in the Industry 4.0 implies adopting specific technologies but also acquiring specialists able to integrate them into firms' businesses. Using as a setting Veneto, a traditional manufacturing region in Italy, we study the co-evolution between I4.0 technology adoption and the changes in shares of two types of specialists in 1644 firms' employment from 2008 to 2018. Our results inform policymakers and managers on the risk firms in traditional manufacturing regions run of being too 'conservative' in their hiring policies, preferring specialists close to their current knowledge base over those who can help to develop the full potential of I4.0 technologies
---
Digital turn? Digital innovation in Italy after a year of pandemic
On 19 March at 11.30 Bliss has organised its first webinar to present some of its research projects and discuss the opportunity of digital transformation in the post Covid-19 Italy.
The webinar will be held in Italian.
---
Partners