University VPN
Virtual Private Network for smart working/teleworking and library resources
What is the University VPN and what is it used for?
The VPN (Virtual Private Network) is a system that enables computer access to the reserved resources of an organisation (e.g. applications and databases) even through connections from outside the organisation, such as domestic and public internet connections.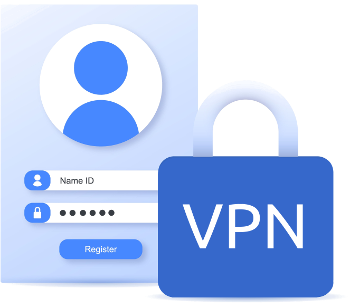 Ca' Foscari University has made available a VPN service for staff members and students, with 2 specific connection modes:
VPN Ca' Foscari for smart working/telework, office activities, administration and system maintenance
VPN Bibliographic Resources to gain access to the Libraries' digital resources and to a free Internet connection without the limits imposed by censorship in some Countries.
In particular, the University VPN allows:
personnel working off-site (e.g., in teleworking, smart working or co-working modes) to access their computers and the resources available at their workstations at the university remotely; below is an example of the resources that can be accessed through VPN:

Typo3 (website updates)
non-Citrix VDI workstations (Windows 7 virtual machines)
supercomputing resources (DAIS)
OTRS (ticketing system)
library resources (for more information on available resources, see Sistema Bibliotecario di Ateneo - SBA)

the management of laboratory equipment by teaching staff and laboratory technicians
free Internet connection for Ca' Foscari users located in countries where the use of the Internet is restricted
the remote management of complex technological systems by managers and maintenance operators
Support
In case of problems in configuring your device, or in case of malfunctions:
teaching staff and PTAs: open a ticket and selecting the Network
students: contact the Call Center
Who can use the University VPN?
Through the VPN, the University Library System makes available to both staff and students restricted access electronic resources, such as databases, electronic journals and e-books.
In addition, Ca' Foscari staff who have a unive account can use the University VPN for smart working and teleworking.
Teaching staff and researchers, technical administrative staff (PTA), language assistants and experts (CELs) and students have automatically enabled access. NB: to access remotely Central Administration resources such as "disk Z:\", PTA should use the Citrix virtual machine system, not the VPN.
To access the University network and use the VPN service, those who collaborate in various capacities with the University, both as teachers and researchers and in the context of relationships between Ca' Foscari and external companies, must request a unive account by filling in the online application form [ITA].
How to use the University VPN
To access the service, you need to configure your device according to the following instructions which are broken down by operating system.