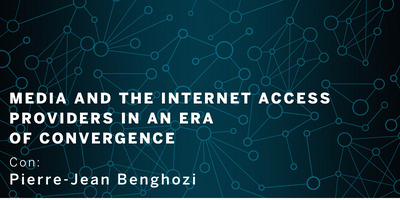 Media and the Internet Access Providers in an Era of Convergence
San Giobbe - Aula Saraceno
Monday December 6th, Room Aula Saraceno (San Giobbe - complex C1 ground floor), from 11:30AM to 1:00PM, MacLab organizes the seminar "Media and the Internet Access Providers in an Era of Convergence" with Prof. Pierre-Jean Benghozi, professor at Geneva School of Economy and Management, at Ecole Polytechnique (Paris) and Research director CNRS.

It is possible to follow the seminar also via Zoom:
Link to the meeting
ID riunione: 818 3424 4869
Passcode: ejY3mg

Abstract
Technological breakthroughs are an enabler in the convergence between telecommunications operators and media. Close economic examination put at stake the interpretation based on vertical integration and complementary strategies of telecom operators and content producers. Approach to convergence must be renewed because situation is not the same as 20 years ago. The multiplication of TV channels, the development of Internet and the growing bandwidths have resulted in the explosion of on line content. This contributed to the expansion and predominance of digital platforms that invested significantly in content production and network infrastructure. These original converging strategies call for regulatory issues because the changes raise new challenges associated with the new market structure: segmentation of regulation perspective, competitive and non-price strategies, net neutrality.
Pierre‐Jean Benghozi
has an initial scientific education in engineering from the the Ecole Polytechnique (Paris) and is graduated, additionally, in Management studies (PhD) and Economic (Priv.‐ Doz). Research Director at the National Centre for Scientific Resarch (CNRS), professor at the École Polytechnique and at Geneva University. He has been Commissioner at the French Electronic Communications and Postal Services Regulatory national Authority (Arcep) (2013‐2019). Headed up, until 2013, the Centre for Management and Economic Research (PREG). He also founded and has been in charge of the Innovation and Regulation in Digital Services Chair since 2007. He developed, in an educational partnership jointly operated by the best higher education institutions, an international graduate Master program of excellence on Network Industries and Digital Economy (IREN).
Pierre‐Jean Benghozi developed, since the early eighties, pioneering research unit and programs on Information Technology, Telecommunications, Media and Culture. His recent projects draw attention to the adoption and uses of ITC in large organizations, the structuring of ITC‐supported markets and supply chains, the characterization of competitive business models, expressly in creative industries.
Pierre‐Jean Benghozi publishes on these topics more than 200 academic international publications. Board member of scientific committee in highest French institutions and numerous international scientific conferences and academic journals, Pierre‐Jean Benghozi taught regularly in major Universities and is frequently requested as an expert by public bodies and private organizations.
Language
The event will be held in English
Organized by
MacLab, Dipartimento di Management
Downloads