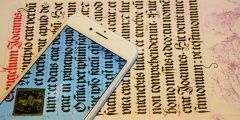 Summer School in Digital e Public Humanities
La Venice Summer School on Digital and Public Humanities è cancellata a causa dello stato di emergenza connesso al COVID-19 e in rispetto del DPCM 26/04/2020 recante "misure urgenti in materia di contenimento e gestione dell'emergenza epidemiologica da COVID-19". Vista l'impossibilità di organizzare la Summer School in presenza, il programma non può essere sostituito da una versione a distanza.

Il bando è on-line, con scadenza 6 marzo 2020.
La pubblicazione dell'esito di selezione per la partecipazione alla Summer School è on-line.
La commissione organizzatrice sta monitorando gli eventi connessi all'emergenza COVID-19 e i partecipanti saranno informati riguardo eventuali cambiamenti dovuti alla situazione entro fine aprile.
Per informazioni: didattica.dsu@unive.it
We have to inform you about the unavoidable cancellation of this year's Venice Summer School on Digital and Public Humanities due to the COVID-19 emergency and our Italian Government and our University's board directives. We are not able to proceed with the organization of Summer School in presence, and the programme cannot be realized in online version.
The Call for Applications is on-line. The deadline for applications is March 6, 2020.
Admission and scholarship final rankings are on-line.
The committee is monitoring the developments of the current COVID-19 emergency. Participants will be informed of any updates and changes to programme in response to the situation and measures taken by the authorities by the end of April.
For further information, write to didattica.dsu@unive.it


Organized by
Dipartimento di Studi Umanistici; VeDPH
Downloads