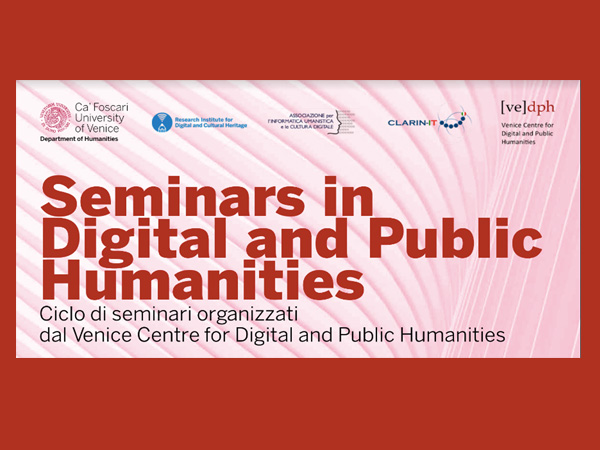 Seminars in Digital and Public Humanities Online
Our Seminars in Digital and Public Humanities are finished.
Waiting for the new Fall cycle, we remind you that the Center for Humanities and Social Change (Hsc), Research Institute for Digital and Cultral Heritage and VeDPH co-organized the interdisciplinary online seminar series "Water, water every where...".
The VeDPH seminars are recorded and published in our YouTube channels. All the correlated material (slides, links etc.) are collected in our GitHub.
Spring on-line Seminars
13 May Leonardo Campus: Le leggi razziali in tv: tra audiovisivo, storia e pubblico
29 April Barbara Tramelli: Le chemin de l'image in Renaissance Lyon: digital tools for the study of early modern illustrations
22 April Elisa Corrò: Water Matters. Digital solutions for a better understanding of past extreme events (in connection with Research Institute for Digital and Cultural Heritage)
15 April Marie Redmond: Creating Interactive Narratives in Cultural Contexts
8 April Sara Tonelli: "Building tools and datasets to detect online hate speech: current studies on cyberbullying and islamophobia"
1 April Rodolfo Delmonte: "Semantics, Expressivity and Synthetic Speech: SPARSAR recites poetry".
Winter Seminars
25 March, Daniele Fusi: "Presenting Cadmus: a general-purpose and modular content editing alternative for complex models".
12 February, Francesca Tomasi: "Running the Digital Humanities Ecosystem"
22 January, Alberto Campagnolo: "Links and bindings. Towards meaningful descriptions of bookbindings on the Web and catalogues "
2019 Fall Seminars
4 December, Paolo Monella: "Fuori dalla torre di Babele: interoperabilità e sistemi grafici pre-moderni"
20 November, Carolina Fernandez-Castrillo: "Heating Media: dal fotodinamismo alla cultura digitale"
6 November, Marina Buzzoni: "Il valore aggiunto delle DH per gli studi filologici"
23 October, Monica Monachini: "CLARIN-IT nella prospettiva delle Digital Humanities"
Downloads