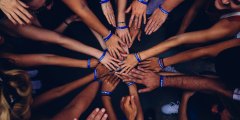 Open Social Scholarship and Engaged Publics in Digital Humanities
on line
Seminars in Digital and Public Humanities
Seminars series organized by Venice Centre for Digital and Public Humanities (VeDPH), Department of Humanities, Ca' Foscari University Venice Autumn Term, September-December 2021 - 5 p.m. CEST/CET - (The seminars will be held online as virtual events).
22 September 2021 - Ray Siemens, Alyssa Arbuckle (University of Victoria)
Abstract: Predicated on the notion of 'publics' that are by necessity implied and engaged in the humanistic work we do, our talk considers foundations in the digital humanities pertinent for establishing, encouraging, and sustaining open social scholarship. Open social scholarship involves creating and disseminating research and research technologies to a broad audience of specialists and active non-specialists in ways that are accessible and significant. Open social scholarship practitioners engage such practice across research, service, and teaching activities. We trace its conceptual roots in open access and open scholarship movements, the digital humanities' methodological commons and community of practice, grassroots teaching and training initiatives, contemporary online practices, and public facing citizen scholarship. Examples are drawn from work of the Implementing New Knowledge Environments (INKE) Partnership (inke.ca) and the initiatives of its recently established Canadian Social Knowledge Institute (C-SKI, c-ski.ca).
Further info and all materials about seminars will be available at vedph.github.io/seminarseries
Contact: vedph@unive.it
For registration click here.
Language
The event will be held in English
Organized by
DSU; VeDPH
Downloads