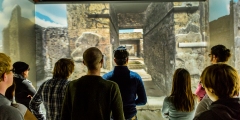 Producing Knowledge in the Virtual Space: Approaching Archaeological Data
on line
Seminars in Digital and Public Humanities
Seminars series organized by Venice Centre for Digital and Public Humanities (VeDPH), Department of Humanities, Ca' Foscari University Venice Autumn Term, September-December 2021 - 5 p.m. CEST/CET - (The seminars will be held online as virtual events).
6 October 2021 - Nicolò Dell'Unto (Lunds Universitet)
Abstract
The diffusion of new three-dimensional (3D) visualization platforms, together with the development of new tools for query and analysis of 3D information, has provided scholars with the opportunity to define new ways to approach and engage with archaeological materials. The last few years were characterized by considerable investments made worldwide to establish web systems for promoting large scale research in the cultural heritage sector. Although very useful, these systems were never designed to promote deep interactions with the materials being investigated, and during the pandemic, the need to establish data platforms as primary tools for undertaking research became a priority. By using examples from ongoing research activities developed within the Lund University Digital Archaeology Laboratory DARKLab, this paper will discuss the limits and potentials of using such technologies to support interpretation and practice in the digital domain.
Nicolo´ Dell'Unto studied archaeology at the University of Rome, La Sapienza. Upon completion of his Masters, he had a joint appointment as a research assistant at the Institute for Technologies Applied to Cultural Heritage, ITABC-CNR, Italy. There, he took part in several international projects for 3D documentation and visualization of archaeological sites through the use of digital techniques. Later, he obtained a PhD in technologies and management of cultural heritage at the Institute for Advanced Studies, IMT Lucca, Italy. He also worked as a postdoc and lecturer at the University of California Merced before his current position as Associate Professor at Lund University. Since August 2019 he is visiting Associate Professor at the Department of Collection Management at the Museum of Cultural History, University of Oslo.
Further info and all materials about seminars will be available at vedph.github.io/seminarseries
Contact: vedph@unive.it
For registration click here.
Language
The event will be held in English
Organized by
DSU; VeDPH; CeSAV
Downloads