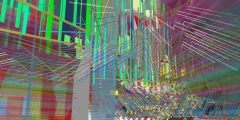 Performing Hybrid Spaces: Art, Media and Ludic Practices
DSU, Sala Milone and online
Seminars in Digital and Public Humanities
Seminars series organized by Venice Centre for Digital and Public Humanities (VeDPH), Department of Humanities, Ca' Foscari University Venice Autumn Term, September-December 2022 - 5 p.m. CEST/CET - The seminars will be held in presence (Sala Milone, DSU) and online as virtual events.
21 September 2022 - Paolo Berti (Ca' Foscari University)
Abstract: By the end of the last century, the cultural impact of the first mobile devices and ubiquitous computing led to the expansion of a specific media ecology marked by a hybrid condition, where the body's performativity presented itself as an unprecedented approach to the cyber world. There are many actors involved: companies, service platforms, governments, hacker communities, and last but not least, artists who (as often has been the case in the history of New Media Art) underpin technical shifts, finding an exceptionally active role in the establishment of terminology and the shaping of the aesthetic-technological landscape. From this comes an interesting interdependency with the mobile business and telecommunication companies, which in turn are looking for imaginative paths to establish themselves in the just emerging field of handheld applications. A productive exercise in which the video game industry will also claim its own identity, amidst totally artistic figurations or more horizontal collective explorations, where augmented reality, network systems, and technologically advanced psychogeographic memories enter the commercial domain and then flow back into creativity.
Bio: Paolo Berti is research fellow and lecturer for the class of Public Art and Digitization Practices at Ca' Foscari University of Venice. He is a contemporary art historian, dealing mainly with artistic trends in new media, digital cultures and geospatial technologies. Prior to his association with the Centre he trained at the University of Siena and at its postgraduate Specialization School, later he obtained a PhD in Art History at Sapienza University of Rome. He took part in several research groups and worked as a translator.
Link for subscription: https://bit.ly/3q28uJD
Info: vedph@unive.it
Language
The event will be held in English
Organized by
VEDPH; DSU
Downloads