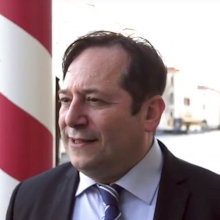 Activities and research skills
General information
Scientific sector (SSD)

DIRITTO INTERNAZIONALE [IUS/13]
Settore Scientifico Disciplinare (SSD) affine

DIRITTO DELL'UNIONE EUROPEA [IUS/14]
Geographic areas in which the research experience mainly applies

Internazionale: Europa, America Settentrionale, Russia e aree caucasiche, Medio Oriente, Africa Caraibi e Pacifico
Known languages

Inglese (scritto: avanzato parlato: avanzato)
Francese (scritto: avanzato parlato: avanzato)
Spagnolo (scritto: avanzato parlato: avanzato)
Italiano (scritto: madrelingua parlato: madrelingua)

Participation in editorial boards of scientific journals/book series

E' General Editor della collana scientifica di studi monografici EIUC studies on Human rights and Democratisation (Cambridge University Press), coordinatore della sezione di "Diritto internazionale" del Libro dell'anno del Diritto edito dall'Istituto della Enciclopedia italiana Treccani, nonché componente del comitato scientifico internazionale della collana di studi monografici "La ricerca del diritto nella Comunità internazionale", Editoriale Scientifica, Napoli.

*Attualmente è membro del Comitato scientifico o del Comitato di redazione delle seguenti riviste specialistiche: Rivista di diritto internazionale privato e processuale (CEDAM-WKI); Contratto e impresa (CEDAM-WKI); Contratto e impresa/Europa (CEDAM, WKI); della Rivista dell'arbitrato (Giuffré- Francis Lefebvre, Milano); Diritto del commercio internazionale (Giuffré-Francis Lefebvre, Milano); Il Foro Padano, nonché è componente del Comitato dei Referees della Rivista telematica Ordine Internazionale e Diritti Umani (Univ. La Sapienza, Roma). E' altresì membro dell'Advisory Board dell'University of Bologna Law Review; nonché del Comitato scientifico di riviste internazionali quali: lo European Journal of Human Rights/Journal Européen des droits de l'homme (Université catholique de Louvain (UCL)); L'Europe des Droits & Libertés/Europe of Rights & Liberties (Université de Strasbourg/Fondation Marangopoulos); European Papers ; la Revista Brasileira de Arbitragem (Sao Paulo, Brasile) ; lo European Yearbook on Human Rights (Vienna, Graz, Berlin); il Vienna Journal on International Constitutional Law (Vienna, Austria); International and Comparative Law Review, De Gruyter, Germania.
Participation as referees of national and international research projects

Occasional referee per Oxford University Press; Cambridge University Press e Pedone editeur (Parigi).
E' Membre associé presso l'Institut de Recherche en Droit International et Européen de La Sorbonne (IREDIES) ed al SERPI (Sorbonne - Étude des Relations Privées Internationales) presso l'Université de Paris I - Panthéon Sorbonne), dal 2010.
E' altresì Membro del Comitato scientifico della Associazione sul diritto doganale (ASDD); della Società italiana di Diritto internazionale e dell'Unione europea (SIDI); dell'omologa società scientifica francese (SFDI); Associazione italiana per l'arbitrato (AIA); ASSIDMER (diritto del mare); International Law Association;
Areas and research fields

Area: Diritto Linea: Diritto Commerciale (IUS 04)
Area: Diritto Linea: Diritto Privato (IUS 01)
Area: Diritto Linea: Diritto dell'Unione Europea (IUS 14)
Area: Diritto Linea: Diritto dell'Economia (IUS 05)
Area: Diritto Linea: Diritto internazionale (IUS 13)
Area: Diritto Linea: Diritto tributario (IUS 12)
Area: Economia Linea: Sistema economico - politiche e gestione

Research skills
Diritto internazionale

Description:

International Law

Keywords:

International law, Social sciences, Social sciences

ATECO code:

[85.42] - istruzione universitaria e post-universitaria; accademie e conservatori
Arbitrato internazionale

Description:

International Arbitration

Keywords:

International law
Diritto del commercio internazionale

Description:

International Business & Trade Law

Keywords:

International law, Commercial law
Diritto della Unione Europea

Description:

European Union Law

Keywords:

European law
Commercio internazionale e diritti umani

Description:

Business and Human Rights

Keywords:

International law, Human rights
Diritto internazionale privato

Description:

Private International Law - Conflict of Laws

Keywords:

International law
Diritto internazionale dell�economia

Description:

International Economic Law
Completed and pending researches
Codice doganale dell' Unione europea commentato, La Tribuna ed., 2 ed., 2016
Codice doganale dell'Unione europea commentato , Milano, Giuffré, Francis Lefebvre, 2019

SSD:

IUS/14
D. Carreau (Paris I Sorbonne), F. Marrella (Cà Foscari - Venezia), Diritto internazionale, I ed., 2016
D. Carreau (Paris I Sorbonne), F. Marrella (Cà Foscari - Venezia), Droit international, 11 ed., Pedone, Paris, 2016

SSD:

IUS/13
D. Carreau (Paris I Sorbonne), F. Marrella (Cà Foscari - Venezia), Droit international, 12 ed., Pedone, Paris, 2018

SSD:

IUS/13
D. Carreau (Paris I Sorbonne), F. Marrella (Cà Foscari - Venezia), Droit international, XIII ed., pubblicazione a Parigi, presso l'editore Pedone, prevista nel 2021

SSD:

IUS/13
D. Carreau, F. Marrella, Diritto internazionale, 3 ed., Milano, Giuffré-Francis Lefebvre, pubblicazione prevista nel 2021

SSD:

IUS/13
Enciclopedia Treccani - Il Libro dell'anno del diritto, Sezione di Diritto internazionale (2014 -)

SSD:

IUS/13
F. Galgano (LUISS), F. Marrella (Cà Foscari-Venezia), Diritto del commercio internazionale. Manuale, 4 ed., Padova, CEDAM, 2016

SSD:

IUS/13
F. Marrella, Manuale di diritto del commercio internazionale, I ed., Padova, CEDAM-Wolters Kluwer, 2017

SSD:

IUS/13
F. Marrella, Manuale di diritto del commercio internazionale, II ed., Padova, CEDAM-Wolters Kluwer, 2020

SSD:

IUS/13
F. Marrella, Manuale di diritto del commercio internazionale, III ed., Padova, CEDAM-Wolters Kluwer, 2022
Il Reg. Roma I sulla legge applicabile alle obbligazioni contrattuali, per il Commentario Scialoja-Branca, Bologna-Roma

SSD:

IUS/14
International Protection of Human Rights and Activities of Transnational Corporations (published in the Collected Courses of The Hague Academy of International Law, RCADI, Leiden-Boston, Massachussets (USA), Brill-Nijhoff, vol. 385, 2017, pp. pp. 33-435 )

SSD:

IUS/13
L'arbitrato e i contratti internazionali nel terzo millennio. Studi in onore di Giorgio Bernini/Arbitration and International Contracts in the third Millennium. Essays in honor of Giorgio Bernini, Milano, pubblicazione prevista nel 2021

SSD:

IUS/13
Lo straniero e la condizione di reciprocità (art.16 preleggi)

SSD:

IUS/13
ON TRADE LIBERALISATION FOR POLITICAL ENDS: IS THE EURASIAN ECONOMIC UNION (EAEU) MORE THAN A REGIONAL TRADE AGREEMENT (RTA)?, in corso di pubblicazione sul CHiCAGO JOURNAL OF INTERNATIONAL LAW, 2020

SSD:

IUS/13

Other members of the research group:
Funds
Il diritto internazionale privato e processuale dei contratti in transizione: dalla cooperazione interstatale al diritto comunitario

Funding body:

MIUR

Type:

PRIN

Role in the project:

PT

Sito di progetto:

http://cercauniversita.cineca.it/php5/prin/cerca.php?codice=2006121290

Starting date:

Year: 2006 Length in months: 12
The responsibility of Spanish transnational corporations with regards to human rights: towards a general framework for public policy

Funding body:

Ministerio de Ciencia e Innovación (Spagna)

Type:

Altri finanziamenti di ricerca

Role in the project:

PT

Sito di progetto:

http://investigacion.us.es/sisius/sis_proyecto.php?idproy=18467

Starting date:

Year: 2011 Length in months: 36