BUZZAVO Leonardo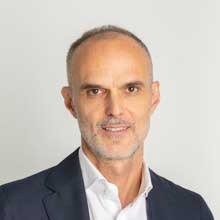 Leonardo Buzzavo è Professore Associato presso il Dipartimento di Management dell'Università Ca' Foscari Venezia, dove ha conseguito una Laurea con lode in Economia Aziendale nel 1994 ed un Dottorato di Ricerca in Economia Aziendale nel 1998. Ha vinto inoltre una borsa di studio di un anno accademico presso la University of California Los Angeles (UCLA).
Le sue aree di ricerca attuali riguardano principalmente innovazione strategica e modelli di business con particolare riferimento alle dinamiche di trasformazione della commercializzazione automobilistica di cui si occupa da molto tempo. In passato si è occupato anche in misura significativa di lean production e lean thinking.
È Coordinatore del Corso di Laurea Magistrale in Marketing e Comunicazione.
Dal 2010 al 2014 è stato delegato del Rettore alla valorizzazione del nome, della storia e degli spazi di Ca' Foscari e Consigliere di Amministrazione della Fondazione Università Ca' Foscari (www.fondazionecafoscari.it). Ha coordinato l'avvio della nuova Associazione Ca' Foscari Alumni (www.cafoscarialumni.it).
Ha svolto ruoli attivi nel network di ricerca internazionale ICDP - International Car Distribution Programme (www.icdp.net) dal 1994 al 2016.
Ha svolto attività di docenza e formazione presso numerosi istituti e aziende e ha partecipato in qualità di relatore a oltre 200 tra convegni e conferenze in 20 paesi, prevalentemente su temi relativi a strategia e marketing nella filiera automobilistica. È Coordinatore Tematico di Automotive Dealer Day, evento di riferimento per gli operatori della distribuzione automobilistica, e Co-founder di Quintegia, attiva in ricerca, eventi e formazione in campo automobilistico.
È autore di pubblicazioni in libri (editi da Franco Angeli, Cedam, Palgrave, Carocci, Libreria dello Sport) e riviste (tra cui Economia & Management, Finanza Marketing & Produzione, Mercati e Competitività, Sviluppo e Organizzazione, International Journal of Automotive Technology and Management), nonché di articoli apparsi in riviste (Il Sole 24 Ore, Mondo Economico, InterAutoNews, Quattroruote).
Nell'area delle pubblicazioni a carattere non scientifico ha contribuito al meta-romanzo "Le Aziende In-visibili" a cura di Marco Minghetti & the living mutants society (Ed. Scheiwiller, 2008) nel filone dello Humanistic Management; ha curato una raccolta di scritti di persone provenienti da vari ambiti della società e dal mondo delle imprese (Il secondo cassetto, Matteo Editore, 2007), con finalità sociale; ha prodotto il volume "Jorge Scassa – Mixed Media Art" imperniato sulle tecniche di digital painting edito da Matteo Editore nel 2007; ha contribuito a realizzare la guida Whaiwhai "Amor" per Verona.
Oltre alla madrelingua italiana parla inglese, portoghese, spagnolo e francese. Nel tempo libero suona il pianoforte, pratica canottaggio, si dedica a letture (prevalentemente temi di neuroscienze cognitive, antropologia culturale, processi creativi) ed ama viaggiare per esplorare nuovi contesti. Dal 2003 al 2009 ha partecipato negli anni dispari a quattro edizioni dell'evento Burning Man negli USA.
Ultima modifica: 02/09/2020
Le informazioni riportate sono state caricate sul sito dell'Università Ca' Foscari Venezia direttamente dall'utente a cui si riferisce la pagina. La correttezza e veridicità delle informazioni pubblicate sono di esclusiva responsabilità del singolo utente.