DE VIDO Sara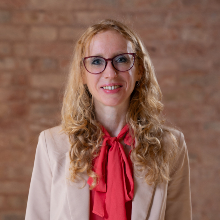 Professoressa associata di diritto internazionale da novembre 2019 presso il dipartimento di economia dell'Università Ca' Foscari di Venezia, delegata della Rettrice al giorno della memoria e al giorno del ricordo (incarico che svolge dal 2018). E' stata vicedirettrice del Centro studi sui diritti umani (Cestudir) di Ca' Foscari dal 2015 al 2020, è vice coordinatrice didattica del corso di laurea triennale in Philosophy, International Studies and Economics di Ca' Foscari. E' affiliata al Manchester International Law Centre (UK), dove ha co-fondato il Women in International Law Network (Wilnet).
E' inoltre componente del collegio di dottorato "Diritto, mercato e persona" dell'Università Ca' Foscari, Venezia. Ha trascorso vari periodi di ricerca all'estero come visiting academic (2015 - Manchester, UK; 2016 - Hitotsubashi, Tokyo) e tiene lezioni in inglese e francese in Italia e all'estero, tra cui al Master 2 en droit pénal financier dell'università di Paris Cergy-Pontoise e ai master E.ma (Human Rights and Democratisation) dell'EUIC di Venezia. E' docente alla Venice International University (ha insegnato Global Governance, Peace, Security, Cooperation and Development, Gender Studies and Globalisation, Ethics, Welfare and Human Rights).
E' stata international expert per il Consiglio d'Europa nel giugno 2017 a Pristina (Kosovo) sulla Convenzione di Istanbul e nel maggio 2020 a Strasburgo (online conference) sulla relazione tra pandemia e diritti delle donne. E' stata consultant per European Women's Lobby da luglio a novembre 2020 sulla violenza di genere contro le donne e la possibile azione della UE in tema. Sta co-redigendo un rapporto con la collega Lorena Sosa per la Commissione europea (tramite il network EELN) per maggio 2021 sulla comparazione tra le normative penali nazionali in tema di violenza di genere contro le donne contenente raccomandazioni alla Commissione sul futuro dell'azione legislativa della UE.
Partecipa come relatrice a convegni in Italia e all'estero.
Ha scritto estensivamente sul tema della violenza di genere contro le donne, con particolare riferimento alla convenzione di Istanbul del Consiglio d'Europa.
Il suo ultimo lavoro è Violence against women's health in international law (Manchester University Press, 2020, Melland Schill studies in international law, Jean d'Aspremont e Iain Scobbie editors). E' stato presentato per la prima volta il 13 gennaio 2021 alla Durham Law School, UK.
Ha scritto inoltre di contrasto al finanziamento al terrorismo, diritto all'acqua, elemento soggettivo del crimine di genocidio, degli aspetti giuridici della questione della Crimea e sta sviluppando la sua ricerca nel diritto internazionale in materia ambientale, con uno sguardo all'evoluzione verso un approccio ecocentrico del diritto internazionale.
Ultima modifica: 02/02/2021
Le informazioni riportate sono state caricate sul sito dell'Università Ca' Foscari Venezia direttamente dall'utente a cui si riferisce la pagina. La correttezza e veridicità delle informazioni pubblicate sono di esclusiva responsabilità del singolo utente.