SCOTTO Giuliana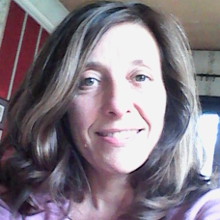 ricevimento studenti del 15 settembre 2020
Published on 15/09/2020
Il ricevimento studenti di oggi, 15 settembre 2020, si svolge nell'aula virtuale zoom: https://unive.zoom.us/s/91677542764#success
Per qualunque problema la docente può essere contattata al numero: 3479072201.
Giuliana Scotto
LINGUA TEDESCA - ESAME - [EM9018-1] VENEZIA (167170): lezioni a distanza per 5 settimane
Published on 06/09/2020
Si avvisano gli studenti che le lezioni per le prime 5 settimane (sino al 15 ottobre 2020) si svolgeranno in modalità a distanza.
GERMAN FOR ECONOMICS AND BUSINESS (EXAM) - [ET4014-1] VENEZIA (180776): lezioni a distanza e livello di conoscenza richiesto per il corso di German
Published on 06/09/2020
Per le prime 5 settimane (sino al 15 ottobre 2020) le lezioni si svolgeranno soltanto on-line.
Per la frequenza del corso di German sono richieste competenze linguistiche del tedesco di livello A2 (Quadro europeo di riferimento per le lingue). Al fine di armonizzare al meglio le conoscenze possedute dagli studenti ai fini del corso, gli studenti interessati (anche se principianti) a seguire le lezioni sono gentilmente invitati di contattare la docente per email indicando il livello di conoscenza della lingua. In base al numero dei partecipanti e al livello medio posseduto sarà possibile orientare il contenuto delle lezioni (se soltanto di tedesco economico oppure anche con rinforzo delle competenze grammaticali necessarie). Email: giuliana.scotto@unive.it
During the first 5 weeks (until the 15th October 2020 lectures will be only on-line.
In order to attend the course, German competences A2 Level (European Framework of Reference for Languages) are required. All students (also those having no previous knowledge of German) are kindly required to write an email to the teacher, specifying the level they possess in order to determine the content of the lecture (how much German for Economics and how much grammar), in order to best harmonise the content of the lectures. Email: giuliana.scotto@unive.it

follow the feed