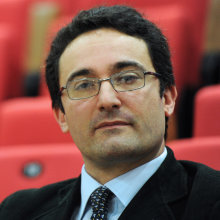 Office hours
Dipartimento di Economia / Department of Economics
Studio A.134, plesso A, San Giobbe, Venezia
Gli studenti sono invitati a prendere contatti a mezzo mail con il docente per stabilire orari e modalità di ricevimento telematico.
As required by the current measures put in place by the Italian government due to the COVID-19 outbreak, office hours will be held remotely. Students are advised to make contact with Professor Moscone via e-mail.
SUPERVISIONE TESI
Supervisiono tesi triennali e magistrali su argomenti quali credit risk delle piccole e medie aziende, produttività degli ospedali, sostenibilità dei sistemi sanitari. L'aspettativa e' che lo studente proponga un'idea da sviluppare scrivendo un abstract di 500 parole. Si suggerisce di utilizzare google scholar per avere qualche spunto.

follow the feed