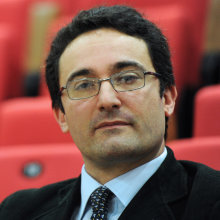 Office hours
Dipartimento di Economia / Department of Economics
Studio A.134, plesso A, San Giobbe, Venezia
In applicazione delle misure di prevenzione a seguito dell'emergenza epidemiologica da COVID-19 disposte dal Governo, il ricevimento si terrà in modalità telematica. Gli studenti sono invitati a prendere contatti a mezzo mail con il docente per stabilire orari e modalità di ricevimento telematico.
As required by the current measures put in place by the Italian government due to the COVID-19 outbreak, office hours will be held remotely. Students are advised to make contact with Professor Moscone via e-mail.

follow the feed