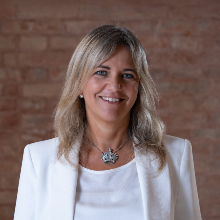 Vania BRINO
Position

Full Professor
Roles

Coordinator of the Master's Degree Programme in Governance of Public Organizations
Director of the Professional Master's Programme in Labour and Social Security Law
Representative of Equal Opportunities, Employees' Well-being and Inclusion Committee (CUG)

Telephone

041 234 7695 / 041 234 6686
E-mail

vania@unive.it
dirittolavoro@unive.it - Convegni diritto del lavoro
tutor.mastergesam@unive.it - Tutor GESAM

Fax

041 234 9176
Scientific sector (SSD)

DIRITTO DEL LAVORO [IUS/07]
Website

www.unive.it/people/vania (personal record)

Office

Department of Economics
Website: https://www.unive.it/dep.economics
Where: San Giobbe

Office hours
Office: E.210, Second Floor, E, San Giobbe
Thursday 9-11 a.m.
Upon contact via e-mail, it is possible to fix the Office hours remotely.
For urgent matters, please make contact with Professor via e-mail
Thesis Supervision
Thesis for students of different courses (Economics, Management, Social Services, Comparative International Relations) on Labor Law both at national, European and international level. I am particularly interested in sustainability and workers' rights, global value chains and governance tools, corporate social responsibility and ethical codes, work-life balance, welfare systems and labor issues, digitalization and new working conditions, smart working, privacy and controls. The interdisciplinary perspective is highly valued. I am certainly happy to welcome your ideas even if they come out of my specific interests. The sharing of an index and a bibliography is fundamental to start the writing of the thesis.

follow the feed