BILLIO Monica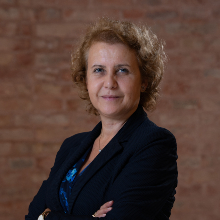 Sessione d'esami - Exam period
Published on 29/03/2020
ENGLISH FOLLOWS
Care Studentesse, Cari Studenti,
ci sentiamo di contattarvi, in questi giorni di esami, per farvi sentire la vicinanza nostra e delle colleghe e colleghi.
Viviamo tempi mai visti e sperimentiamo un'emergenza che ha messo e sta mettendo a dura prova tutti noi. Nessuno però deve e vuole rimanere spettatore passivo in attesa che tutto finisca ed ognuno reagisce utilizzando soluzioni anche impensabili fino a pochi giorni fa, certo nel rispetto delle limitazioni di movimento e libertà ora richieste.
Covid-19 ci ha obbligato a rivedere drasticamente e in tempi strettissimi la didattica, facendovi perdere quel contatto regolare con amici e colleghi che da sempre è parte importante della vostra esperienza universitaria, sperimentando il doloroso distanziamento sociale.
Ma in verità noi, voi, la vostra Università, c'è!
Anche noi, vinto l'inevitabile smarrimento iniziale, ci siamo messi in gioco, modificando le modalità delle lezioni e adeguandone i contenuti. Voi vi siete dovuti adattare ad uno studio diverso e sperimentare in questi giorni anche esami "diversi".
Gli esami della prossima settimana sono stati parzialmente riprogrammati con urgenza. I cambiamenti, che permetteranno di recuperare tutte le sessioni d'esame, possono aver creato disorientamento, ma dovete vedere questi esami come un'opportunità sia per il vostro percorso che per confermare la capacità del nostro ateneo di far fronte alle circostanze.
I colleghi e le strutture stanno facendo tutto il possibile per rendere la situazione regolare, nonostante una emergenza che ha letteralmente cambiato il nostro modo di vivere. Ci auguriamo dunque che possiate apprezzare l'enorme sforzo organizzativo compiuto e così comprendere che anche le difficoltà ci uniscono, e sempre più, in questo periodo di grande tensione.
Non tutto sarà perfetto e non mancheranno disagi e problemi. Ma raramente abbiamo visto tanta energia, passione, impegno, accomunare colleghi, personale tecnico-amministrativo, studenti e collaboratori.
Comprensibilmente sarete preoccupati per le prove che vi accingete a sostenere. Ma, per favore, prendetevi anche il tempo e la soddisfazione di constatare che siete parte di uno sforzo collettivo per vincere l'emergenza senza che le vostre carriere, le nostre vite, i nostri valori siano devastati.
Siamo parte di una comunità che è capace, con l'aiuto di tutti, di cadere e rialzarsi e di offrire a tutti i suoi membri motivi di orgoglio.
Buoni esami e l'augurio che possiate ricordare questo periodo (anche) come un tempo di irripetibile crescita umana e professionale.

I direttori dei Dipartimenti del Campus Economico
Monica Billio
Gaetano Zilio Grandi
--------------------------------------------------------------------------------------------------------------------------------------------------------------------------------
Dear Students,
We are reaching out to you during the exam period so that you can be assured that we and all our colleagues are thinking of you.
These are unprecedented times and we are going through an emergency that is extremely difficult for all of us. However, we don't want to – and mustn't – just be passive onlookers waiting for everything to be over. Each of us must find solutions to challenges that were unthinkable just a few days ago, naturally keeping to the restrictions of movement and freedom that we are called to hold.
Covid-19 has forced us to re-think our ways of teaching in a very short period of time, and through painful social distancing you have lost the regular contact with friends and colleagues that has always been an important aspect of university life.
But we want you to know that we, you and your university are all here together!
Although slightly thrown by the initial confusion, we have stepped up to the challenge, changing the way lessons are delivered and adapting their contents. And you have also had to adapt to a different way of studying and experiment "different" kinds of exams.
Next week's exams have been urgently and partially rescheduled. These changes – which will allow everyone to catch up all the exam sessions – may have created some uncertainty, but you should see them as an opportunity both in your study path and for the university to demonstrate its ability to face this emergency.
The staff and the whole university are doing their best to cope with the situation and adjust to a new normality, despite this emergency that has quite literally changed our way of life. We hope that you can appreciate the enormous organisational effort that is being made and therefore understand that we are increasingly united by the challenges that we are all facing in this very tense period.
Not everything will go perfectly and there will inevitably be inconveniences and problems. However, we have rarely seen such energy, passion, and commitment unite colleagues, technical and administrative staff, students and partners.
Understandably, you will be worried about the exams you are about to sit. However, please take the time and the satisfaction to realise that you are taking part in an enormous collective effort to beat this emergency so that your careers, our lives, and our values are not crushed. We are all part of a community that is able – with the help of everyone – to stumble and pick itself up again, and proudly move forward.
The best of luck for your exams and we hope you will remember this period (also) as a time of unique human and professional growth.
The Directors of the Departments of the Economics Campus.
Monica Billio
Gaetano Zilio Grandi

follow the feed