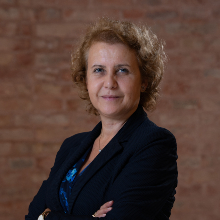 BILLIO Monica
Position

Full Professor
Roles

Department's Delegate for Relations with the Treviso Campus

Telephone

041 234 9170 / 041 234 6676
E-mail
Fax

041 234 9176
Scientific sector (SSD)

ECONOMETRIA [SECS-P/05]
Website

www.unive.it/persone/billio (personal record)

Office

Department of Economics
Website: https://www.unive.it/dep.economics
Where: San Giobbe

Office
Office
Activities and research skills
General information
Scientific sector (SSD)

ECONOMETRIA [SECS-P/05]
Geographic areas in which the research experience mainly applies

Internazionale: Europa, America Settentrionale
Known languages

Francese (scritto: avanzato parlato: avanzato)
Inglese (scritto: avanzato parlato: avanzato)

Participation in editorial boards of scientific journals/book series

Member International Advisory Board Advances in Decision Sciences, 2019-:
Associate Editor Econometrics and Statistics, 2015-:.
Associate Editor Annals Computational Statistics and Data Analysis, 2011-2015.

Participation as referees of national and international research projects

Reviewer for Mathematical Reviews.
Reviewer for Wikipedia (Econometrics).
Panel member "Best Paper Award", Vienna University of Economics and Business, 2016-2017.
Areas and research fields

Area: Economia Linea: Not-for-profit - Modelli e metodi
Area: Economia Linea: Settori finanziari - modelli e metodi
Area: Economia Linea: Settori finanziari - politiche e gestione
Area: Economia Linea: Settori finanziari - risorse e strumenti
Area: Economia Linea: Sistema economico - modelli e metodi
Area: Economia
Area: Matematica Linea: Metodi matematici dell'economia
Area: Statistica Linea: Not-for-profit - Modelli e metodi
Area: Statistica Linea: Sistema economico - modelli e metodi

Research skills
Metodi econometrici per analisi di sistemi economici complessi

Description:

Econometrics methods for complex economic systems

Keywords:

Econometrics

ATECO code:

[72] - ricerca scientifica e sviluppo
Analisi del ciclo economico

Description:

Business cycle analysis

Keywords:

Economics, Econometrics

ATECO code:

[72] - ricerca scientifica e sviluppo
Econometria della finanza

Description:

Financial econometrics

Keywords:

Econometrics, Banking

ATECO code:

[66] - attività ausiliarie dei servizi finanziari e delle attività assicurative
Completed and pending researches
Analisi dei rendimenti degli hedge funds

SSD:

SECS-P/05
Business Cycle Analysis

SSD:

SECS-P/05

Other members of the research group:
Datazione del ciclo economico nell'area Euro; relazione tra ciclo economico e ciclo finanziario

SSD:

SECS-P/05
Efficient Gibbs Sampling for Markov Switching GARCH Models

SSD:

SECS-P/05

Other members of the research group:
Green finance

SSD:

SECS-P/05
Liquidità e rischio sistemico

SSD:

SECS-P/01
Partilce Filter for Time Series Analysis

SSD:

SECS-P/05

Other members of the research group:
Rischio sistemico e network

SSD:

SECS-P/05
Funds
Borse di mobilità studenti

Funding body:

Philip Morris Italia

Type:

Altri finanziamenti di ricerca

Role in the project:

LD

Starting date:

Year: 2013 Length in months: 12
EeDaPP Energy efficiency Data Protocol and Portal

Funding body:

Commissione Europea

Type:

H2020 - Societal Challenges

Role in the project:

PT

Sito di progetto:

https://eedapp.energyefficientmortgages.eu/

Starting date:

Year: 2018 Length in months: 24

Other members of the research group:
EeMAP Energy efficient Mortgages Action Plan

Funding body:

Commissione Europea

Type:

H2020 - Societal Challenges

Role in the project:

PT

Sito di progetto:

https://eemap.energyefficientmortgages.eu/

Starting date:

Year: 2017 Length in months: 24

Other members of the research group:
Funding Liquidity, Crises and Systemic Risk

Funding body:

Inquire Europe

Type:

Altri finanziamenti per progetti di ricerca

Role in the project:

LD

Sito di progetto:

http://www.inquire-europe.org

Starting date:

Year: 2009 Length in months: 12

Other members of the research group:
Funding liquidity, Crisis and Hedge Fund Risks

Funding body:

CAREFIN Università Bocconi

Type:

Altri finanziamenti per progetti di ricerca

Role in the project:

LD

Starting date:

Year: 2009 Length in months: 12

Other members of the research group:
Impacts of the Quantitative Easing on the Insurance Industry

Funding body:

Europlace Finance Institute

Type:

Altri finanziamenti per progetti di ricerca

Role in the project:

LD

Starting date:

Year: 2015 Length in months: 12

Other members of the research group:
Market Institutions and Financial Market Risk

Funding body:

NBER

Type:

Altri finanziamenti per progetti di ricerca

Role in the project:

LD

Sito di progetto:

http://www.nber.org/workinggroups/papers/FR.html

Starting date:

Year: 2009 Length in months: 24

Other members of the research group:
Metodologie informatiche per la valutazione e gestione del rischio

Funding body:

Regione Veneto

Type:

POR FSE (2007-2013)

Role in the project:

LD

Starting date:

Year: 2009 Length in months: 12
Mobilità studenti doppi titoli Université Aix Marseille

Funding body:

Università Italo Francese

Type:

Altri finanziamenti per attività di didattica/formazione

Role in the project:

LD

Starting date:

Year: 2014 Length in months: 36
Mobilità studenti doppi titoli Université Paris Dauphine

Funding body:

Università Italo Francese

Type:

Altri finanziamenti per attività di didattica/formazione

Role in the project:

LD

Starting date:

Year: 2018 Length in months: 36
Modelli Statistici multivariati per la valutazione dei rischi

Funding body:

MIUR

Type:

PRIN

Role in the project:

PT

Starting date:

Year: 2011 Length in months: 36

Other members of the research group:
SYstemic Risk TOmography: Signals, Measurements, Transmission Channels, and Policy Interventions

Funding body:

Commissione Europea 7mo Programma Quadro

Type:

VII Programma Quadro - Cooperation

Role in the project:

PT

Sito di progetto:

http://syrtoproject.eu/

Starting date:

Year: 2013 Length in months: 36

Other members of the research group:
Sovereign, Bank and Insurance Credit Spread: Connectedness and System Networks

Funding body:

Europlace Institute of Finance, Paris

Type:

Altri finanziamenti di ricerca

Role in the project:

LD

Starting date:

Year: 2012 Length in months: 12

Other members of the research group:
VINCI 2010

Funding body:

Università Franco Italiana

Type:

Altri finanziamenti per prestazioni di didattica/formazione

Role in the project:

LD

Starting date:

Year: 2010 Length in months: 24